Introducing the five titles to date from a rapidly rising literary star.
When US writer Ottessa Moshfegh's first novella, 2014's McGlue, won the Fence Modern Prize in Prose and the Believer Book Award, it was a portent of many achievements to come. Her first novel, 2015's Eileen, was shortlisted for the National Book Critics Circle Award and the Man Booker Prize, and won the PEN/Hemingway Award for debut fiction. Her stories have been published in The Paris Review, The New Yorker, and Granta, and have earned her a Pushcart Prize, an O Henry Award, the Plimpton Discovery Prize, and a grant from the National Endowment for the Arts. A collection of these stories, Homesick for Another World, was published in 2017. My Year of Rest and Relaxation, her second novel, was released a year later – becoming a New York Times bestseller. In 2020 Moshfegh released her third novel, the metaphysical suspense thriller Death in Her Hands.
To celebrate the rise and rise of this provocative – and prolific – literary talent, here we introduce her five wondrously original and diverse titles to date.
McGlue (2014)
They said I've done something wrong?... And they've just left me down here to starve. They'll see this inanition and be so damned they'll fall to my feet and pass up hot cross buns slathered in fresh butter and beg I forgive them. All of them…
In her debut novella, Moshfegh delivers a nasty heartless blackguard on a knife-sharp voyage through the fogs of recollection.
Eileen (2015)
My name was Eileen Dunlop. Now you know me. I was twenty-four years old then, and had a job that paid fifty-seven dollars a week as a kind of secretary at a private juvenile correctional facility for teenage boys… In a week, I would run away from home and never go back. This is the story of how I disappeared.
When the bright, beautiful, and cheery Rebecca Saint John arrives on the scene as the new counsellor at the prison where Eileen works, the secretary is unable to resist what appears at first to be a budding friendship. But her affection for Rebecca ultimately pulls her into complicity in a crime that surpasses her wildest imaginings.
Homesick for Another World (2017)
The flesh is weak; the timber is crooked; people are cruel to each other, and stupid, and hurtful. In Moshfegh's richly-drawn worlds, self-deception is rife and every character is unsteady on their feet. But beauty comes from strange sources. And the dark, unsettling energy surging through these stories is powerfully invigorating.
My Year of Rest and Relaxation (2018)
Young, thin, pretty, a recent Columbia graduate, our narrator works an easy job at a hip art gallery, and lives in an apartment on the Upper East Side of Manhattan paid for, like the rest of her needs, by her inheritance. But there is a dark and vacuous hole in her heart… Through the story of a year spent under the influence of a truly mad combination of drugs designed to heal our heroine from her alienation from this world, Moshfegh shows us how reasonable, even necessary, alienation can be.
Death in Her Hands (2020)
While walking in the woods, a woman comes across a note, handwritten and carefully pinned to the ground by stones. It reads: Her name was Magda. Nobody will ever know who killed her. It wasn't me. Here is her dead body. But there is no dead body. Deeply shaken, the woman has no idea what to make of this…
With very little to go on, our narrator invents a list of murder suspects and possible motives for the crime. Oddly, her suppositions begin to find correspondences in the real world, and with mounting excitement and dread, the fog of mystery starts to fade into menacing certainty.
Extract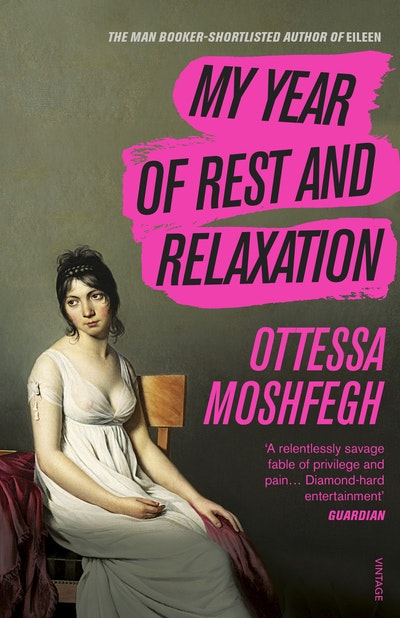 My Year of Rest and Relaxation
Whenever I woke up, night or day, I'd shuffle through the bright marble foyer of my building and go up the block and around the corner where there was a bodega that never closed.
Extract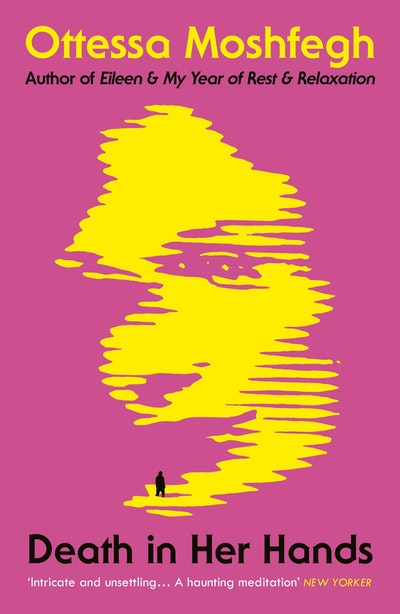 Death in Her Hands
Her name was Magda. Nobody will ever know who killed her. It wasn't me. Here is her dead body.