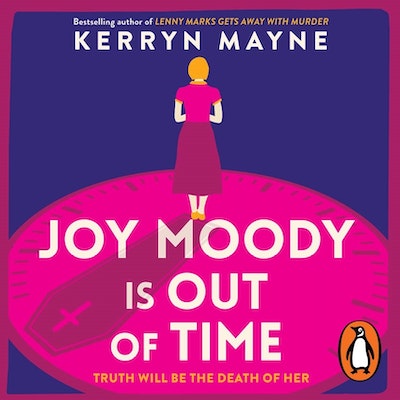 Published:

27 February 2024

ISBN:

9781761343308

Imprint:

Penguin Random House Australia Audio

Format:

Audio Download

Narrator:

Annie Maynard

RRP:

$32.99
Joy Moody is Out of Time
---
---
---
'Mayne's skilful storytelling and brilliant characterisation will take readers on an unforgettable journey - a must-read for fans of Liane Moriarty and Sally Hepworth.' KELLY RIMMER
The irresistible new crime novel from the author of LENNY MARKS GETS AWAY WITH MURDER.
'This book is incredible.' Sally Hepworth
'Utterly original.' Amanda Hampson
'Riveting family tale meets cracking crime mystery.' Elizabeth Coleman
'Unique and quirky.' Sarah Bailey
'A page-turning suspense.' Lisa Ireland
'Gem of a novel.' Michael Thompson
'A witty, gripping read.' Holly Craig
On her twin daughters' twenty-first birthday, Joy Moody – proprietor of Bayside's premier laundromat – is found dead. Yet that is not the strangest thing happening behind the bright pink facade of Joyful Suds.
For much of their lives, Joy has been telling Cassie and Andie one big, fat lie: that they are from the future, and that when they turn twenty-one they will travel back to the year 2050.
What started as a colourful tale to explain how the girls came to live with her has now become a decade-long deception. Worse still, Joy has started to believe it herself.
The lie is certainly preferable to the truth she can't face – about what happened to the girls' real mother, and how far Joy's gone to keep them 'safe' . . .
With the twins' twenty-first birthday fast approaching, and with Andie starting to have doubts, time is fast running out for Joy Moody. In more ways than one.

'This book is incredible! Kerryn Mayne takes us on a rollercoaster ride of motherhood in the suburbs. As uplifting as it is dark, Joy Moody Is Out Of Time will knock your socks off.' SALLY HEPWORTH
'Utterly original. An engrossing tale of lies and secrets that will keep you guessing to the very end.' AMANDA HAMPSON
'Mayne seamlessly navigates the delicate space between humour and tragedy in this riveting family tale meets cracking crime mystery. Clear your afternoon - you won't be able to put it down.' ELIZABETH COLEMAN
'Unique and quirky, this is a charming who-done-what mystery with a cast of original characters.' SARAH BAILEY
'Mayne combines her signature dark humour with insightful observations about what it means to be a mother, to create a page turning suspense that will have readers guessing to the very last page.' LISA IRELAND
'If you google "beautifully-crafted, enigmatic characters with too many secrets for one person to possibly keep", Joy Moody will pop up, right next to Lenny Marks. This is a gem of a novel.' MICHAEL THOMPSON
'Highly entertaining and with an incredibly unique premise, Kerryn Mayne has done it again - crafted a witty, gripping read with characters like no other.' HOLLY CRAIG
Published:

27 February 2024

ISBN:

9781761343308

Imprint:

Penguin Random House Australia Audio

Format:

Audio Download

Narrator:

Annie Maynard

RRP:

$32.99