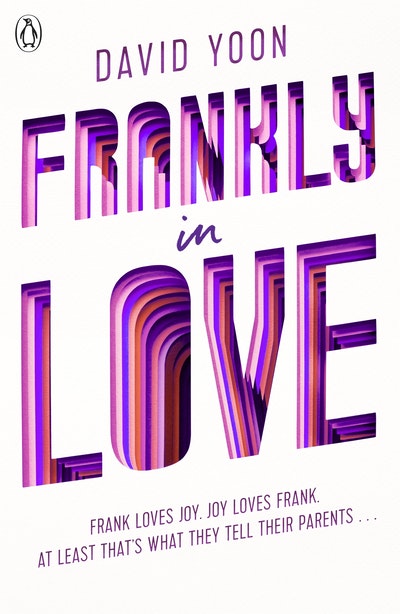 Published:

17 September 2019

ISBN:

9780241373439

Imprint:

Penguin

Format:

Paperback

Pages:

432

RRP:

$17.99
Frankly in Love
---
---
---
Frank loves Joy. Joy loves Frank. At least, that's what they tell their parents . . . a brilliant, funny, quirky YA romance.
Frank Li is a high school senior living in Southern California. Frank's parents emigrated from Korea, and have pretty much one big rule for Frank - he must only date Korean girls. But he's got strong feelings for a girl in his class, Brit - and she's not Korean. His friend Joy Song is in the same boat and knows her parents will never accept her boyfriend, so they make a pact: they'll pretend to date each other in order to gain their freedom. Frank thinks fake-dating is the perfect plan, but it leaves him wondering if he ever really understood love - or himself - at all.
David Yoon's debut novel is a quirky, authentic, heartbreaking romantic comedy and a refreshingly different take on race, immigrant communities, friendship and family.
Published:

17 September 2019

ISBN:

9780241373439

Imprint:

Penguin

Format:

Paperback

Pages:

432

RRP:

$17.99
Praise for Frankly in Love
A beautifully layered novel about first love, tribalism and that brief, magical period when kids have one foot in high school, one foot out the door

New York Times
A beautifully layered novel about first love, tribalism and that brief, magical period when kids have one foot in high school, one foot out the door

New York Times
A love story, a treatise on racism, a peek into adolescence, and a welcome to Korean-American culture, all at once.

Jodi Picoult
A love story, a treatise on racism, a peek into adolescence, and a welcome to Korean-American culture, all at once.

Jodi Picoult
Touching on issues of race, identity, and first love, Frankly in Love is the charming, funny, romantic young adult crossover novel that both adults and teens will enjoy in equal measure.

PopSugar
Touching on issues of race, identity, and first love, Frankly in Love is the charming, funny, romantic young adult crossover novel that both adults and teens will enjoy in equal measure.

PopSugar
Think John Green by way of To All the Boys I've Loved Before

Entertainment Weekly
Think John Green by way of To All the Boys I've Loved Before

Entertainment Weekly
Yoon's stellar debut expertly and authentically tackles racism, privilege, and characters who are trying to navigate their Korean-American identity.

Buzzfeed
Yoon's stellar debut expertly and authentically tackles racism, privilege, and characters who are trying to navigate their Korean-American identity.

Buzzfeed
Frankly In Love shines with an incredible voice and a searing, honest, and deeply human story about what it means to love someone. David Yoon isn't afraid to confront every angle, both the beautiful and the ugly, but he tackles it all with great care. This is a classic in the making.

Marie Lu, #1 New York Times bestselling author of Warcross
Frankly In Love shines with an incredible voice and a searing, honest, and deeply human story about what it means to love someone. David Yoon isn't afraid to confront every angle, both the beautiful and the ugly, but he tackles it all with great care. This is a classic in the making.

Marie Lu, #1 New York Times bestselling author of Warcross
A deeply moving account of love in its many forms.

Kirkus Reviews
A deeply moving account of love in its many forms.

Kirkus Reviews
A beautifully written exploration of family, identity, and self-discovery.

Booklist
A beautifully written exploration of family, identity, and self-discovery.

Booklist
I fell fast for David Yoon's masterful debut that's big-hearted, honest, hilarious, and achingly romantic. I smiled, I laughed, I cried, and I closed this book wiser. Get ready to fall in love with Frank, world!

Adam Silvera, New York Times bestselling author of They Both Die at The End
I fell fast for David Yoon's masterful debut that's big-hearted, honest, hilarious, and achingly romantic. I smiled, I laughed, I cried, and I closed this book wiser. Get ready to fall in love with Frank, world!

Adam Silvera, New York Times bestselling author of They Both Die at The End
Written in the present tense from Frank's sharp, sardonic point of view, debut novelist David Yoon has already found an arresting narrative style...Whether you're a teen, a parent/carer or a YA-loving adult, you'll quickly get hooked into Yoon's writing, which perfectly captures the voice and sensibility of a teenager.

Evening Standard
Written in the present tense from Frank's sharp, sardonic point of view, debut novelist David Yoon has already found an arresting narrative style...Whether you're a teen, a parent/carer or a YA-loving adult, you'll quickly get hooked into Yoon's writing, which perfectly captures the voice and sensibility of a teenager.

Evening Standard
Article