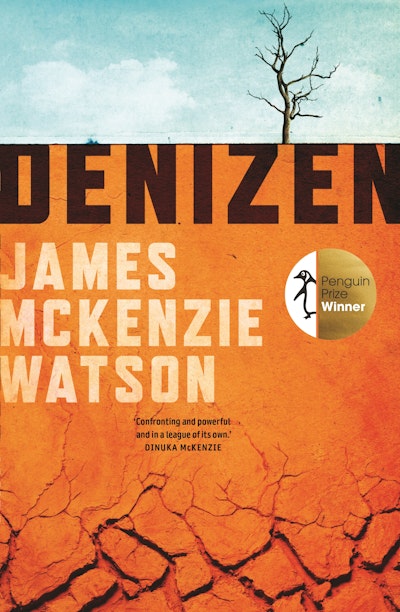 Published:

19 July 2022

ISBN:

9781761046117

Imprint:

Penguin eBooks

Format:

EBook

Pages:

352
Denizen: Winner of the Penguin Literary Prize
---
---
---
A rural thriller from the winner of the 2021 Penguin Literary Prize.
This novel is bound to get book clubs talking.
THE AUSTRALIAN
This is a not-to-be-missed reading experience.
HAYLEY SCRIVENOR
'Unquestionably is one of the best novels by an Australian author in recent times. It is spellbinding, credible and very cleverly constructed.'
ARTS HUB
A thriller exploring rural Australia's simultaneous celebration of harsh country and stoic people – a tension that forces its inhabitants to dangerous breaking points.
On a remote property in western NSW, nine-year-old Parker fears that something is wrong with his brain. His desperate attempts to control this internal chaos spark a series of events that gallop from his control in deadly and devastating ways.
Years later, Parker, now a father himself, returns to the bushland he grew up in for a camping trip with old friends. When this reunion descends into chaos amid revelations of unresolved fear, guilt and violence, Parker must finally address the consequences of his childhood actions.

Published:

19 July 2022

ISBN:

9781761046117

Imprint:

Penguin eBooks

Format:

EBook

Pages:

352
Praise for Denizen: Winner of the Penguin Literary Prize
Read this page-turning, clever and heartbreaking novel if you are addicted to Gothic thrillers set in an Australian landscape. Do settle in with this book if you want stories that explore masculinity, childhood and parenting. And do read this book if you relish ghost stories. James McKenzie Watson's manuscript for Denizen won the 2021 Penguin Literary Prize, and for good reason. This novel is a good old-fashioned page-turner that could also be read as commentary on the consequences of mental health issues in rural communities – consequences which are shown to be far-reaching and heart- wrenching. I devoured it and have considered it many times over on completion. Fundamentally, Denizen is about fear and redemption. These themes make a traditional basis for a story, but McKenzie Watson gives it his own original take. With fear, there is courage; with redemption, there is kindness; and with James McKenzie Watson, you are in capable hands.

Chris Gordon, Readings
Denizen is breathtaking, utterly breathtaking. Superbly written, perfectly paced, and with characters that leave you aching, it is quite simply a masterpiece. Be prepared to have your mind blown.

Lyn Yeowart
Such an incredibly powerful debut!! Absolutely gripping. A tense, heart-in-mouth read, Denizen takes us inside complex relationships through the mind of Parker, a young country boy. We feel his frustration, confusion and terror – first as he tries to fit into his rough school and, years later, as he attempts to unravel the truth about his family, friends and hometown. Beautifully written, cleverly constructed and devastatingly depicted. WOW! Denizen totally shook me up, and stayed with me long after I finished the last page.

Petronella McGovern, Author, Six Minutes and The Good Teacher
There's a brutal ferocity between mother and son in Denizen, an open hatred. James McKenzie Watson doesn't pull his punches at all. But his target is the narrator's own heart and mind. What will he do with a mind that can self-deceive, or with a heart that can't empathise? What happens is that he becomes a father, has his own child, and this will become the crucible that changes the past or strengthens it unbearably. In Denizen, all is at risk and there is nowhere safe.

David Vann
This is a taut, tense, and fast-moving tale of how a mind ravels and unravels, of a terrible reckoning decades in the making, and I can't recommend it highly enough.

Michelle Tom
Denizen is a novel everyone will be talking about. It's equal parts gripping, devastating and gut-wrenching as it tackles a myriad of meaty themes including fatherhood, mental illness, and the ruggedness of rural Australia; both its people and the landscape. It's one part literary thriller, another part psychological study, blended powerfully and uncompromisingly. I can't wait to read it again in its final polished form.

Simon McDonald, PLP Judges report
Mesmerising, eviscerating, beguilingly strange and darkly lyrical – Denizen is a feat of talent and artistic courage, the kind of a book about which you can only speak using most powerful adjectives. This novel, I believe, is destined to become one of Australia's modern classics. A dazzling debut and one of the best Australian novels I've ever read.

Lee Kofman
A gut-wrenching and mesmerising literary thriller that explores what can occur when rural stoicism and isolation intersect with mental health and its cost to parents and children, stretching across generations. Confronting and powerful and in a league of its own.

Dinuka McKenzie
Watson plays with language and form but without alienating the reader. He fragments narratives and splits streams of thought to suggest the unstable and the uncertain: a child pursued by loneliness and parental rejection, doing battle with voices, visions. Here Watson is especially brave as a writer, taking on the metaphysical realm, the haunted and possessed, and managing to combine this with cleverly observed, everyday Australian lives filled with frustration, ambition, jealousy, love and fear.

Luke Stegemann
There is nothing scarier than a weird kid, and McKenzie Watson - a nurse by day - writes them particularly well. This is his first novel after winning the 2021 Penguin literray prize and just a few pages into Denizen, you can see why he won. Denizen is well worth your time.

Sian Cain, The Guardian
I read Denizen in just a couple of sittings, and I'm still struggling to put into words just what i loved about it. I recognised so many of the descriptions as being from my own late nineties/early noughties country childhood, and the visceral and affecting writing gets under your skin. I don't want to spoil the experience by telling you too much about the plot. This is a not-to-be-missed reading experience.

Hayley Scrivenor, author of DIRT TOWN
Filled with complex characters, dark but never gratuitous and no simple fixes. This will be a must for all book clubs, with topics on Australian colonial culture, toxic masculinity, rural life, mental health and its resourcing to name a few. The writing on the line is effortless, and the story design intelligent. Based on this debut I think james McKenzie Watson has an incredible literary career ahead.

RWR McDonald
Bloody Nora. What a novel. Readers, get your hands on this book. I want to rave but if i say anymore i will spoil it. Just read it.

Gabrielle Chan
James McKenzie Watson has created a strange, fast-paced, tense and page-turning story that I read in an almost frenzied state over two days – thank goodness it's separated into Parts One, Two and Three, because they were they only breaks when I felt able to put the book down, take a breath and continue with life. Denizen is expertly constructed and crafted with an authorial authority unusual for a debut writer. In a brilliantly finished tapestry, McKenzie Watson has managed to weave together an engrossing and engaging novel that does not let up for a moment from beginning to end. I am blown away by his audacity in writing such a novel; it courageously peers into the darkest shadows of our minds and pokes a stick at every tender, intrusive or unsettling thought or action that has ever hung a mantle of shame and guilt around our necks. There are so many things I love about this book. One is the interiority of the writing. Rarely does one read a book that sets you so squarely and intimately into the mind of the main protagonist, while still retaining the ability for the character to surprise himself, and therefore to surprise the reader. I absolutely cared about all of the characters in this book, even those I at first felt no affinity for, and I was totally uncertain as to what would happen to each of them. Another is the setting, which is quintessentially rural outback Australia. The author knows this country like the back of his hand. Every leaf on every tree, every blade of grass, every rotted fallen log and upturned boulder and shadowy grotto is depicted with the utmost realism.

Cass Moriarty
Denizen is not a horror story but it reveals horrors. Denizen is not a thriller but it has you on tenterhooks as you turn the pages wandering what is going to happen next. Denizen is not a cry for help but shows what can happen when much needed help is unavailable. Having said what Denizen is not, it unquestionably is one of the best novels by an Australian author in recent times. It is spellbinding, credible and very cleverly constructed.

Erich Mayer, Arts Hub
Denizen is dark, violent, raw and devastatingly honest. It gives readers an insight into outback life, mental health and toxic masculinity. This novel is bound to get book clubs talking.

Cheryk Akle, The Australian
This is a brilliant example of an Australian Gothic thriller with skin crawling moments, disturbing confrontations that are all too common in today's society and, ultimately, heartbreak.

Crime Fiction HQ
Australian Shadows Award
Finalist • 2022 • Australian Shadows Awards showcase the best in horror writing
Ned Kelly Award for Best Debut Crime Fiction
Shortlisted • 2023 • Ned Kelly Award for Best Debut Crime Fiction