Learn all about TikTok sensation and cookbook author, B. Dylan Hollis.
If you've been on the internet at all in the past few years, you've probably seen B. Dylan Hollis.
His funny baking videos have made him an internet sensation attracting over 10 million followers on TikTok, 1.9 million subscribers on YouTube and over 900 thousand followers on Instagram.
It's fair to say that people love what he's cooking up, and luckily, we'll all be able to cook along with him soon.
On 25 July 2023, Hollis will publish his first cookbook, Baking Yesteryear, which catalogues the best recipes from the 1900s to the 1980s. Just like his videos, the book is full of his signature humour and vintage style.
While you'll have to wait until the cookbook comes out to learn more about the quirky recipes inside, you can get hyped up by doing some Dylan research in the meantime. Scroll on to learn more about this baking star, including his astrological sign and favourite recipe.
Based on his accent, you might guess that B. Dylan Hollis is from the United States, but he actually grew up in Bermuda, a British Overseas Territory located in the North Atlantic Ocean.  
He has always had a passion for the bygone days. Since he was a child, Hollis has collected vintage trinkets such as radios, records, and mementos from grand old hotels in Bermuda.
You might recognise him as a baker these days, but he studied to be a jazz musician at the University of Wyoming in the US.
He is a Virgo. Hollis was born on September 7, 1995, which, according to The Secret Language of Birthdays, means that he was born on 'The Day of Success Seekers' . . . makes sense!
His popular TikTok videos (and now cookbook) were the result of COVID boredom during lockdown. 'I attempted comedy, and uploaded other videos that had nothing to do with baking,' Hollis writes in the introductory chapter of Baking Yesteryear. 'I decided to reach for one of the many vintage trinkets I was so used to collecting: an old cookbook . . . the video skyrocketed.'
Thanks to his love of all things old school, Hollis purchased a 1963 Cadillac Series 6200 when he went to university. You can see photos of his iconic car throughout the pages of his new cookbook.
If he had to pick a favourite recipe, Hollis would choose Chocolate Potato Cake. 'Bakers of yesteryear simply said: "Throw a potato in there!" And they were right.'
The first recipe he ever baked on TikTok was Pork Cake, which is now a recipe in his upcoming cookbook.
Since childhood, he's always wanted to be an entertainer. With over 10 million followers on TikTok, it's fair to say that he's achieved that goal.
His first book, Baking Yesteryear, has broken records – even before publication. Of all the cookbooks published by the Penguin Random House imprint DK, it is the most pre-ordered cookbook of all time. Congrats, Dylan!
Can't wait to get your hands on Baking Yesteryear? Pre-order now to secure your copy before the 25 July publication date!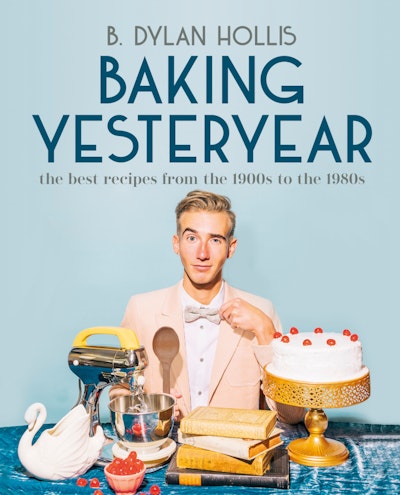 Baking Yesteryear
A decade-by-decade bakebook that highlights the best (and a few of the worst) baking recipes from the 20th century
Read more