A classic sandwich, transformed into a scrumptious cheesecake.
The 1980s were a time of celebrated youth. It was the dawn of video gaming, glowing roller-skating rinks, shopping mall hangouts, and frizzy hair. This cheesecake from this fabulous decade captures the sweetness of youth in the flavors of peanut butter and jelly. Historically, cheesecakes were stodgy, baked affairs. But as the years rolled by, the "no-bake" class began to take the spotlight in the home kitchen, allowing far more inventiveness and experimentation with a variety of flavors. A sweet and silky peanut butter filling is elevated by the crunch of a graham cracker crust, and a heavenly drizzle of grape jelly seals the deal as a rewardingly merry trip down memory lane.
Prep Time: 30 minutes
Cool: 5 hours


INGREDIENTS
CRUST
1½ cups (165g) graham cracker crumbs
¼ cup (50g) granulated sugar
½ cup (115g) melted butter


CHEESECAKE
3 (8oz/226g) packages cream cheese, softened
½ cup (125g) sour cream
1 cup (270g) peanut butter
1 cup (235ml) heavy cream
½ cup (60g) powdered sugar
1 cup (320g) grape jelly, divided
1 cup (130g) chopped salted peanuts, for topping

SAUCE
½ cup (135g) peanut butter
2 tbsp honey
5 tbsp water
METHOD
CRUST METHOD
Preheat the oven to 375ºF (190ºC).
In a medium bowl, combine the crust ingredients and mix until a uniform crumb is formed. Press the mixture into the bottom, and partway up the sides of a 9-inch (23-cm) springform pan. Bake for 15 minutes. Remove the pan from the oven and let cool completely on a wire rack.


CHEESECAKE METHOD
In the bowl of a stand mixer fitted with a paddle attachment, or in a large bowl with which an electric hand mixer is to be used, beat together the cream cheese, sour cream, and peanut butter on medium speed until smooth and uniform. About 5 minutes. Set aside.
In a separate bowl, again using a stand mixer or an electric hand mixer, switch to a whisk attachment and whip the heavy cream and powdered sugar to smooth, stiff peaks, but do not whip beyond this point.
Fold the whipped cream into the peanut butter mixture in three additions, folding until uniform.
Spread 2⁄3 cup (210g) of grape jelly evenly over the cooled crust, before turning the cheesecake mixture atop. Smooth top, then spread the remaining 1⁄3 cup (106g) of jelly over the top. Sprinkle chopped peanuts evenly.
Refrigerate overnight, or a minimum of 5 hours. Gently run a sharp knife along the edges of the springform pan before decoupling and serving.


SAUCE METHOD
In a microwave-safe bowl, or in a small saucepan over low heat, stir together all the sauce ingredients and heat until a pourable consistency is reached. Decoratively drizzle over top the cheesecake before refrigerating, or serve with cut slices.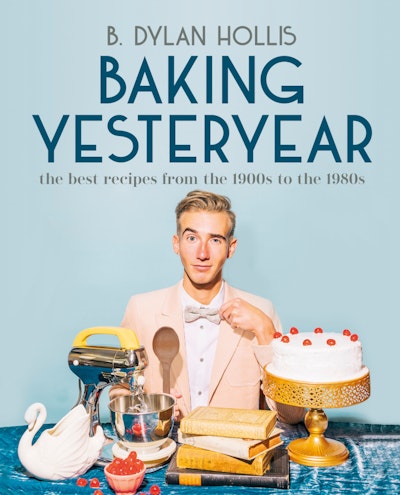 Baking Yesteryear
A decade-by-decade bakebook that highlights the best (and a few of the worst) baking recipes from the 20th century
Read more