Author of Am I Black Enough For You?, Anita Heiss, has received an AM for services to tertiary Indigenous Studies and the Arts.
Anita Heiss, academic and author of Am I Black Enough For You?  has just been made a Member of the Order of Australia (AM) for services to tertiary Indigenous Studies and the Arts.
In addition to her well-known memoir, Heiss also works as a Professor of Communications at The University of Queensland and contributes to various other projects. She has worked both within Australia and abroad to teach the world about Aboriginal literature and inspire young Indigenous Australians to write their own stories.
While her previous published works also include several fiction and children's books, her newest revised memoir gives a firsthand account of growing up with a Wiradyuri mother and Australian father, raising questions along the way about the Australian obsession with identity.
Beyond her writing, Heiss' story resonates across academia. 'Being recognised in the tertiary space was a surprise to me, but again, you never know the impact you have in a lecture theatre or classroom,' she shared on The University of Queensland's website.  
'I'm just a girl from the burbs, and being the first Aboriginal person to graduate with a PhD from Western Sydney University in 2001 – at the time I believe there were only a dozen or so in the country - was an exciting time for my family because I was also the first in my family to go to university.'
Needless to say, the recognition is well-deserved as Heiss has inspired countless readers and students with her work within literature and academia alike. And what better reason to pick up a copy of her memoir? In Am I Black Enough for You?  you'll get a peek into the author's mind, as she explains how she works to make the world a more equitable and compassionate place.
Want to hear from her in person? Check out Anita Heiss' upcoming tour dates throughout Australia.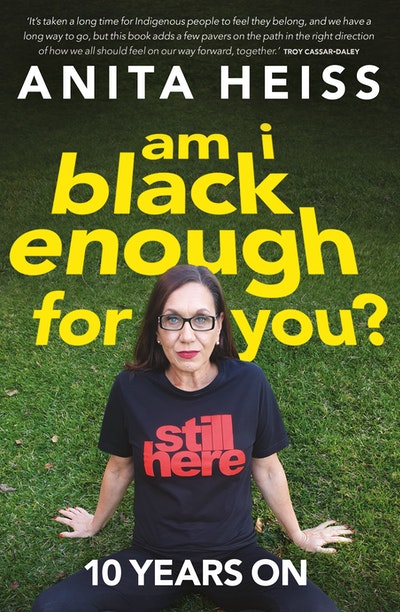 Am I Black Enough For You?
The story of an urban-based high achieving Wiradyuri woman working to break down stereotypes and build bridges between black and white Australia.
Read more