Ten years after the famous Misogyny Speech comes Julia Gillard's new book, Not Now, Not Ever.
In exciting news, Julia Gillard has just announced her explosive new book Not Now, Not Ever set for release this year on 5 October 2022.
Ten years on from her famous Misogyny Speech, Gillard's new book explores the history and culture of misogyny, while laying out a roadmap for the future. While the past ten years have undeniably seen many changes – and improvements – there is still a long way to go.
With contributions from several authors and experts, the book explores the reality of misogyny in 2022 and provides a look back at how the Misogyny Speech has inspired women since 2012.
With plenty to explore, the book is a well-rounded and highly-anticipated read for anyone hoping to understand the effects of misogyny on modern society. Kathy Lette looks into how the speech has resurfaced on TikTok, while Cate Blanchett, Brittany Higgins and more recall their first time hearing it. Next-generation feminists Sally Scales, Chanel Contos, and Caitlin Figueiredo provide inspiring insight, and of course, the echoes of the rallying cry ring through each page: Not now, not ever!
While the book will not be released for a few more months, you can pre-order it to secure your copy ahead of the October publication date. Proceeds from the book will go to the Global Institute for Women's Leadership (GIWL), which 'brings together rigorous research, practice and advocacy to better understand and address the causes of workplace gender inequality, women's underrepresentation in leadership positions across sectors and countries, and the way gender negatively impacts the evaluation of women leaders.'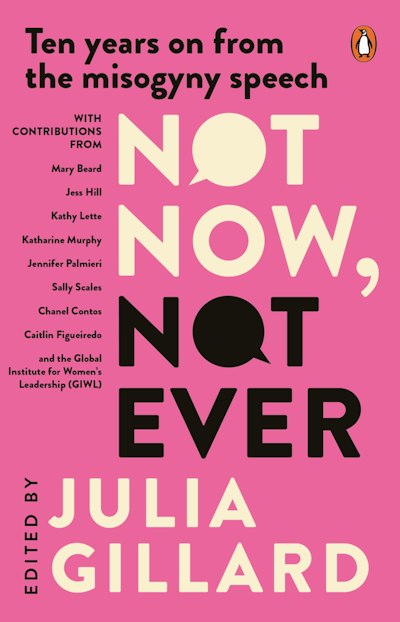 Not Now, Not Ever
Ten years on from the speech that stopped us all in our tracks – Julia Gillard's misogyny speech. Where were you then? And where are we now?
Read more