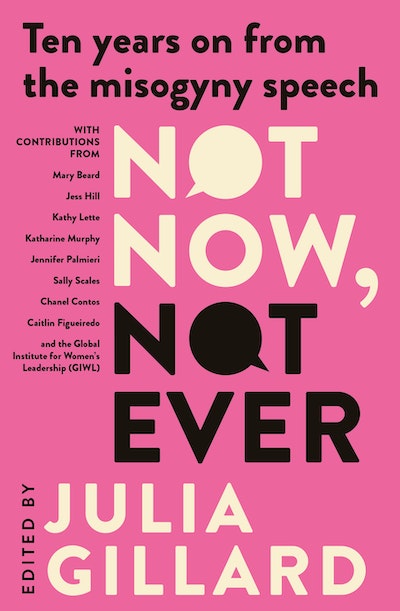 Published:

5 October 2022

ISBN:

9780143779759

Imprint:

Vintage Australia

Format:

Trade Paperback

Pages:

256

RRP:

$35.00
Not Now, Not Ever
Ten years on from the misogyny speech
---
---
---
Ten years on from the speech that stopped us all in our tracks – Julia Gillard's misogyny speech. Where were you then? And where are we now?
This is a barn-burning piece of Australian feminist history in the making.
MATILDA, BETTER READ THAN DEAD
Then it was done. After staying silent, I'd had my say. At no time did I feel worked up or hotly angry. I felt strong, measured, controlled. Yet emotion did play its role in the energy of the speech. The frustration that sexism and misogyny could still be so bad in the twenty-first century. The toll of not pointing it out.
On 9 October 2012, Prime Minister Julia Gillard stood up and proceeded to make all present in Parliament House that day pay attention – and left many of them squirming in their seats. The incisive 'misogyny speech', as her words came to be known, continues to energise and motivate women who need to stare down sexism and misogyny in their own lives.
With contributions from Mary Beard, Jess Hill, Jennifer Palmieri, Katharine Murphy and members of the Global Institute for Women's Leadership, Julia Gillard explores the history and culture of misogyny, tools in the patriarchy's toolbox, intersectionality, and gender and misogyny in the media and politics.
Kathy Lette looks at how the speech has gained a new life on TikTok, as well as inspiring other tributes and hand-made products, and we hear recollections from Wayne Swan, Anne Summers, Cate Blanchett, Brittany Higgins and others of where they were and how they first encountered the speech.
While behaviours may have improved since the misogyny speech, there remains a way to go and Julia Gillard explores the roadmap for the future with next-generation feminists Sally Scales, Chanel Contos and Caitlin Figueiredo to motivate us with that rallying cry: Not now, not ever!
Proceeds from the book will go to the Global Institute for Women's Leadership (GIWL).
Published:

5 October 2022

ISBN:

9780143779759

Imprint:

Vintage Australia

Format:

Trade Paperback

Pages:

256

RRP:

$35.00
Praise for Not Now, Not Ever
Ten years after Prime Minister Julia Gillard's iconic misogyny speech in parliament, it's time to reflect on the speech itself and on the cultural ramifications of and connections to misogyny that brought about such an important moment in Australian political history. With fascinating contributions from Jess Hill, historian Mary Beard and political analyst Katharine Murphy, as well as recollections about the speech's impact on Australian society from influential voices like Cate Blanchett and Brittany Higgins, this is a barn-burning piece of Australian feminist history in the making.

Matilda, Better Read Than Dead
With fierce, cool-headed eloquence, Julia Gillard said what so many women had longed to say in public but never had the chance. Non fiction pick of the week Ten years on from her blistering misogyny speech in which she called out Tony Abbott for his hypocrisy and sexism, these essays revisit that galvanising moment, analyse what has changed and what is yet to be achieved. Writing as a rueful "creature of the Canberra cloisters", Katharine Murphy recalls how "we took her stoicism for granted" and so discounted the significance of her speech, such was the patriarchal arena of the press gallery. When Jess Hill traces the connection between the "calculated deployment of sexism against a prime minister" and actual violence against women, she goes to the very heart of the problem – the fragility of traditional masculinity. Of which, one might say, Abbott's swaggering machismo was a perfect example.

Fiona Capp, The Sydney Morning Herald
Ten years on from Julia Gillard's "misogyny speech", Not Now, Not Ever recalls that threshold moment in Australia when we were shown it was possible to call out sexism and misogyny and be heard. Each essay offers reflection and good reasons to keep speaking up.

Pip Williams, Best reads of the Year
Australian Book Industry Awards
Shortlisted • 2023 • Social Impact Book of the Year
BookPeople Book of the Year Awards
Shortlisted • 2023 • Adult Non-Fiction Book of the Year