After reading Making Australian History, you will think about this country differently.
Each piece of history has a message and context that depends on who wrote it and when. Australian history has swirled and contorted over the years: the history wars have embroiled historians, politicians and public commentators alike, while debates over historical fiction have been as divisive. History isn't just about understanding what happened and why. It also reflects the persuasions, politics and prejudices of its authors. Each iteration of Australia's national story reveals not only the past in question, but also the guiding concerns and perceptions of each generation of history makers.
Making Australian History is bold and inclusive: it catalogues and contextualises changing readings of the past, it examines the increasingly problematic role of historians as national storytellers, and it incorporates the stories of people.
The passage below explores the term 'Country' and the complexities around it.
In 2015, at a conference dinner in Shanghai, I sat next to an academic from Inner Mongolia University. Our pairing was an exercise in Chinese–Australian scholarly exchange, although I remember feeling distinctly guilty at my complete lack of Mandarin language skills when I first sat down. I needn't have worried. My dinner companion, Duan Manfu, was a warm and engaging Australian Studies researcher and translator. And he was eager to talk about his latest project, a translation of Bill Gammage's The Biggest Estate on Earth. It was an epic and exciting project, but Manfu was confounded by one term in particular.
'What is the meaning of this word, "Country"?' my table­mate asked.
Put on the spot, I lurched and fumbled. 'It's like your home and your nation rolled into one,' I explained unconfidently. 'It can be passed on, like an inheritance, but it's also about belong­ing and identity.' I felt as if I was grasping at something I couldn't really pin down. Can 'Country', in that Indigenous sense, be translated? Is it even a term that works in Australian English, let alone in Chinese?
Six months later, when reading W. E. H. Stanner's 1968 Boyer Lectures, I consoled myself that this eminent anthropologist had also been confounded by the complexity of Country: 'No English words are good enough to give a sense of the links between an Aboriginal group and its homeland,' he surmises. 'Our word "home", warm and suggestive though it be, does not match the Aboriginal word that may mean "camp", "hearth", "country", "everlasting home", "totem place", "life source", "spirit centre" and much else all in one. Our word "land" is too spare and meagre.'
Country is so much more than a word – a sense of place only hints at the familial, spiritual and historical elements of Country (including seas) as it is used in Aboriginal and Torres Strait Islander cultures.
So Manfu's question over dinner was an important one not only for translation, but also for how it reveals the multiple and shifting ways Australian historians have interpreted and depicted the country over time. In sensing Indigenous sovereignty and spir­ituality, Gammage's use of 'Country' in his book contrasts how Australia's country – its 'pastoral landscapes', 'countryside' and 'bush' – had been rendered in its History for the better part of two centuries. Gammage was by no means the first to contemplate and use 'Country' in this way, as Stanner's comments attest.
Although, Gammage's book also prompted notable criticism from some archaeologists and historians, who bristled at his generalisation of the Australian 'estate'. His reading of country, they felt, was being universally applied across the whole continent in a way that did not account for changing practices or geograph­ical, culturally specific connections. Bruce Pascoe's bestselling reappraisal of Indigenous agriculture, Dark Emu, which was influenced by Gammage's work, also attracted controversy for how it defined diverse, often spiritually motivated Indigenous land and water practices as 'sustainable farming'. Were these texts misinterpreting Indigenous management of country by not focusing on their historical, cultural and geographical distinctive­ness? It has been a difficult debate to dissect.
Despite such criticism, the publication and subsequent success of The Biggest Estate on Earth nevertheless suggested a major turning point had been reached in the description and imagination of 'country' in Australian History.
Country 'was alive', Gammage explains in The Biggest Estate on Earth. 'It could talk, listen, suffer, be refreshed, rejoice,' he writes. 'Country was heart, mind and soul.' And, as if antici­pating my struggle to explain the term in a way that would aid its Chinese translation, Gammage offers this: 'Country was not property. If anything it owned.'
But there's more than simply an act of Indigenous recognition going on in Gammage's work. The Biggest Estate on Earth also reads country as a sort of archive. The spacing of tree-generations, the evidence of mosaic burning across the continent, and the over­stocking that floored native grasses: each helps tell Gammage's Australian history.
Gammage's opus on country was the culmination of a life's work reading it. He had grown up in rural New South Wales, in Wagga and Narrandera, and knew it intimately. He even deliberated whether to leave his beloved country to take up a scholarship to attend university in Canberra. He did leave, as it happens, and completed his undergraduate degree and a PhD in History in 1970. He also wrote several important works, includ­ing a hugely popular study of Australian soldiers during World War I, The Broken Years, as well as co-editing (with Peter Spear­ritt) the Australians, 1938 volume of the Bicentennial Historical Library series.
But country kept pulling him back. Even now, he says, sitting in his office at the Australian National University as an Emeritus Professor, he still finds himself 'constantly looking at trees and grasses and things like that'.
The Biggest Estate on Earth arose out of a puzzle presented by the country he knew so well. Embarking on a history of the Narrandera Shire in the 1980s, Gammage found that early colonial accounts didn't match with what he knew and saw in the present day. Those first colonial encounters with country had described open, wooded grey box forest interspersed with native grass­lands, rather than the denser bush Gammage was familiar with. 'Because of this interest in trees and so on, I knew that this country was no longer like that. It's not like that at all. And so I puzzled at why that could be, why did it change? And that led me to fire, but not bushfire – I knew already how eucalypts behaved. So it had to be Aboriginal fire.' In other words, Indigenous people had planned and managed the Australian landscape for millennia. It really was the 'biggest estate on earth'.
That realisation was only possible because of a deep knowl­edge acquired from being in the bush. 'I mean, on a quick visit you can see some things,' Gammage explains. 'But if you want to see the interrelation between various local components – insects, grass, trees, the animals and so on – you've got to know it pretty well.'
For Gammage, country became a historical source, archive and even method.
However, for the most part, History has registered country very differently. 'Australia was simply a stage where history occurred,' Paul Carter contends. Country had been largely peripheral to disciplinary historical practice: 'History' could be written about England or Botany Bay, but was essentially the same thing by virtue of its method and approach. Place located History. Place was somewhere history happened, rather than an actual living archive of evidence and subjectivity.
Through painstaking and extensive hikes on country, by sifting and interpreting its sources, Gammage demonstrates that place isn't just locative. Country itself guided the history he would write. In The Biggest Estate on Earth, he pieces together overwhelming proof that Australia was not an incidental landscape of Indigenous habitation, but country that had been worked and imagined for thousands of generations. In doing so, Gammage's text represents a return to 'reading country' as both keeper and agent of history.
I say 'return' because Indigenous Country had been historied for millennia before Western empirical History became the dominant mode of history-making in Australia. Vast songlines confidently articulated geographical knowledges and origin stories. Indigenous people had sung, walked and mapped the entire continent well before ambitious and acquisitive colonial forays snaked their way into the interior and into Australian History books.
Furthermore, in Indigenous knowledges, Country doesn't simply hold the stories of the past but is itself a historical actor.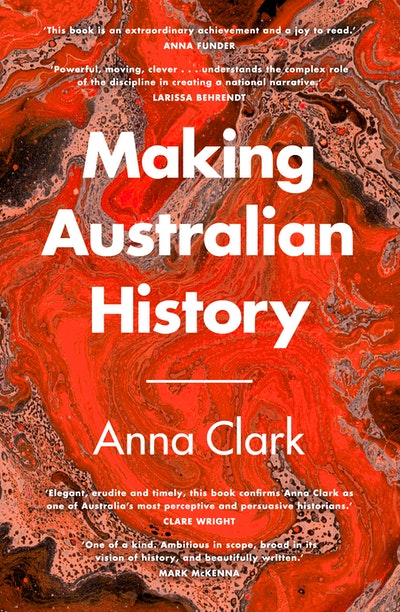 Making Australian History
A bold and expansive history that traces the changing and contested project of Australia's national story. You will think about this country differently after reading this book.
Read more