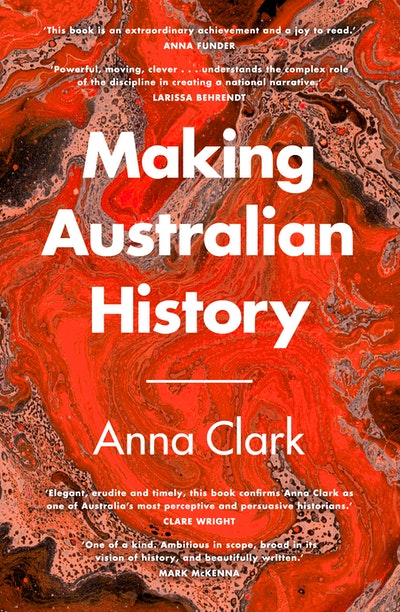 Published:

1 February 2022

ISBN:

9781760898519

Imprint:

Vintage Australia

Format:

Trade Paperback

Pages:

432

RRP:

$34.99
Making Australian History
---
---
---
A bold and expansive history that traces the changing and contested project of Australia's national story. You will think about this country differently after reading this book.

'Clark brings a historian's erudition to the ideas. Absolutely engrossing and it's beautifully written. ' KATE GRENVILLE
A few years ago Anna Clark saw a series of paintings on a sandstone cliff face in the Northern Territory. There were characteristic crosshatched images of fat barramundi and turtles, as well as sprayed handprints and several human figures with spears. Next to them was a long gun, painted with white ochre, an unmistakable image of the colonisers. Was this an Indigenous rendering of contact? A work of history?

Each piece of history has a message and context that depends on who wrote it and when. Australian history has swirled and contorted over the years: the history wars have embroiled historians, politicians and public commentators alike, while debates over historical fiction have been as divisive. History isn't just about understanding what happened and why. It also reflects the persuasions, politics and prejudices of its authors. Each iteration of Australia's national story reveals not only the past in question, but also the guiding concerns and perceptions of each generation of history makers.

Making Australian History is bold and inclusive: it catalogues and contextualises changing readings of the past, it examines the increasingly problematic role of historians as national storytellers, and it incorporates the stories of people.
Published:

1 February 2022

ISBN:

9781760898519

Imprint:

Vintage Australia

Format:

Trade Paperback

Pages:

432

RRP:

$34.99
Praise for Making Australian History
Clark's account of how Australian histories have been written – and why they were written as they were at the time they were – is lucid, sophisticated and utterly enthralling. From 'blank slate' to Deep Time, from the unimaginable and the unwritten to debates on compassion and imagination in history writing, Making Australian History offers the double thrill of reading the history of Australia and understanding, at the same time, why and how it was told, at different periods, as it was. To understand our history and the uses and blindnesses of histories told before opens up an understanding our many and varied selves, and those who have gone before us, to make Australian history. This book is an extraordinary achievement and a joy to read.

Anna Funder
In this brilliantly original book, Anna Clark tells the story of how Australian history has been created – not only by professional historians and authors but ordinary people using written word, sound, image and stone. By treating history-making as at once imaginative, scholarly and political, Clark invites us to consider who gains and who suffers when History has been the lens used to examine Australian experience. History is always contested – and this is the best ever account of what has been and still is at stake in this sometimes painful but always necessary business of rethinking Australian history.

Frank Bongiorno AM, Professor of History, Australian National University
One of a kind. Ambitious in scope, broad in its vision of history, and beautifully written. Like no other writer before her, Anna Clark has given us a compelling 'life story' of Australian history. With great insight and enviable clarity, she charts the making of Australian history over time and reveals the discipline's cutting-edge concerns today. There is no better book for anyone interested in the origins and evolution of Australian history.

Mark McKenna
Piece by fascinating piece, Anna Clark builds a sturdy case for the fact that while the past is a time concept, history is a human construct. Through tender attention to archival detail and judicious interpretation of the politics of history, Clark lays waste to the colonial fallacy that there is one uncontested and incontrovertible account of Australia's story. Elegant, erudite and timely, this book confirms Anna Clark as one of Australia's most perceptive history-tellers and history-makers.

Clare Wright
Powerful, moving, clever. Anna Clark's erudite investigation into the making of Australian history understands the complex role of the discipline in creating a national narrative. Through her unique personal standpoint, she delivers an insightful and intuitive unravelling of dominant colonial narratives while she reweaves a more inclusive, hopeful approach to the telling of history and the role of historians.

Larissa Behrendt
Australia would be a more generous and creative country if good history were more valued and read. Those wishing to engage thoughtfully with our past now have no better place to start than by reading Making Australian History. In writing history's "life story", Anna Clark has effectively written a humble, compassionate and fiercely intelligent new volume in the ever-changing history of Australia.

James Boyce, The Age
A surprisingly compelling and easy read. This is an important look at the work historians do and the changing and conflicting readings of the past. It provides insight not only into our past but into our present and even our future.

Tristen Brudy, Readings Carlton
This by Anna Clark is superb. Nothing like it (surpassing its big ambition, laconic, so accessible and elegant) on the history of Australian history for all its shameful whiteouts, its complexities, horrors and later road to essential reckonings.

Paul Daley
Clark's writing is lucid, engaging, open, and unpretentious. The book, she hopes, will be a 'discussion starter'; it is not intended as the final word. Threaded throughout are echoes of conversations Clark has held over many years: with herself; with colleagues, peers, and mentors; and with some of the historians whose work she reflects on in the book. (Perhaps this is in itself an illustration of how history is 'made'.) Her reflections unroll in unexpected directions: always thoughtful, sometimes quirky, often provocative, occasionally profound.

Penny Russel, Australian Book Review
Making Australian History is an impressive and detailed chronicle of the various historical movements within our national story. It is also a ruminative and absorbing attempt to recast popular understandings of our history – that is, our changing understanding of ourselves – into a wider and more diverse narrative. Clark's seeking study of Australia's historical myth-making and stories is an outstanding work of research, reckoning and reconciliation.

Nathan Smith, The Australian
A work which is brisk, alert, curious and intelligent. The reader is always prompted to ask questions or follow up herself.

Mark Thomas, The Canberra Times
Clark is a wonderful historian, one of her generation's best. As a writer she is also an admirable stylist. Possessed of a novelist's eye for detail, her tone is distinctively, laconically, Australian, her elegant prose marked by clarity and an absence of old-school academic pomposity and verbosity.

Paul Daley, The Guardian
Truly a history book for everyone, no matter what you studied at school

Lexie, Better Read Than Dead
Making Australian History is a remarkable book. Just the concept got me excited. A book about Australian historiography written for a general audience. I thought it'd be hard to pull off, but Clark surpasses all my expectations. Making Australian History is not only immensely readable, but is incredibly perceptive, timely and succeeds in deconstructing and exploring the inherently complex nature of Australian History) whilst articulating its and Clark's position within its narrative. Simply I've never read another book that so clearly explains Australia's historiography with eyes wide open to all its issues.

Historical Ragbag
Clark brings a historian's erudition to the ideas. Absolutely engrossing and it's beautifully written.

KATE GRENVILLE, The Australian
Rich and illuminating . . . Making Australian History is more than a work of public history; it is also an expansive and searching enquiry into the epistemological and ethical problems that have confronted Australia's historians over time.

Louis Klee, Sydney Review of Books
Clark has written a book which is sweeping in its scope, consistent in its argument and accessible in its presentation. Clark is persuasive in arguing that expanding upon what qualifies as history breaks down hierarchies around whose knowledge is valued and allows more nuanced understandings of the past to emerge.

Nancy Cushing, History Australia
Mark & Evette Moran Nib Literary Award
Longlisted • 2022 • Presented by Waverley Council
Ernest Scott Prize
Shortlisted • 2023 • The Ernest Scott Prize for History is awarded to a book based on original research judged to be the most distinguished contribution to the history of Australia or New Zealand or to the history of colonisation.
Article
Article