Bestselling Australian author of The Godmothers explores the joy of writing Marcie Gill and the Caravan Park Cat, her first book for kids.
I learned to read as a four-year-old and I can still clearly remember the joy I felt when I first fell into fictional worlds, in books by Enid Blyton in particular. It was as if I was right there beside the characters, living their adventures. I especially loved it when magic popped up.
I have 18 nieces and nephews and many of them have been guinea pigs for my earlier (unpublished) children's stories (usually starring each of them in different roles.)
When I first started writing Marcie Gill and the Caravan Park Cat, I knew I wanted to include all the ingredients I loved in my childhood reading: family, friendship, fun, drama and adventure – with the addition of a generous sprinkling of magic.
I loved writing ten-year-old Marcie Gill's character – she is (very) earnest, (overly) curious, (usually) kind but she (definitely) has a temper too, which gets her into trouble. As a lifelong cat lover, I also had great fun with George the cat. Midway through the final edits, I adopted a rescue kitten we named Nicholas. He (uncannily) resembled George, with his black fur and very green eyes. I did most of the final tweaks with Nicholas curled up beside my laptop computer.
My adult novels all have international settings, but for Marcie Gill, the action takes place in the fictional Australian town of Snorkel Bay, in the family's caravan park. To write those scenes, I recalled childhood holidays by the beach, hot Decembers and the build-up to Christmas.
I loved writing the scenes with all three generations of the Gill family too. There are tensions to be eased, problems to be fixed, they are all worried about Gran – but I wanted to show their love and support for each other too. I'm the middle child of a lively family of seven, with three brothers and three sisters, so I had lots to draw on for the scenes between Marcie and her tennis-mad big sister and fish-obsessed little brother.
I hope young readers will feel like they are right there in the Snorkel Bay Caravan Park, alongside Marcie, George, Gran and all the Gill family, enjoying their adventures and watching the magic unfold.
---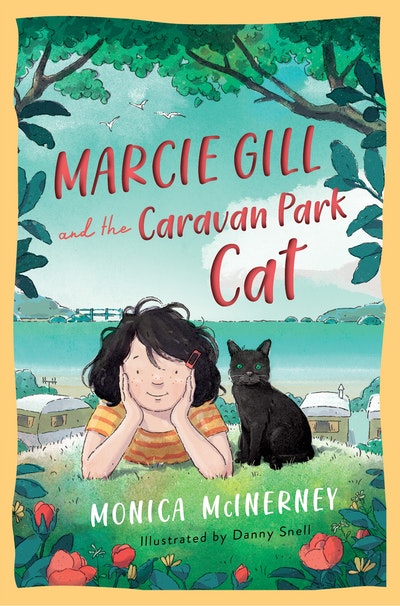 This heartwarming story by award-winning and bestselling author Monica McInerney will delight readers young and old.
Buy now
Buy now
---