The top tips for sprucing your bookshelf during the annual spring clean.
As the new season approaches, it's time again for the annual spring clean.
It may however pose a challenge for booklovers, who want to declutter the bookshelf but struggle to part with pre-loved novels.
We have some tips on how you can spruce up your bookshelf and even give your favourite books a second life.
Get reading
It's an obvious but a foolproof tip. If you're looking to declutter your bookshelf the best way to start is by tearing through the to-be-read pile so you can then pass them on to friends and family or store them away.
If you need some motivation to start reading, author of Raising Girls Who Like Themselves, Christopher Scanlon, has some tips.
He suggests reading in micro-bursts in the same way you read a news article on your phone, scroll through social media or glance at your emails during the school pick-up.
'[Read your book] in the same bursts that you would have previously looked at social media,' he says.
Nick Earls, who has just released his new book Empires, says people can also motivate themselves to read by booking time in the diary like you would a work meeting.
'Tell family members in advance you'll be doing it, and that the diary entry committing to reading has the same weight as a concert ticket,' he says.
Regift and donate
We all have books on our shelf that we've been meaning to read — but let's face it — you keep getting distracted with new books and are failing to ever get around to it.
Maybe you're just not that into it, and it's time to regift it to a friend or family member.
Alternatively, give the books you'll never get around to reading a second life by donating them to charity or your local library.
Reorganise the bookshelf
Maybe you don't have to part with any books at all to give your bookshelf a spring clean.
Put some thought into restoring some order to your bookshelf — grouping your books by genre or alphabetising the titles or authors could be a good place to start.
By reorganising your books, you'll still feel a sense of accomplishment and introducing a new system for your home library could help make things feel a little less chaotic.
Embrace technology
If you really can't say goodbye to any of your paperbacks and you have run out of space to fit another bookshelf, perhaps it's time to consider other options.
Keeping your books within the confines of your smartphone or tablet will ensure no more novels are being jammed into any vacant nooks and crannies.
Perhaps it is time to give an audiobook a go while you're out for your daily stroll or read an eBook instead.
Upcycle your books
There are ways to keep your books close to you without having them on the bookshelf.
You could consider transforming them into an artwork by framing your favourite covers and pages or repurposing binders into bookmarks.
How to get motivated for a spring clean
Create Space, written by Dilly Carter, details the importance of decluttering your home to clear your mind.
It teaches you how to reclaim your space, improving your relationships and enhancing your wellbeing in the process.
The guide to organising and decluttering your home is packed with ideas, advice, tips and techniques that are functional, as well as beautiful, and is the perfect buy just in time for spring.
More spring cleaning inspiration 
---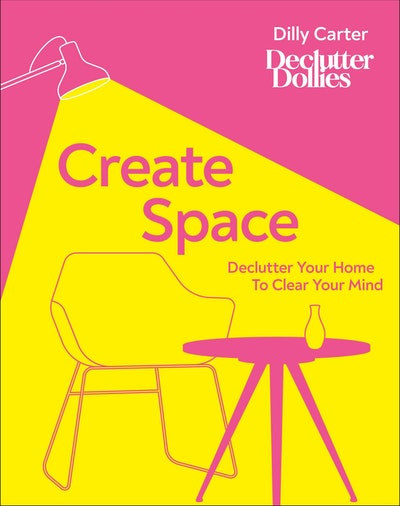 Streamline your possessions with simple sorting and storage solutions and discover the mental health benefits of living in a clutter-free home
Buy now
Buy now
---