Australia's most entertaining business blogger, Ian Whitworth, explains his path to publication.
Undisruptable is the story of how two average employees escaped corporate jobs and created our own fantasy reality: a profitable national business that we don't have to work in day-to-day.
We did it without clever financial analysis, using basic management tools your parents probably taught you. We came from unpromising beginnings. My business partner was an ex-rock'n'roll roadie turned hotel suit. I was one of the worst veterinary students ever, a corporate events technician and later a creative director, driven by fear of ending up like the grey ponytail men in Mambo shirts that surrounded me in meetings.
Most of what we were told as employees, the popular wisdom and accepted success goals, turned out to be wrong. I spent the early years of my career trying to please people and 'be corporate'. Fair enough, that's what I was paid for. But strange instincts told me to mess with the system. A lot of my suggestions got the old 'if it ain't broke don't fix it'. So I focused on learning how things are done in Corporate World, despite the questions they raised. I silenced the voices in my head when they asked questions like 'wouldn't we make more profit if we fired half our clients?'
Then the business that employed us got taken over by private equity, and in came an army of MBAs. We'd always assumed MBAs were our natural business overlords. They had studied hard, paid plenty for their degrees, and seemed very... businesslike. Then we watched the havoc they wreaked on the business. Their maniacal focus on finance and process delivered short-term results but killed a company's soul. Which, ironically, killed its financial performance.
In MBA world it's finance first, clients second, staff a distant last, whatever they say publicly to reassure the troops. MBAs have no respect for the craft of the people who work for you or the pride they take in it. In MBA world they're just generic, replaceable units of labour.
We realised the path to a successful, lasting business is to do the opposite of what MBAs would.
We're not in a well-known field. Our main business, Scene Change, provides the presentation technology – sound, lights, video projection and staging – for corporate events like conferences and product launches. We have businesses in most states of Australia. Our people lurk in the dark at the back of the show, making bank CEOs, software platforms and new cars look heroic.
It always bugged me that business books didn't convey the incredible fun of having your own business. They seemed so… serious. Plus, as an AV technician that sat at the back of the room watching every success hustler and motivator in the country, I felt there should be a book that told you how to get there without all the embarrassing shtick that goes with their version of success. Most of my business-owner mates are women, and I think the classic The Apprentice alpha-male model of being a boss needs to go in the bin.
So I wrote that book, with the fun title of Kill All MBAs. It got a great response from commissioning editors at some major publishers ('it's like a business book only I wanted to keep reading it, that has never happened before'). But their sales and marketing teams didn't want to put out a non-fiction book from someone who didn't bring a major media or social following. Back to the drawing board.
Getting a following takes longer than you think. Cue three years of relentless blogging on the business-owner experience, and some interesting PR capers. Taking my Mum on Weekend Sunrise to discuss how her insurance company had been robbing her blind was a highlight. ('I was annoyed to discover I'd been paying three times the regular rate for home insurance, but let me say how proud I am of my three wonderful children.') Mum now has a massive following among 20-35 year old event industry women.
The bin-fire year of 2020 brought mixed blessings. A carpark flood destroyed all our expensive technology in one of our offices, and it turned out our insurance policy didn't cover it. A bunch of major events got cancelled due to bushfires. Then the big one: COVID-19 made the work we do literally illegal. We had 65 full-time staff, hundreds of casuals, and warehouses full of expensive tech. All of it went from super-busy to zero over a couple of weeks. And it stayed that way for at least 9 months. It was an extremely stressful time.
I ran lots of How To Stop Your Business From Being Killed blog stories. Ironically, the worst-ever news for our business gave me the big jump in blog readership I needed. And in the only good news of 2020, Penguin Random House got in touch and said: we've been enjoying your live-eye reporting from the front lines, have you ever thought about writing a book?
Yes, I had.
Despite the business horrors of 2020, we still managed to keep our whole team together and our business is well-positioned to do well post-apocalypse. And despite all the stress, we were OK with it all, because when you own your own business, you can control your own destiny. Rather than wait timidly for some distant manager to decide your fate.
Undisruptable is a step-by-step guide on how to get that control over your life. From setting your business up, marketing, branding, finance, staff management, and all the other things you need to know, in short chapters. So if you have kids or no spare time, you don't have to remember where you were up to.
I've made all the expensive mistakes so you don't have to, plus you get to read the painful stories of how I did it.
I'll leave the final word to the book's proofreader. Proofreaders don't normally do reviews. They're clinical and detached. That's their job.
She said: 'The book itself is superb and I enjoyed every minute, which is not something I ever thought I would say about a business book – this old socialist was chortling out loud all the way through.'
If Undisruptable can convert a socialist proofreader to business, that's as good a review as I'm ever hoping for.
---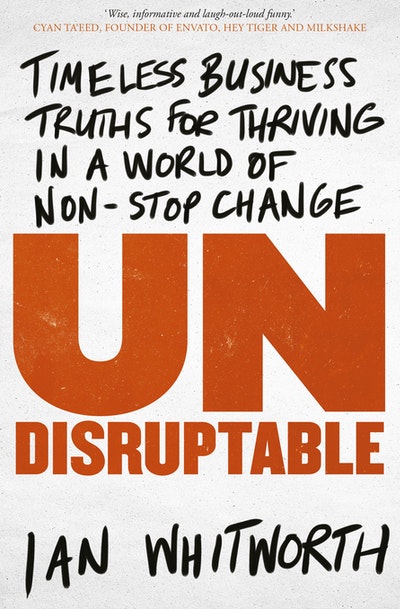 Australia's most entertaining business blogger, entrepreneur Ian Whitworth, explains how to succeed on your own terms in today's relentless work world.
Buy now
Buy now
---