Port Arthur convicts turned to cannibalism in an attempt to survive in the harsh Australian bush.
In Convict-era Port Arthur David W. Cameron weaves an evocative narrative of one of the most remote and feared convict locations in Australia. This comprehensive history of Port Arthur exposes the horrors and many tragedies that fell upon the convicts, soldiers and administrators who spent time there. In the passage below we discover the perils of trying to escape and the likelihood of being swallowed up by the bush…
'I could eat a piece of a man'
Most escape attempts from Macquarie Harbour were made on foot although the last attempt before it closed was in 1833 and involved the hijacking of the brig Frederick, which the convicts themselves had built on the slipways of Sarah Island. Shipwright David Hoy and a few others were caught up in the mutiny and were soon after put ashore on the west coast where they walked for eight days before being found. Hoy was supplied with a warm coat, shoes and two bottles of wine; the convicts obviously thought well of him.
The mutineers, ex-sailors among them, successfully made their way to Chile where they abandoned the ship to sink and made landfall in the ship's longboat, claiming to be shipwreck survivors. However, they were soon identified because of drunken loose talk. They were all quickly rounded up and handed over to the next passing British naval frigate, HMS Blond, and found themselves back in Van Diemen's Land. The survivors ended up on Norfolk Island, lucky not to have swung on the end of a noose, although after a month on the island most probably wished they had.1
If any lesson was required to the folly of trying to escape from Macquarie Harbour on foot, then the unknown fate of six convicts, including brothers Philip and Michael Flannagan, who disappeared into the bush in March 1822, should have provided all with the answer. And if any additional warning was required, the fate of the search party that went out after them should have put an end to any such speculation. Commandant Cuthbertson organised for privates Stephen Parker and Thomas Reynolds to go out in pursuit, supplied with two weeks' rations, and accompanied by three trusted convicts and two kangaroo dogs. They too were swallowed up by the bush, never to return.2
In 1827 the immediate area around the harbour was described by surveyor and explorer of the Van Diemen's Land Company Henry Hellyer, who with a small party attempted to penetrate the bush: 'Dead logs and branches impeded us at every step; and we were continually meeting with large tracts of dense thicket, from thirty to forty feet high [10 to 12 metres], so closely interwoven and matted together, as to be impenetrable below: and we were often obliged to be walking upon these never-dry, slippery branches, covered with moss, as much as twenty feet [6 metres] above the ground, which being in many instances rotten, occasioned us many awkward falls, and tore our clothes to rags. We were not able to force our way on five hundred yards in an hour in some of these horrid scrubs.'3
During the first year of the penal settlement at Macquarie Harbour, 10 per cent of convicts disappeared into the bush, most never to be seen again, and it rose to around 15 per cent by 1824. In one case from June 1824, Timothy Crawley, Richard Morris and John Newton, who were working the lime kiln, seized a boat and provisions – the boat was found 20 kilometres downriver from the kiln moored to a stump, and scribbled on its stern in white lime was 'to be sold'. That was the end of them.4 Indeed, between 1822 and 1827 a government report indicated that there were 116 convicts from Macquarie Harbour who disappeared into the bush and of these, 101 were recorded as coming to an 'untimely fate'.5 There are recorded cases of some of these escapees resorting to cannibalism in order to survive, including Edward Broughton and Matthew McAlboy who in 1830 just before being hanged individually confessed to killing and eating two of their fellow escapees from Macquarie Harbour.6 It is also likely that many others who did not survive turned to cannibalism before dying alone in the bush. Only one man escaped from Macquarie Harbour twice, the convict Alexander Pearce – the most famous cannibal of them all.
CHAPTER 7 NOTES
Courtenay, A. (2018) The Ship that Never Was: The Greatest Escape Story of Australian Colonial History, ABC Books, Sydney; Hughes, 1987; Maxwell-Stewart, 2008.

Maxwell-Stewart, 2008; Sargent, 1996; Sprod, D. (1977) Alexander Pearce of Macquarie Harbour: Convict – Bushranger – Cannibal, Cat & Fiddle Press, Hobart.

Quote from Sprod, 1977, p. 65.

Quote from Maxwell-Stewart, 2008, p. 32.

Quote from Sprod, 1977, p. 64.

Brand, 1984; Maxwell-Stewart, 2008.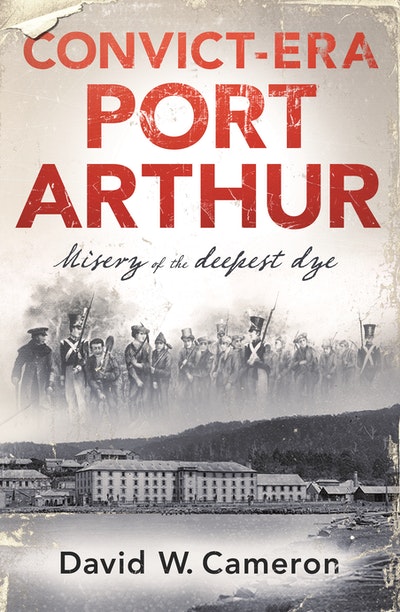 Convict-era Port Arthur
An evocative narrative of the many tragedies that fell upon those who were forced to serve time in Port Arthur, one of the most remote and feared convict locations in Australia.
Read more