Simple steps from Mums Who Clean for getting on top of a messy house.
It's so easy to get into a rut and let your home get out of control. When it becomes a mess, you may find yourself overwhelmed – and swamped with panic when you have surprise visitors arriving in thirty minutes' time!
A busy lifestyle, an illness or a change of schedule are all times when cleaning and tidying can become less of a priority. This is really common and completely normal – you're not the only one experiencing this.
If you have no idea where to start, then start here! This basic list, arranged in order, will simplify the task before you, make it feel more manageable, and help you get your whole home cleaned. It might be just what you need to get going.
This list will get your home back to a respectable standard, so that you're ready to move on to a deep clean. Complete the steps in the order they appear in for the quickest results. Chuck on the Mums Who Get It Done Spotify playlist to keep yourself on track and motivated.
Rubbish
Pick up all rubbish in your home and take it to your outside bins. Carry a garbage bag or tub with you the whole way around your home and pick up every little scrap of waste. Common areas that are forgotten are the bedrooms (used tissues), the bathroom (empty bottles and toilet-paper rolls) and the toy room/playroom (empty packets and bags).
Washing
Pick up all dirty clothes and linen and put them in the laundry – in a hamper, or just on the floor. Put a load on now. If you have lots to do, use short/quick cycles to get back into the swing of it. Change the loads as you go on with your cleaning. Consider using a dryer for these loads to speed up the process.
If you already have clean washing ready to put away, make your bed now and place it all on the bed. On a day like this, it is helpful to put it all in one place to sort later. Don't go to bed before this is done, though, or it just becomes a bigger issue.
Dishes
Collect all dishes from around your home. Wash a load or stack the dishwasher. Do more loads if required as you go on with your cleaning.
Be sure to check bedside tables and in kids' and teenagers' rooms. If you have heaps of items for handwashing, it might be helpful to pop a towel over the stove and leave the dishes there to dry while you complete other tasks. This way you are not restricted by the limited size of your draining area.
Tidying
Pick up every item that is not where it belongs. Put it in its home. If you don't know where it lives, find a box/basket/hamper and designate it your 'crap box'. Put all the stuff you can't rehome in here and deal with it later. This helps you keep on task and not get bogged down in details.
If you have space in a wardrobe or similar, pop the crap box in there so it's out of the way for now.
Rachael's tip: Pop a note in your planner or calendar to ensure you don't forget about your crap box.
Toilet
Put some toilet cleaner in the toilet bowl and leave it to do its work.
Dusting
Do a basic dust of window frames, wall hangings and surfaces/furniture. An extendable duster makes this job easier; however, any dry cloth will get the job done.
Surfaces and Bathroom
Use a general-purpose spray to clean your surfaces and furniture. Wipe down with a microfibre cloth as you go. Do your bathroom at this step – just a wipe over. Finish off by brushing and flushing the toilet.
Vacuuming
Do a basic vacuum of the whole home, including hard floors. A stick vacuum is sufficient if you have one – no need to get your big one out.
Mopping
Mop your hard surfaces. (If you have an all-in-one vacuum/mop like a CrossWave or HIZERO, use this on your hard floors instead of vacuuming them separately.)
Remember that this is just a basic clean, not an in-depth clean, and you can do it in a short amount of time. If you are pressed for time, you might like to set a timer to rush through it.
Once you have completed the basic clean, you can work through the rooms in this book to complete your deep clean in a more leisurely fashion.
Rachael's tip: Multitask while vacuuming or mopping – add scent to your mop water or vacuum filter. The scent will spread through the house while you work.
---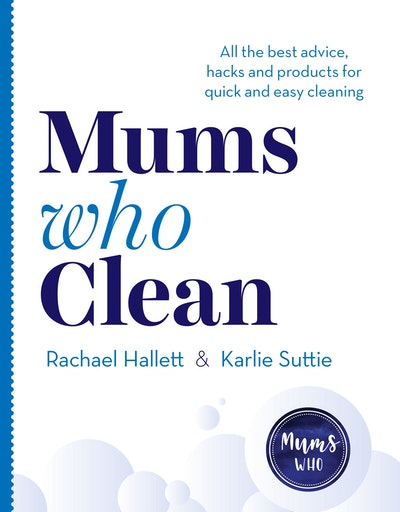 Aussie mums' best advice, products and hacks for the cleanest house you've ever had
Buy now
Buy now
---