In What's it Like to be Chased by a Cassowary? you can get on-trend with your wine speak.
Fancy yourself as a trivia star? Want to wow your friends with the answers to almost everything?* Want to know the most fascinating explanations to the most perplexing questions? Like: What's it Like to be Chased by a Cassowary?. In the book of the same name, journalist Felicity Lewis brings together an engaging and lively curation of authoritative and original voices from the nation's most trusted news outlets to answer your curliest questions.
Ever wondered what's the origin of the quintessential Aussie term 'mate'? What is a 'think tank'? Who runs Antarctica? In What's it Like to be Chased by a Cassowary? you'll find answers to all of these, and so much more. Discover surprising facts about all aspects of life and information about all kinds of investigations from throughout history and around the world. But first, the answer to the question at the top of almost everyone's domes: what trendy wine terms can I use to impress my friends? We're glad you asked. And in Lewis's book, award-winning wine and drinks writer Max Allen has the answers.
*Disclaimer: book may not contain the answers to 'almost everything'
Wine talk tends to reflect winemaking trends; how wines are made now are quite different to how they were made a generation ago. Take Australian chardonnay. In the 1980s and '90s, most examples of this grape were golden-coloured and rich-tasting because the grapes were picked ripe, and the wine was aged in new oak barrels (toasty vanilla, remember?). They were described positively using words such as tropical and peachy and buttery. But twenty years later, the language has changed: citrus and lean and mineral are instead being used as desirable descriptors because chardonnay is being made differently – grapes are picked earlier, less new oak – and is lighter in colour and body.
Wines with 'minerality' are all the rage, in fact, and you come across this word a lot. It's controversial, though: soil scientists grumpily point out that there is no direct relationship between the minerals in the ground and the flavour of wine grown in that ground. The vine's roots do not take up granite and deposit it as trace elements in the grape, so wine cannot feasibly taste of granite – despite the fact that wines grown in soils derived from those rocks do indeed often taste distinctly minerally, like sucking on river pebbles. Some canny researcher will, no doubt, solve this mystery one day.
'Funky' has become particularly popular in recent years with the advent of natural wines – wines made with as little as possible added or taken away, wild fermented, unfiltered, no preservatives. It's a catch-all word for aromas and tastes that aren't pristine and fruity: a hint of barnyard, perhaps, some of Pliny's 'roughness'. It's a handy word to have up your sleeve when your friend/sommelier pours a glass of murky, still-fermenting, orange-coloured liquid and raves about it – but it makes you gag. A touch of funk can be a lovely thing, bringing complexity and deliciousness to the wine. But if the funk becomes the dominant flavour then it can be a rather unlovely thing. 'Mmm,' you can say through a clenched smile, not wanting to offend. 'Funky.'
Another wine word that's emerged from the natural wine scene is 'smashable'. It's not so much a tasting note as a way of describing how the wine is drunk – or 'smashed', thirstily, with great pleasure (the French term for such wines is vins de soif – thirst-quenching wines). Smashable wines are made from grapes that are picked a little earlier, lower in alcohol, higher in acidity, often fermented with whole bunches to increase the juicy, sappy flavours, bottled without preservatives, intended to be drunk immediately. So: 'Here, try this, it's really smashable booze.'
And texture – the way a wine feels on your tongue – is big in wine-tasting circles these days, especially now so many producers are making white wines more like red wines, fermenting and macerating the grape skins with the juice, looking for more richness and grippiness in the mouth. Talking about texture indicates you're more than just a newbie wine taster – but have fun with it. It may well be correct to describe a riesling, for example, as 'very dry, with a high level of acidity' but isn't 'zesty and refreshing, like crunching into a tart, green Granny Smith apple' just a bit more evocative – enticing, even?
---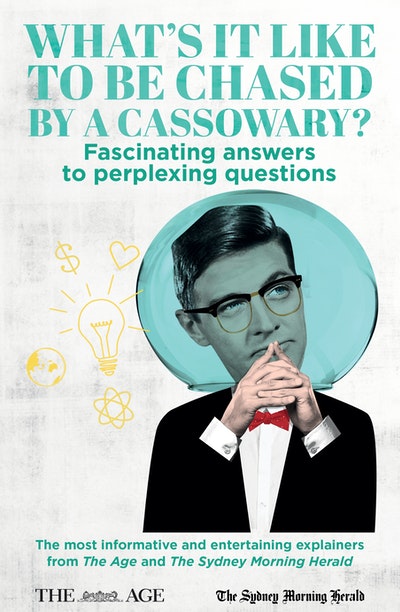 Catnip for the curious, this anthology is an engaging and lively curation of authoritative and original voices from the nation's most trusted news outlets.
Buy now
Buy now
---