Bec Brown on the quarter-life crisis that changed her career path and what she learned along the way.
Put your hand up if you had a rough time navigating your career in your early years. Whenever I ask this, most hands go up. Mine sure did. Maybe you're struggling through something similar now.
In my late teens and early twenties, while I may not have been living through a global pandemic, I still often felt as if my life was out of my control – adrift and rudderless. While trying to carve out a successful career, I battled eating disorders, anxiety and depression. I wish that someone had handed me a practical book that taught me how to create a sustainable and fulfilling work-life while earning a fantastic income.
Would I have taken all of its advice on board? Probably not. I would still have needed to explore and make my own mistakes and learn from them. But a shortcut would have definitely helped a lot.
So years later – after overcoming the eating disorders, anxiety and depression and creating a successful and thriving company working in an industry that I truly love – I wrote the book that I wish I had back then. It's called You've Got This. It's full of practical tips and real-life stories on what works and what doesn't, based on all the latest research as well as my own wins (and some of my shocking mistakes, which I'm very honest about.)
With this ongoing global event that has left the job-market so uncertain, it's a timely guide that offers practical solutions based on 100% proven tips, valuable anecdotes and easy-to-action advice. And if it helps just one other person to not go through some of the angst that I did, it's done its job.
So who am I to be dishing out advice? My name's Bec Brown. I'm 40 years old and live near the beach in Sydney with my husband Dom. For the past eight and a half years I've run my company The Comms Department – a public relations, corporate communications and crisis management company. We work with some of the biggest names and brands in the media, entertainment, travel and lifestyle industries. But something that You've Got This talks about is how I wasn't always in public relations.
As a little girl, I dreamed of being a musical theatre star on Broadway or London's West End. But I was far from either – I grew up on a farm surrounded by rolling paddocks of crops, sheep and cows, outside a tiny town at the foot of the Flinders Ranges in South Australia.
To be able to study music at school I had to leave home when I was 15 and move to Adelaide. After school I studied at the Conservatorium of Music and earned a music degree. Things moved quite quickly from there and I ended up performing all over the world. I sang on stage in musical theatre and opera, in jazz and pop bands, and I was even a children's entertainer (think a cross between The Wiggles and Hi-5).
But at 25, I had what I call my quarter-life crisis (QLC) and it made me move home to Australia and completely change careers. I'm really honest about my QLC because being unhappy, frustrated or worried about your career, particularly in your 20s, is unfortunately so relatable. But acquiring the tools to better equip yourself to deal with it all is easier than you think, you just need to know what the tools are and how to use them. And they're learned skills, so are within anyone's grasp.
So at the peak of my QLC I retrained, going back to uni to study media and communications, majoring in public relations.  And after a few years I worked my way up to a dream role as the national PR manager for Universal Music and was there for five years. It was an incredible company to work with, managing PR campaigns for some of the world's best-known artists – Dolly Parton, The Rolling Stones, Paul McCartney, Sting, Andrea Bocelli, and many, many more.
But at 31 I started to get restless again – I was yearning to try and run my own business and be able to have more control over who and what I was promoting and, as my world view broadened, I realised that I also wanted to work within other industries that weren't just music, so I started The Comms Department. I now work with a team of eight brilliant people spread across Australia and New Zealand, servicing household-name clients all over the world. And because I'm also really interested in understanding people and the way our brains work and how we as humans can work together to achieve incredible things, I recently completed a certificate in social psychology.
Reading this back, this post-QLC life sounds pretty awesome. That anxious 25 year old would have been wide-eyed at the thought of it. And it is awesome. I'm incredibly grateful for it. But it wasn't an easy ride, and it came with a lot of lessons. Lessons that were crying out to be shared.
And I had many people asking for advice – graduates wanting to intern with me, young professionals who wanted to advance their career, those in corporate jobs who'd rather be doing something creative, and those who wanted to start their own business or side-hustle. Plus plenty of people who don't quite 'get' PR, but want to understand it as they knew it could advance their career or business. So that all led to me writing You've Got This.
Just in the last week alone I've had three examples of women who've approached me for advice, and the answers were all in the book. Sasha who's an incredibly bright marketing executive but is quite introverted and struggles in her boisterous workplace. Jasmine, who's 19 and a design graduate, but finds herself comparing her life to others on Instagram, and she very unfairly thinks she's not doing well. On top of that, at work she doesn't know how to talk with her Gen X or Boomer bosses. And Emma, a brilliant 26-year-old journalist who was made redundant last week thanks to COVID, she's looking for new work but needs to find ways to make herself stand out from the pack.
The solutions to each of these things are learnable skills. They're things that I had to learn the hard way, over many years, through tons of research – in books, online, and podcasts - and learning from mentors who I found along the way.
I'm also determined to help creatives be both creative and commercial. Because those in creative pursuits usually feel it's a calling – it's a passion that they must do. But, often, mapping out a financial path that goes along with a creative passion isn't something that's naturally ingrained.
So You've Got This explains how to do that – because we all deserve to have a wonderful, fulfilling career and make great money to support ourselves, our families, and the wider community.
Meanwhile, I wanted the book to be something that was easy to read, with bite-sized pieces of information that you can easily absorb. So it's been designed more like a beautiful magazine and I commissioned my friend Inga Campbell to illustrate all the stunning women who are featured. After holding Art Director roles at magazines like Cosmoplitan, GRAZIA and Girlfriend, Inga now owns her own design business Inkling Design so I also interviewed her and used a lot of her industry knowledge and business stories in the book so that we have a second perspective (two experts for the price of one!)
Because of the pandemic, I'm asked a lot at the moment about what's the most important piece of advice for anyone looking for work, wanting to bounce back from a job loss, or wanting to start a business. I cover this in more detail in the book but here are some thought starters:
While there's no one silver bullet that will solve everything, when times are changing it's helpful to remember that while we can't control what happens to us, we can control our reaction to it. In life there are facts and there is drama – which one will you choose to focus on?
Starting over can be one of the best things we get to do. But before moving ahead, take the time to evaluate where you are – is the direction you want to move in truly in line with your values and who you want to be?  If no, perhaps this is your chance to consider a new path. If yes, do an audit of both your soft and hard skills and if there are areas you feel you'll need to improve, can you start that process? Who can you talk to who's gone before you in your chosen area to find out what you need to know? This can be important as without them 'you won't know what you don't know'.
Second to this is creating and maintaining your professional personal brand. Once you know what you stand for, how do you showcase this to the world? How is this reflected each day when you're in person, on email, online or on social media? And when you're working in a competitive market, what steps can you take to stand out from the crowd in the right way?
And lastly, back yourself. Talk to yourself as you would your best friend. Be an encourager and try very hard to push the doubt aside as it's not usually helpful. Remember that tough times don't last, tough people do – and that's you. You've got this.
Connect with Bec on Instagram or meet The Comms Department here.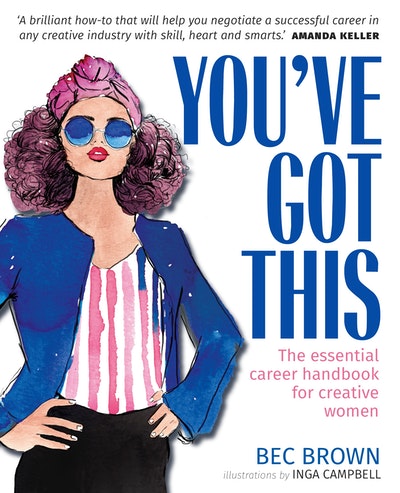 You've Got This
Build your dream career in any creative industry by following the practical, achievable and 100 per cent proven steps outlined in this book.
Read more