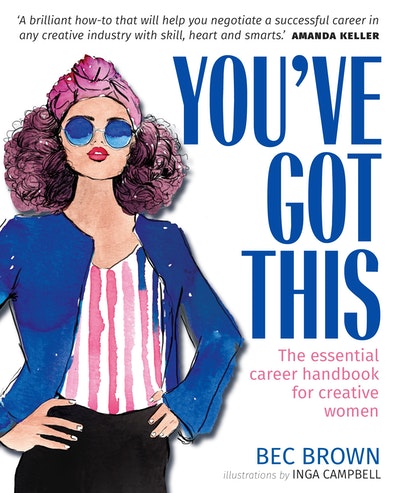 Published:

15 September 2020

ISBN:

9781760145279

Imprint:

Penguin eBooks

Format:

EBook

Pages:

208
You've Got This
Seven Steps to a Life You Love
---
---
---
Build your dream career in any creative industry by following the practical, achievable and 100 per cent proven steps outlined in this book.
Want to flourish in a creative industry such as entertainment, marketing, advertising, PR, design, photography, media or the arts?
Would you love to score your dream job or start a business doing something you love and be earning a great income – but you aren't sure how to make that happen?
Then this is the career hack you've been waiting for.
In You've Got This, two successful creative founders share their secrets for the very first time about what they've learnt in over twenty years of doing business – all so that you can get ahead.
It's full of practical advice and easily implementable tips on topics including how to stand out from the crowd by investing in your personal brand, negotiating a promotion, overcoming setbacks, managing your workload, mastering public speaking, and so much more.
Refreshingly honest and indispensable, You've Got This will help you reach your creative and earning potential and find career fulfilment, without it sucking the life out of you.
The working world can be competitive and fast-paced, and the unfortunate reality is that many clever graduates and smart professionals are struggling with feeling anxious or frustrated. And with recent world events, now more than ever many are assessing their values and motivations.
But thankfully, there's a way to take charge.
And after reading this book, it'll all be clear. Because trust us: you've got this.
A portion of the proceeds from every book sold will be donated to two charities that support women: Fitted for Work and Life Changing Experiences' SISTER2sister.
Published:

15 September 2020

ISBN:

9781760145279

Imprint:

Penguin eBooks

Format:

EBook

Pages:

208
Praise for You've Got This
A brilliant how-to that will help you negotiate a successful career in any creative industry with skill, heart and smarts. I wish this advice had been around at the beginning of my career.

Amanda Keller, television and radio host
If you're looking for a wishy-washy career book full of pointless inspirational quotes then sadly this isn't for you. You've Got This is packed with practical advice that's straightforward, easy to action and, importantly, works. I found myself nodding along to every step, tip and trick. It's an invaluable business mentor in a (not boring) book.

Leigh Campbell, Mamamia executive editor and You Beauty podcast host
This is the book I wish I had when I started in journalism and then again when I started my own business. It will help you at any stage of your career. It's practical and broken up into bite-sized pieces of wisdom. I'll be gifting You've Got This to all of the girls I mentor.

Shelly Horton, 9Honey journalist and owner of Shellshocked Media
This is more than just a how-to guide. On these pages is priceless encouragement for those who want to succeed in the media industry without sacrificing the most important thing – themselves! Here's to a future where kindness and authenticity are at the forefront of what we do and how we do it!

Ash London, television and radio host
Whip-smart. Honest. Genuine. Practical. Encouraging. Yes, that's an accurate description of Bec, but it's also how I'd describe her advice in this book. Bec's poured all her hard-earned knowledge and experience to create this invaluable go get 'em guide filled with advice, tips and recommendations. Plus, every page has Bec's signature warmth and you can just hear her chanting 'YOU'VE GOT THIS' through every single page.

Sally Obermeder, television host, author and co-founder of SWIISH
You've Got This gets candid about the realities of today's working world and guarantees a more rewarding path to success . . . [Bec's] learnings can be applied to most sectors including media and entertainment

Mediaweek
Article
Article
A value proposition
Notebooks ready! From You've Got This, Bec Brown runs an exercise in evaluating what matters most.