From Surviving Year 12, three parenting tips to help you help your kids.
Dr Michael Carr-Gregg's Surviving Year 12 is a call to arms for all parents to help facilitate for their kids a healthy final year of school and transition to adult life. Times have changed since we, the parents, finished school, so we can't necessarily call on our lived experiences to guide our kids through the Year 12 pressure cooker. But, as Dr Carr-Gregg outlines in the book, we can still offer plenty of encouragement, help our kids maintain perspective, and focus on the enjoyable aspects of their transition into the 'real world'. From the pages of Surviving Year 12, here are three tips for parents to help keep sanity intact.
1. Be a charismatic adult
All Year 12 students need to know that someone has their back, and that they are safe, valued and heard. I often refer to this person as a charismatic adult. The reassuring presence of such a person during the academic roller-coaster ride of Year 12 allows the student to feel a sense of meaning, purpose and belonging while complet­ing the final year.
Evidence suggests that knowing this comforting, sup­portive person is in the background represents a major psychological insurance policy that, in turn, greatly increases the likelihood that your teen will seek help when needed. The more linked they feel to such a person, the more likely they are to include parents in the study–exam cycle.
Part of being an adolescent in Year 12 is experiencing the psychological imperative to emancipate from adult carers; that is, to start breaking the childhood bonds with parents. But having had many thousands of conversations with Year 12 students, despite the fact that they are all at different stages of this developmental phase, it is clear that, deep down, many actually do want parents to help them through this year. So, depending on their level of emotional and intellectual maturity, this can be an under­lying dynamic in many Year 12 families.
2. Help them keep the year in perspective
Year 12 is undoubtedly an important year, but the key parental message is that it is just another stage of life and the universe does not revolve around what happens in this year. Not everyone has a skill set appropriate for university, but that's not suggesting that these people are lesser than those who do – they just have a different and still-valuable skill set in another area. Besides, getting a law degree these days, unless combined with something else, may not be that useful. The brain isn't fully developed until we are into our mid-twenties. It takes time for students to figure out who they are and where they are going, and that's okay. Everyone develops at their own rate.
3. Help them focus on the good bits
Positive psychology is an evidence-informed preventative mental health strategy that you can and should engage in throughout the year with your teen. We have cited plenty of research and examples to illustrate just how stressful Year 12 can be for some students. Encouraging them to see life as it is, but to focus on the good bits, is a pro­tective factor for their mental health – a psychological insurance policy, if you like. The father of positive psy­chology, Dr Martin Seligman, argues that regularly taking time out to write down three good things that happened in the day (what went well and why) results in people being less depressed and enjoying higher levels of wellbeing than people who don't. By focusing on what is going well, everyone can rewire their brain to the positive. Make this a regular part of your evening – the whole family can even take part. If pen and paper is too old-school for your teen, they can download an app, such as Three Good Things or Grateful: A Gratitude Journal, which can make a big difference to them feeling moti­vated to take part.
---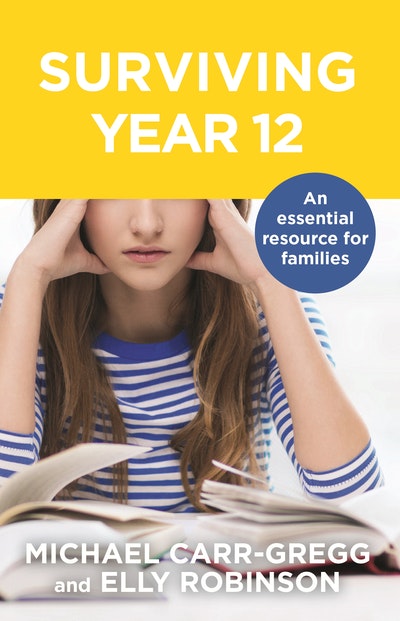 A fully revised and updated edition of the classic bestseller.
Buy now
Buy now
---