A delicious and healthy sweet treat from Smart Snacks. 
This is the reimagined Mars bar, which has layers of chocolate, choc-malt nougat and caramel. The Venus Bar has three layers and looks fabulous on the plate. Kids only need a small piece because it's so rich but it has lots of lovely different textures so they might have trouble stopping at one! This recipe calls for mesquite powder which is from a South American plant of the same name. You do need to make a trip to the heath food store to get this. Mesquite powder is gluten-free and high in fibre, protein and other minerals including potassium, magnesium, zinc and iron. It has a sweet nutty taste and adds a lovely caramel flavour but the recipe won't fail if you don't have any.
 
VENUS BARS
dairy-free / egg-free / gluten-free / wheat-free
Makes 30–36
INGREDIENTS 
Caramel layer:
1½ cups (285 g) buckwheat
1½ cups (270 g) pitted medjool dates (about 13)
1–2 tablespoons mesquite powder (optional)
Choc-malt nougat layer:
3 cups (450 g) raw unsalted cashews
⅓ cup (75 g) coconut oil, melted
½ cup (50 g) cacao powder
1 tablespoon rice malt syrup
Chocolate layer:
½ cup (125 ml) canned coconut milk
¼ cup (60 g) coconut oil, melted
1 tablespoon cacao powder
1 tablespoon maple syrup
1 teaspoon vanilla extract
 
Method
To make the caramel layer, put the buckwheat into a food processor and process until ground, but still with texture.
Add the dates and mesquite powder (if using) and process again until well combined and the mixture comes together.
Line a 16 cm × 26 cm (base measurement) roasting tin with baking paper. Press the buckwheat mixture into the lined tin, pushing it into all the corners to make an even layer. I use my fingers for this as it's a dense but pliable mixture.
To make the choc-malt nougat layer, put the cashews, coconut oil, cacao powder and rice malt syrup into the food processor and process until well combined. (Don't worry about cleaning the food processor between these steps.) Press this mixture on top of your 'caramel' layer. Again, try and get it as evenly spread as possible; I find fingers are the best tools for this task.
For the third and final chocolate layer, put the coconut milk, coconut oil, cacao powder, maple syrup and vanilla into a clean food processor or blender and process until well combined. Pour over the top of the other layers to evenly cover. Chill in the fridge or freezer for 1 hour or until set.
This layer will have a lovely mousse-like consistency so it will be soft to the touch even after refrigeration. Cut into pieces to serve.
 
Buckwheat has a sweet flavour. It's good for cleaning and strengthening the intestines as it has a high level of fibre, which adds bulk to bowel movements, aiding movement through the gastrointestinal tract.
TIP: Venus Bars will keep for up to 3–5 days in an airtight container in the fridge.
---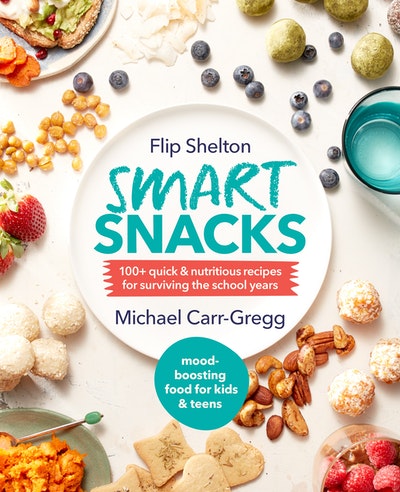 Smart Snacks
Michael Carr-Gregg, Flip Shelton
Over 100 quick, easy and nutritious snacks to boost mood, energy and brain power – for happier, healthier kids and teens.
Buy now
Buy now
---