Multi-award-winning journalist, author and proud 'crazy dog lady' Laura Greaves tells the story of a survivor named Fergus.
'Stories of miraculous dogs are everywhere, if you know where to look for them. Sometimes they're big, headline making, truly awe-inspiring…' writes Laura Greaves in the introduction to her book Miracle Mutts. 'But other times they're small and quiet. They might just be sweet examples of a canine's triumph over illness or injury, or a routine set of circumstances that lead to a nice outcome for a four-legged friend.'
Greaves shares the stories of miraculous dogs who conquered seemingly insurmountable odds, dogs whose futures seemed bleak, dogs that weren't expected to make it, but triumphed and thrived in the face of incredible adversity. One such story is that of Fergus, a golden retriever who went from abused stray to therapy dog for burns survivors. In the passage below we meet Fergus and learn the amazing tale of his rescue.
The Golden Retriever Club of America has its own rescue committee. Its job is to support nearly 100 individual breed rescue groups working across the nation to find new homes for abandoned or abused goldies. One of those groups is Southern California Golden Retriever Rescue (SCGRR), based in Los Angeles.
And on 15 August 2015, SCGRR happened to be in the right place at the right time to help a young goldie in desperate need.
Like many major cities the world over, the sprawling City of Angels is divided up into local government areas called counties. Each county has its own animal control department, and most operate at least one shelter that takes in stray and surrendered dogs, cats and other animals.
Los Angeles County is the most populous county in LA (and in fact in the entire US), with more than 10 million inhabitants. It has seven shelters, and in the 2018–19 financial year they took in 36 818 animals. Five thousand of those were dogs surrendered by their owners, while another 11 000 were strays. More than 14 000 dogs were returned to their owners or adopted to new families, but nearly 2000 were euthanised.
On that steamy August day, volunteer Barry Jacobs had driven two hours to LA County's Lancaster shelter on behalf of SCGRR to pull a golden retriever. (Independent rescue groups frequently pull animals from county shelters, placing them in foster homes while they work to get them adopted.)
While he was there, a dog in the facility's holding area caught Barry's eye. Stray animals awaiting claim by their owners are housed in this area for a legally mandated period of time. If an animal is not claimed, staff then decide whether it is suitable for adoption or should be humanely euthanised, usually for medical or behavioural reasons.
Barry thought this dog was a purebred goldie, but it was so skinny and sad looking he couldn't tell for sure. But its waiflike appearance wasn't the most shocking thing about the poor creature. The dog had horrific burns.
From the back of his head almost to the base of his tail, the dog's handsome golden fur had been burned away. In its place the exposed skin was blistered and weeping, a livid red stripe running the length of his spine.
Appalled by the dog's atrocious injuries, Barry asked what the plan was for him. The animal was clearly in pain, and his burns didn't appear to have been treated. He needed veterinary attention, and he needed it now.
Shelter staff told Barry that the dog was indeed a golden retriever, and was just a year or so old. A woman had found him outside of a Walmart discount store in LA's far northern suburbs. The severity of his injuries meant he was slated for euthanasia, but as a stray the shelter was first required to hold him for several days.
Police were also investigating the matter. The dog's burns were obviously no accident – he had been deliberately tortured. And another dog in the area had been found with similar burns just a week earlier.
When he learned where the dog had been found, Barry understood why the good Samaritan had brought him to the Lancaster shelter, which was quite a drive from where she'd picked him up. He had actually been found in the Antelope Valley in neighbouring Kern County, and in fact there were shelters there that would have been closer.
But Kern County animal shelters were notorious for their high euthanasia rates: in 2010, Kern County's three shelters put to sleep 75 per cent of the animals they took in. This figure has reduced significantly in the years since, but the high-kill reputation persists locally. The lady who found the dog had clearly hoped he might fare better outside of Kern County.
From the look of him, Barry wasn't confident the dog would even live long enough to be put to sleep. But if a kindhearted stranger had gone to such trouble to give this dog a chance, Barry was determined he would get one.
It looked like he'd be pulling two goldies from the shelter that day.
*
Burns survivor Fergus's injuries shocked everyone who saw them, but his indomitable spirit always shone through. He now uses that resilient retriever smile to comfort patients in a hospital burns unit as a therapy dog. (Victor and Anngel Benoun)
It's not often that people pledge lifelong allegiance to a single breed of dog, but Victor and Anngel Benoun are unashamedly 'goldie people'.
The couple, from Calabasas in LA's San Fernando Valley, brought home their first golden retriever puppy shortly after they married in 1983. His name was Murphy and he lived to be thirteen and a half.
Two more followed, but after they passed away, Victor and Anngel decided to start rescuing goldies rather than purchasing puppies.
In 2006, they adopted a five-year-old named Sammy from SCGRR. Casper the white goldie joined the family just a few months later.
'After we adopted Sammy we told the rescue we'd like him to have a friend. They said they had this dog that was really in trouble, and would we come and take him sight unseen,' says Anngel.
Casper was in terrible shape, Victor recalls. 'He had been terribly abused. He was bred to be a show dog, but we were told he carried the epilepsy gene and had been kept in a cage for two and a half years,' he says. 'He wasn't housebroken. He didn't know how to eat out of a bowl. I had to feed him by hand for several weeks.'
With their patient care and attention, the mistreated and neglected dog transformed from essentially a wild animal to a loving – and beloved – family member. Watching Casper blossom was a profound lesson in the power of love for Victor and Anngel. Just as their focus had previously shifted from puppies to older dogs in need of homes, now they became passionate about saving the dogs that had been most cruelly let down by humans.
Sadly, Sammy passed away in August 2015, but with Casper still thriving at home they weren't necessarily thinking about adding another goldie to their pack just yet. That all changed when they sat down to watch the news one evening in August.
'One of the reporters at our local NBC affiliate does a lot of dog stories and typically they're awfully sad and we can't watch them – we have to change the channel,' says Anngel. 'For some reason, this one we had to watch. We couldn't take our eyes off it. It was like this dog's eyes went through the screen to us.'
The story, covered by reporter Robert Kovacik, was about a golden retriever rescued by SCGRR after sustaining third-degree burns. It was the dog Barry Jacobs had pulled from the Lancaster shelter, after waiting in line for three hours to secure his release.
SCGRR founder Barbara Gale told the news channel the dog was 'very, very scared and confused' and had suffered a seizure after coming into their care. They had named him Fergus, a Scots Gaelic name meaning 'vigour' or 'force'.
Fergus was finally receiving treatment for his burns, which veterinarians at the Animal Medical Center (AMC) in West LA had determined were caused by battery acid being poured down his back. They suspected Fergus's head had been the target, but the corrosive fluid spilled down his back when he tried to get away. There was absolutely no doubt his wounds had been deliberately inflicted.
What was in doubt, however, was whether Fergus would even survive.
Almost immediately after watching the news report, Anngel picked up the phone and called Barbara.
'We'd rescued Sammy and Casper from them so we thought, Okay, maybe we have the inside track on Fergus,' she says. 'I said to Barbara, "We just lost our Sammy and we want to adopt Fergus."'
But it wasn't going to be that simple. Fergus's terrible tale had gone viral – it was picked up by media outlets across the US and around the world. SCGRR received more than 500 adoption applications for him from as far afield as Australia and Europe.
Even after the applications were whittled down and Victor and Anngel made the shortlist, they still had to go through the usual application process – including a home check – to ensure they could provide the best possible home for Fergus.
At last, about a month after their initial enquiry, Barbara called again.
'When I'd first called Barbara and said we wanted Fergus she said, "We don't even know if he's going to survive." When she called back she went through all the things that were going to be required, including returning to the vet for multiple laser treatments and more surgery,' says Anngel.
'I was going, "Okay, none of this is scary," and eventually Barbara said, "I guess I always knew he was going to be yours." I just started sobbing. Then I called Victor and said, "Do you want to go meet Fergus?" and he was ecstatic.'
Though they'd been fully briefed about his condition and the extent of his injuries, Victor and Anngel were still shocked when they met Fergus for the first time in the AMC vet hospital.
'At first we weren't sure he was a golden retriever because he resembled a coyote. He was so drawn in the face and so bony. He was down to about twenty kilograms and he should have been about thirty-five kilograms, so he desperately needed to put on weight,' she says.
His emaciated condition led Anngel to suspect Fergus had been a stray for some time before he was attacked, rather than a recently lost or dumped pet. And there was something else that suggested Fergus had been on his own for quite a while: he moos!
'Kern County is cow country and I think he had to have either lived near cows, or when he was a stray he was around cows, because he has the cutest, deep-throated mooing sound when he gets really excited,' she says. 'When people hear it for the first time they go, "What was that?"'
Less than a week after he was found on the streets, he started receiving laser therapy to heal the severely damaged tissue on his back. When the Benouns were finally able to bring him home on 22 September, after two months in hospital, Fergus had to wear a t-shirt for six months to protect his healing burns.
In the first eighteen months in his new home, Fergus gained almost ten kilograms of muscle thanks to the gourmet meals Victor and Anngel prepare for him.
Four years on, his fur has mostly grown back, but the follicles and nerves were so badly injured in some areas that a few patches will never fully heal. The skin is thin and fragile and requires constant vigilance.
Anngel says Fergus is unfazed by his unusual appearance. 'Everywhere he was burned there's a white stripe and it's really so cute,' she says. 'He wears his challenge on his back. It's his badge of honour.'
The couple was concerned that his horrific physical ordeal may have negatively impacted his mental health – but quickly discovered Fergus has an indomitable spirit.
'My concern was that he'd be worried about meeting people, but he came right up to us and was in our arms in seconds,' says Victor.
He wasn't entirely emotionally unscathed, though. 'He sleeps in my arms and for the first few months he would have night terrors. When a dog dreams it's kind of cute, but these were true night terrors,' Anngel says. 'I knew that he knew he was finally home and comfortable when he stopped having them.'
AMC vet Dr Alan Schulman told NBC LA that Fergus won over the entire hospital staff with his cheerful approach to life.
'The fact that this guy still trusts people, wags his tail and will let us treat him, considering the horrendous way that some person hurt him, is absolutely remarkable,' Dr Schulman said. 'I'd be the first one to line up and hold that person down and pour whatever chemical he poured on this dog right over him.'
Fergus's injuries were similar to those of six other dogs in the same area, including a Cavalier King Charles Spaniel and several pit bulls, leading police to suspect a single twisted attacker was responsible. The LA County Mayor even offered a $25,000 reward for information leading to an arrest, fearing that a serial animal abuser could escalate to harming people.
To Victor and Anngel's knowledge, however, nobody was ever arrested in connection with the attacks on Fergus or the other dogs, two of which had to be euthanised.
That Fergus survived and recovered from such a horrendous act of cruelty is remarkable – but what he did next was even better.
Fergus became a therapy dog for burns survivors.
---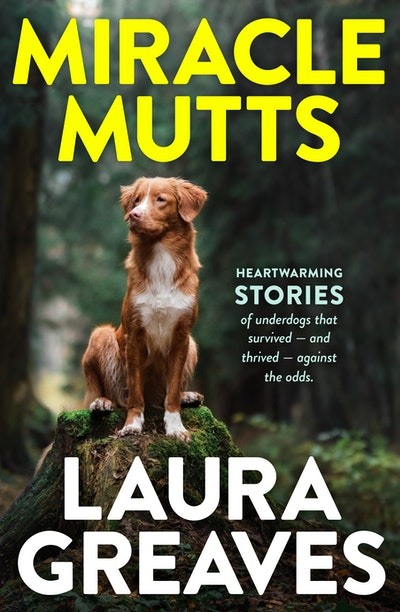 Heartwarming stories of dogs that survived – and thrived – against the odds.
Buy now
Buy now
---