Popular dog trainer and animal behaviourist Laura Vissaritis takes us through some dog myths that you shouldn't listen to.
Bringing a rescue dog home is one of the most emotional, uplifting journeys you can go on. In The Rescue Dog Laura Vissaritis explains the underlying psychology and offers clear steps to help you build a relationship with your dog based on mutual trust and respect. In the following excerpt Vissaritis busts some common myths.
I'VE HAD DOGS ALL MY LIFE; THEREFORE, I KNOW MORE THAN EVERYONE ELSE
There is evidence that being a long-term dog guardian is actually a hindrance in terms of responsible pet ownership and good behaviour. Moreover, it was shown that having experience with a dog without any theoretical knowledge of dog behaviour may be a detriment to interpreting canine language. People who are first-time dog guardians are less likely to raise dogs with problem behaviours, including separation anxiety. There is always more to learn. The more you learn, the more you realise you don't know.
I NEED TO GO THROUGH THE DOOR BEFORE MY DOG
This is one of my favourite myths to debunk, because it is so ridiculous. There is absolutely no reason why a dog should be expected to stand back and allow their owner to walk through a door before them. If this is important in the realms of respected leadership, then owners should also get in the car before their dog, go to bed before their dog and have a drink of water before their dog. There are so many arbitrary and unexplainable rules in dog training land. In any field of psychology, it is imperative to be open to change, aligned with new evidence as it surfaces. But what I find most disheartening is that the majority of, or all old-school training methods never had any sound science behind them in the first place. No, you do not need to go through the door before your dog. In fact, you do not need to go through any entrance ahead of your dog. The one exception is if your dog doesn't want to follow you. If this is so, then it is important to embark on trust training, showing your dog what is safe, through leading by example.
TAKING FOOD AWAY FROM MY DOG MAKES THEM RESPECT ME
Please don't do this. I know some of you will be saying out loud right now 'but it works!' You're right, sometimes it does, but more often, it does not. Taking food away from your dog is irrational from their point of view. They have acquired the resource through working for it, and now all of a sudden that work was pointless and disrespected. In many pounds across the country, taking food from a dog is part of a temperament test. If the dog growls, snaps or bites, they cannot be rehomed. When eating, dogs should always be left alone in peace to eat the food they have worked for. There should never be a threat from you, nor should this be a means for you to arbitrarily test your dominance. Taking your dog's food from them is dangerous and disrespectful. Additionally, it diffuses the trust your dog is building with you. If there is no trust or respect in the relationship, what sort of relationship is this going to be? Resource guarding is a serious problem with many dogs, often exacerbated by the need of the owner to show their dog who's boss. There might be great power in being able to control another sentient being, but there is far greater power in not controlling them, and having them follow you anyway.
---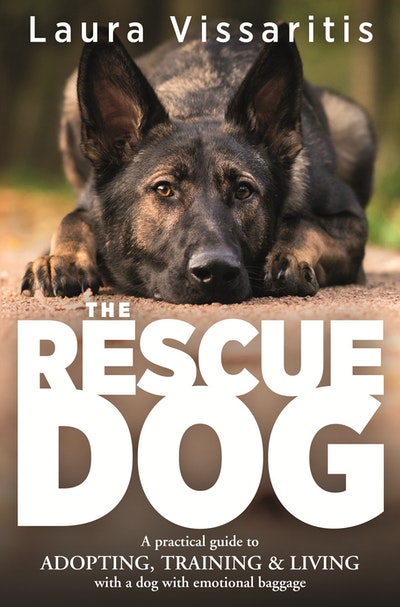 A practical guide to adopting, training and living with a rescue dog, from popular dog trainer and animal behaviourist Laura Vissaritis.
Buy now
Buy now
---