Five canines employed in roles you might not have expected.
Everybody knows about working dogs on farms, in law enforcement and therapy roles. But did you know some canines can keep their diabetic owners safe? Have you heard of others using their incredible hearing to detect the calls of rare animals in the wild? And can you believe some can help kids who are struggling with literacy? In Laura Greaves' Dogs with Jobs, readers meet some hard-working hounds that have found employment in remarkable roles. Here we introduce five of these dogs and their surprising vocations.
MOLLY POLLY
Diabetes alert and mental health support dog
Image: PAWS by Blackmores
Molly's powerful nose can detect whether the girls' [diabetic twins Hannah and Olivia] blood sugar is unstable with just a sniff of their saliva. She alerts by bumping the twins with her nose or swiping at their legs with her paw. If they don't respond – and they often don't – Molly will go and alert Adrienne [the girls' mother] instead.
HECTOR, MURPH, SIDNEY, BUSTER, JET & BUDDY
Dolphin spotters
Images: Akaroa Dolphins
'Somebody told me that terriers go straight to the bottom, so now all the dogs wear life jackets.' – Hugh Waghorn, Captain of Akaroa Dolphins harbour cruise
HOLLY
Story Dogs reading companion
Image: Petra Westphal
'Holly is very patient. She's like, I'm just relaxing here, I don't mind what it sounds like or if you get stuck. Some kids can get really flustered when they're struggling with every word. The fact that they can have a break when they get really stuck is important.' – Petra Westphal, owner
TRUMAN
Ultramarathon runner
Image: Catra Corbett
He may be pushing eighty in human years, but [owner] Catra thinks TruMan probably has another year or so of long-distance running left in those four intrepid paws. Next on their agenda is a 2500-kilometre self-supported run across California.
ROWDY
Vitiligo ambassador
Image: Lindsay Baca/Sit! Stay Pet Photography
Rowdy lived a big, adventurous life. From a mysterious poisoning to being shot by police, it was non-stop near misses, death-defying scrapes and flat-out disasters. But now as an ambassador for rare skin-pigment condition vitiligo, Rowdy's found his purpose: making humans feel more comfortable with – and even proud of – being different.
---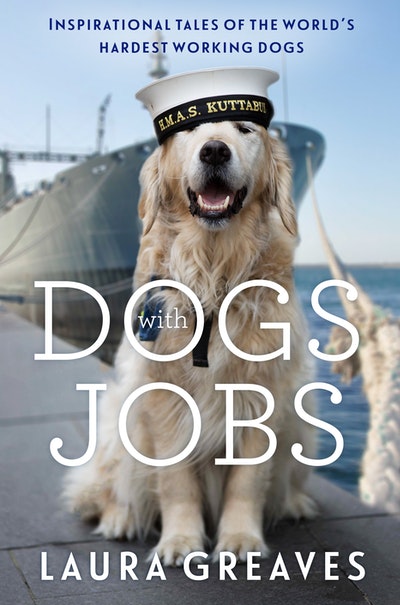 Extraordinary true stories of some of the hardest-working dogs in the world.
Buy now
Buy now
---