Comedian Adam Rozenbachs on how to get through an overseas trip with your parents and keep your sanity intact. 
Here are just a few things I learned whilst travelling through Europe with my Dad. Hopefully they'll help anyone who has, for some reason, decided to travel with a parent.
When walking through foreign cities, you're going to need to slow down. Any pace above gentle is viewed as unnecessarily fast. Apparently whilst in a city for only 48 hours, there is 'no need to rush.'
You'll also need to avoid stairs at all costs. Anywhere that consists of more than two steps upwards is an issue. Do your best to look for other ways of gaining altitude that aren't stairs. And not ramps because ramps are basically miniature hills, and hills are out too. So if you can find an old cathedral or monument with a lift, ensure it's on your list.
Be prepared for a surprise in your parent's suitcase. For unknown reasons, my Dad had an entire roll of gaffer tape in his. I didn't ask but assumed he was either fully equipped for emergency repairs, or had a kidnapping planned. Or both – you don't want your hostage to tear a hole in their backpack. 
Dad told me that he and Mum once took cans of Coke with them to Hamilton Island because 'we heard Coke was expensive up there.'
You won't know which item they've packed, but you'll definitely be asking 'what the hell did you bring that for?'
Accept there will be a reversal of roles. The person who once had full control over your life will now need you to take over that role. It's like talking to a child, but with adult language and more frustration, such as when you have to remind someone constantly to take out their Oyster card every time you approach a ticket barrier on the Tube in London. 'For the tenth time, it's the card you use to get on and off the Tube, Dad!'
If you're sharing a space in an Airbnb, try and find a place with 1. bedrooms far apart and 2. soundproofing. Your parent will dictate bedtime, so if a small abode means you have to be quiet you may have to go to bed at the earliest time since childhood. Although going to bed at a reasonable time is a good idea because no doubt you'll also be up at an insane time.
There will be a fight at some point, so be prepared to be cut out of your parents' will. Depending on how far you go with your 'honest feedback', you could be removed from any inheritance upon your return. Factor in that missing cash from your life before you go.
Basically, pick your battles. You don't need a fight over talcum powder in the bathroom to cost you your share in that investment property your parents bought years ago that you forgot about but would really help your current mortgage.
Travel is not always filled with amazing things to see and do, so downtime will need to be filled with conversation. Have topics at the ready, otherwise, you'll be subjected to endless stories about people you used to know, or even worse, people you've never met. 
Make your list extensive too, in case said parent starts repeating their stories, like when Dad started re-telling me a tale about something that happened on his trip to Europe. Which I was already on.
My parents grew up in an era when money 'didn't grow on trees', so never splurged on anything for themselves. Being overseas is a great opportunity to maybe do something they'd never do for themselves, like sitting in a business class lounge or purchasing a meal over $15.
Become adept at mind-reading, because it can save you a lot of angst. When your parent says, 'sure, I'll see the Bayeux Tapestry', you need to know whether that means they really want to do it, or do they actually mean, 'I'm only seeing this historic thing as it's the path of least resistance, even though I don't really want to and if I did say no Adam would be relieved because he didn't want to do it anyway'? It's a 50/50 call, and one you will never get right.
Be on the lookout for scams, as someone with €2000 cash stuffed into an easily stolen passport necklace wallet is too inexperienced to fend for themselves. Dad was exceptionally friendly, which, whilst in and of itself is not a bad trait, is exactly the type of person that finds themselves targeted at every major tourist hotspot in Europe. Though I did find once alerted, Dad went into uber-secure mode, where he trusted no one; not even waiters or bellhops. 
Although this might seem an expensive way to go about it, I'd strongly advise you do the exact trip yourself months before. Then when you repeat the trip with your parent you get to enjoy it properly, and be free of the stress about missing out on things, because you've already done them.
---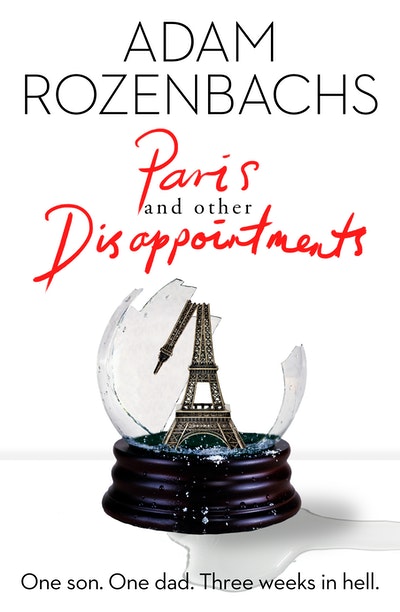 A memoir about family, travel and why the Eiffel Tower is a real letdown in person, based on the sold-out Comedy Festival show.
Buy now
Buy now
---