From Marriage of Flavours, Scott Pickett offers some inspiration for winter cooking.
When the cold weather arrives, I instantly feel the need to slow-cook something! My body cries out for rich, hearty fare, whether it be in the form of braised pork cheeks, beef bourguignon, lamb shoulder or shanks, maybe even some osso buco with loads of root vegetables.
A hearty bowl of pumpkin soup goes a long way to warm up my insides, and comfort food is the order of the day. I love the gentle simmer of a casserole bubbling away all weekend that fills the kitchen with sweet herby aromas. Patience is definitely a virtue at this time of year.
Brussels sprouts aplenty, parsnips, carrots, turnips and swedes: these veggies make the perfect pairing for a simmering pot of slow-cooked goodness.
It's time to feed my body what it is craving to keep me going through the colder bite of winter. A big tray of my wife Bec's lasagne is just the ticket after a weekend of footy games, wind and rain! Oysters are also at their peak in the cooler months, and, though we generally associate them with summer, that's not when they are crisp, salty and ready to be slurped, freshly shucked, from their shells.
**
One thing to remember when looking for produce, especially in Australia, is that because we are such a large country the seasons often blur into each other. As a result, produce that may be out of season in Melbourne, for instance, can simultaneously be at its peak in Queensland or Western Australia due to differences in climate and temperature. Take the humble strawberry for example. As someone born and bred in Melbourne, I always expect these to be around from late November or early December and run until February, sometimes even March, depending on the weather. But in Far North Queensland they are ripe and abundant around June or July, so thanks to interstate distribution they are readily available during the Melbourne winter – which just seems strange and foreign to me! Now, would I use them in the restaurant, serve a summer berry during a cold Victorian winter? No. Would I enjoy them at home with the kids, who love them (and probably aren't as concerned about seasonality as me)? Yes.
So, bear in mind that when I talk about seasonality, it's generally from a Melbourne point of view – not four seasons in one day, but certainly four seasons that are more distinct than in other parts of Australia. I'll let you decide what you want to eat, and when. Just remember: buying fruit, vegetables, fish and meat when they're in season and at their best is often the most cost-effective way to get the best product at the right price!
WINTER PRODUCE
Jerusalem artichokes
Broad beans
Beetroot
Broccoli
Brussels sprouts
Cabbages
Carrots
Cauliflower
Celery
Leeks Lettuces
Onions
Parsley
Parsnips
Snowpeas
Potatoes
Rhubarb
Silverbeet
Turnips
Spring onion
Spinach
Bananas
Grapefruit
Kiwifruit
Mandarins
Lemons
Oranges (navel)
---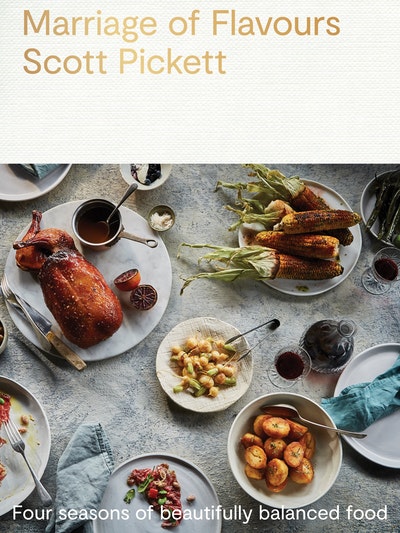 Scott Pickett, a chef renowned for his mastery of incredible flavour combinations, shares 80 recipes for beautifully balanced, flavour-driven dishes that celebrate Australian produce through the seasons – and the secrets that make them so successful.
Buy now
Buy now
---