A warming winter dessert from Scott Pickett's Marriage of Flavours.
One of my all-time favourite desserts, nothing beats the golden pastry and roasty, slightly tart apple flavour with a rich, dark caramel. Add a big scoop of spiced star anise ice-cream and it's winter's delight!
 
Apple Tarte Tatin, Star Anise Ice-cream
Winter Dessert
Serves 6–8
 
INGREDIENTS
STAR ANISE ICE-CREAM
8 star anise
360 ml milk
35 g skim milk powder
750 ml cream
150 g egg yolks (about 7)
200 g caster sugar
APPLE TARTE TATIN
200 g caster sugar
100 g unsalted butter, chopped
4 large pink lady apples, peeled, quartered and cored
375 g butter puff pastry, thawed
icing sugar, to dust
METHOD
To make the ice-cream, preheat the oven to 180°C. Place the star anise on a baking tray and roast for 6 minutes, until fragrant. Combine the milk and star anise in a medium saucepan over medium heat. Add the milk powder and whisk until dissolved. Add the cream and bring just to the boil. Meanwhile, whisk the yolks and sugar together in a heatproof bowl until pale. Add one-third of the milk mixture to the yolk mixture and whisk to combine. Pour back into the pan with the remaining milk mixture. Stir over low heat until thickened (until a thermometer reaches 83°C). Pass through a fine sieve into a bowl. Stand the bowl in a larger bowl of ice and stir to release the heat. Once cooled churn in an ice-cream machine. Transfer to an airtight container and freeze.
For the apple tarte tatin, preheat the oven to 190°C. Divide the sugar between six to eight deep ovenproof frying pans, 13 cm in diameter, shaking to make an even layer across the base. (Alternatively you could use one large pan, 25 cm in diameter.) Place over medium heat and melt the sugar without stirring until it has caramelised to an amber colour. Divide the butter equally between the pans and mix until well combined. Set aside to cool slightly. Arrange the apple over the base of the pans, packing the pieces in as tightly as possible.
Cut rounds from the pastry 2 cm larger than the diameter of the frying pans.
Place over the apple and tuck the excess pastry down inside the pans. Place the pans in the oven and bake for 25 minutes, until the pastry is puffed and golden. Stand for 5 minutes, so the caramel can cool and thicken slightly, making it safer and easier to turn out. Place a serving plate that is larger than the diameter of the pan on top and quickly invert. Be very careful, as hot caramel may spill out. Lift the pans off the tartes and stand for 5 minutes before serving.
Serve each tarte with a generous scoop of ice-cream.
CHEF'S NOTE
Don't be scared to take your caramel nice and dark – the apples will absorb it, while also releasing their own juices, and it will become a little lighter once cooked. Just don't burn it!
TO DRINK
Confit apple and buttery puff pastry are a perfect match for a late-harvest chenin. This will bring a texture and flavour profile with amazing results. Choose one from the Margaret River in Western Australia. Or go for a pommeau de Normandie (apple juice fortified with apple brandy) or a French-style semi-sweet cider, which is the regional match for this dish.
MARKET TIP
Choose the right apple! Something like a pink lady that is firm, slightly acidic and cooks well without breaking down is my personal choice.
---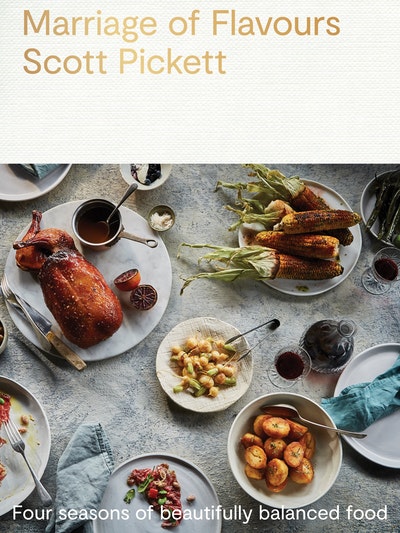 Scott Pickett, a chef renowned for his mastery of incredible flavour combinations, shares 80 recipes for beautifully balanced, flavour-driven dishes that celebrate Australian produce through the seasons – and the secrets that make them so successful.
Buy now
Buy now
---