A beautifully balanced gnocchi dish that showcases umami and bitter flavours, from Scott Pickett's Marriage of Flavours.
I'm a big lover of blue cheese, and fat. So when it's in a cream-based sauce, with wonderful, light pillows of potato gnocchi, I'm pretty much in heaven! Silverbeet is a bit of a 'poor man's vegetable' but adds another dimension to this classic dish. It serves 8 as a starter, but you could also enjoy it as a main dish for 4 people.
 
GNOCCHI, GORGONZOLA, SILVERBEET
Autumn Starter
Serves 8
INGREDIENTS
GNOCCHI
500 g rock salt
1 kg sebago potatoes, (or similar), scrubbed
220 g '00' flour
75 g parmesan, finely grated
1 tablespoon olive oil
1 egg
1 egg yolk
pinch of ground nutmeg
pinch of sea salt
GORGONZOLA AND SILVERBEET CREAM
150 ml white wine
2 golden shallots, peeled and sliced
1 bay leaf
6 black peppercorns
250 ml chicken stock (or vegetable if you prefer)
500 ml cream
150 g good-quality gorgonzola, crumbled
½ lemon
50 ml olive oil
sea salt
freshly ground black pepper
1 bunch silverbeet, washed and dried
METHOD
For the gnocchi, preheat the oven to 180°C. Spread the rock salt thickly onto a baking tray and sit the potatoes on it. Bake for 1–1½ hours, until very tender when pierced with a knife.
Cut potatoes in half lengthways, scoop out the flesh and pass through a mouli or potato ricer into a large mixing bowl. While still warm add the flour, parmesan, olive oil, egg and egg yolk. Season with nutmeg and salt. Gently mix together, then gather the dough and turn out onto a lightly floured bench.
Divide the dough into 4 portions. Roll into logs 2 cm wide and cut each log into 2 cm pieces. Bring a large pot of salted water to the boil.
Meanwhile, to make the gorgonzola and silverbeet cream, combine the wine, shallot, bay leaf and peppercorns in a small saucepan over medium heat. Bring to the boil and cook until reduced by two-thirds. Add the stock and boil until again reduced by two-thirds. Stir in the cream and cook until reduced by half. Pass through a fine sieve into a clean saucepan. Add the gorgonzola and whisk over low heat until combined. Season with a squeeze of lemon juice, and salt and pepper to taste.
Separate the silverbeet leaves from the stalks. Slice the stalks finely on an angle, so they are 4–5 cm long. Finely chop the leaves. Heat the oil in a large deep frying pan over high heat and sauté the stalks until just tender. Reduce the heat to medium. Add the gorgonzola cream and leaves. Cook until heated through and the leaves are tender.
Cook the gnocchi in the pot of boiling water in batches for 2–3 minutes, or just until they float to the top. Lift out with a slotted spoon and add to the gorgonzola mixture.
Check seasoning and consistency of sauce (thin with a little cream if too thick). Divide between serving plates or bowls and serve immediately.
CHEF'S NOTE
If you don't like silverbeet, then you can always mix it up and use spinach, beet leaves, or the ol' favourite, rocket. Finishing the gnocchi with some chopped herbs like fresh basil, oregano, or marjoram is pretty tasty too. Rainbow chard is simply silverbeet with stalks of different bright colours.
TO DRINK
Gewurztraminer is a sweet-flavoured dry wine often used to pair with the savouriness given by the gorgonzola here and the light bitterness of the silverbeet. Its delicate sourness will reset your palate for a delicious mouthful. Gewurztraminer is originally from northern Italy but great examples can be found in South Australia, providing the ripe texture you are looking for locally.
MARKET TIP
Using the correct potato is integral to obtaining a great result for gnocchi. If you can't find sebago, then you can always use king edward. Old 'floury' potatoes are best. Choose potatoes of a similar size so they take the same time to cook.
---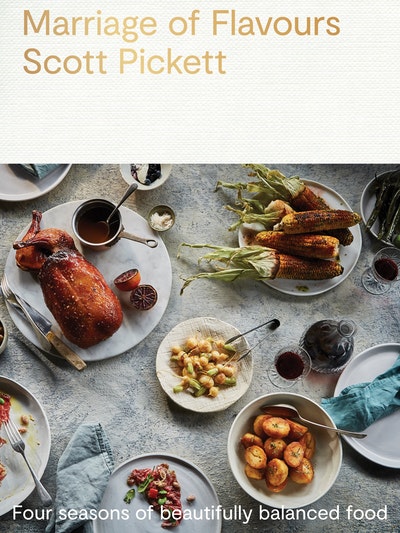 Scott Pickett, a chef renowned for his mastery of incredible flavour combinations, shares 80 recipes for beautifully balanced, flavour-driven dishes that celebrate Australian produce through the seasons – and the secrets that make them so successful.
Buy now
Buy now
---