From Boosting Your Basics, a simple trick for increasing your child's interest in food.
Young children love choice. And they love control. The tasting plate caters to this perfectly. Being presented with a tasty variety of foods at mealtimes, including at least one or two that are familiar and enjoyed, is a wonderful way to introduce new foods and flavours to young children who are still learning to eat. It's also a great tool to use with older children who may be fussy with foods or reluctant to try new foods. We love it because it helps to reduce any stress and anxiety around mealtimes and provides the child with choice, independence and responsibility. Even from a young age, kids thrive on this and they are often more likely to interact, try and enjoy new foods.
As parents, we have a responsibility to set up our children with positive eating behaviours and routines. Helping to develop positive food associations with your child right from the start is the best way to save hours of mealtime battles and stress. Moreover, encouraging your children to develop a happy and healthy relationship with food can make a huge difference to their mood, growth, development, lifestyle and future wellbeing.
PARENTS' AND CARERS' RESPONSIBILITIES WHEN OFFERING THE TASTING PLATE
✓✓ Stick to a mealtime routine to create a sense of security at mealtimes
✓✓ Include a variety of nutritious foods, including at least one or two foods you know they like to eat and enjoy
✓✓ Praise positive interactions with food during mealtimes to help reinforce acceptable behaviours at the table
✓✓ Allow your child to choose which foods they want to eat from the foods on offer and give them time to interact with a food without any pressure to eat
✓✓ Role model positive eating behaviours to your children
✓✓ Respect their hunger and fullness cues and resist any temptation to force them to eat more than they desire.
HOW TO BUILD A NUTRITIOUS TASTING PLATE
1. Start with whole grains.
2. Add a protein such as meat, chicken, fish, eggs, legumes, tofu or nuts.
3. Offer at least two different vegetables. Try baked, steamed, mashed, grated, grilled or raw.
4. Include a serve of fruit.
5. Serve water as a drink.
Check out the One Handed Cook's Boosting Your Basics: Making the most of every family mealtime – from baby to school age for detailed tasting plate recipes and ideas.
---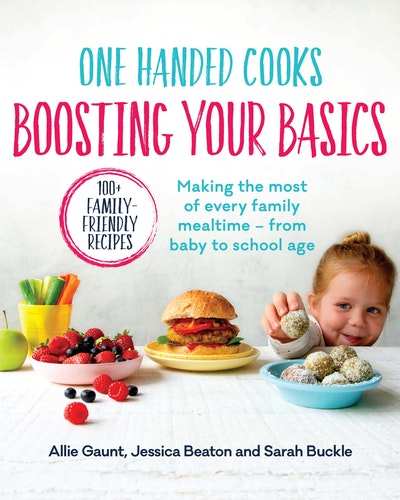 The bestselling One Handed Cooks are back, showing you how to boost the nutrition and flavour of favourite family meals – with over 100 simple, healthy recipes and countless practical tips to provide your child with a lifelong positive relationship with food.
Buy now
Buy now
---