A yummy and veggie-packed sandwich alternative or lunchbox addition from Boosting Your Basics.
Family meals don't always have to mean dinner time: breakfast, lunch and snack times are all great opportunities for parents to model good eating behaviours and enjoy good food together with the little ones too. Aimed at the kiddies, these vegetarian sausage rolls make a yummy veggie-packed sandwich alternative or lunchbox addition. Though that's not to say they're not perfect for dinner, too, of course!
 
Veggie-filled Sausage Rolls
Makes 12
Prep time: 25 minutes
Cooking time: 45 minutes (+ cooling time)
Ingredients
2 cups (300g) sweet potato, peeled and diced
2 tablespoons split red lentils
¼ cup (30g) frozen peas
⅔ cup (110g) frozen corn kernels
2 teaspoons extra virgin olive oil
½ brown onion, finely chopped
1 carrot, coarsely grated
¼ teaspoon ground cumin
1 tablespoon chopped flat leaf parsley
2 sheets (25 cm × 25 cm) frozen ready-rolled puff pastry, just thawed
1 egg, lightly beaten
1 tablespoon sesame seeds (optional)
Method
Preheat the oven to 200°C (180°C fan-forced). Line a baking tray with baking paper.
Place the sweet potato and red lentils in a small saucepan with 1 cup (250 ml) water and bring to the boil. Reduce the heat and simmer, partially covered, for 10 minutes, adding more water a little at a time if required. Add the peas and corn and cook for a further 2 minutes or until soft. Use the back of a fork to roughly mash the mixture together and set aside.
Meanwhile, heat the oil in a frying pan over medium heat, add the onion and carrot and saute for 3–4 minutes, or until softened. Add the cumin and saute for a further minute.
Combine the sweet potato mash with the onion mixture and parsley, and mix to combine. Cool completely.
Cut each pastry sheet in half. Place ¼ of the mixture running lengthways down one of the pastry strips, moulding it to form a long sausage shape. Brush the edges of pastry with water and fold over to enclose the filling. Cut into 3 pieces (or more, depending on your chosen portion sizes) and place on the lined tray, seam side down. Repeat with the remaining mixture and pastry strips.
Brush egg over the tops of the sausage rolls, then sprinkle with the sesame seeds, if using. Bake for 30 minutes or until pastry is crisp and golden brown.
BOOST YOUR BASICS:
Use the ingredients list just as a guide and pick and choose your kids' favourite veggies to help with their acceptance and enjoyment of their food. If they love pumpkin, then swap out the sweet potato for some pumpkin. If they're not keen on corn, then try some chopped spinach instead or add some cheese instead of lentils. The options are many.
STORAGE:
Keep in an airtight container in the fridge for up to 2 days. Alternatively, freeze cooked or uncooked sausage rolls in individual portions, wrapped in plastic film, for up to 2 months.
---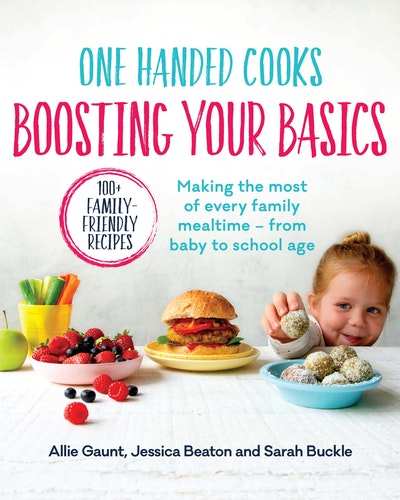 The bestselling One Handed Cooks are back, showing you how to boost the nutrition and flavour of favourite family meals – with over 100 simple, healthy recipes and countless practical tips to provide your child with a lifelong positive relationship with food.
Buy now
Buy now
---