One meal, three ways – from Boosting Your Basics.
Presenting a meal in a fun, new way and enjoying it together as a family helps to engage little kids and inspire them to try new and previously refused foods. The simple act of watching you as a parent or caregiver eat and enjoy nutritious foods inspires them to do the same.
 
Taco Bowls
Serves 2 adults, 2 toddlers, 1 baby
Prep time: 15 minutes
Ccoking time: 20 minutes
Ingredients 
6 mini tortillas, or mountain bread cut into 12 cm circles
1 tablespoon olive oil
1 large brown onion, finely chopped
1 small yellow capsicum (pepper), finely chopped
400g premium beef mince
1–2 teaspoons Mexican Spice Mix, to taste (on page 254)
400g tin no-added-salt chopped tomatoes
2 tablespoons no-added-salt tomato paste (puree)
400g tin red kidney beans, drained and rinsed
1 large avocado, flesh cubed
1 small tomato, finely chopped
1 small handful coriander leaves, finely chopped
1 lime, juiced
1 cup (120g) grated cheddar cheese
tortilla chips, to serve
plain Greek-style yoghurt or sour cream, to serve (adult portion)
Method
Preheat the oven to 180°C (160°C fan-forced). Grease 6 holes of a large (1 cup capacity) muffin tin. Mould the tortillas or mountain bread into the muffin tins to create a little cup. Bake for about 15 minutes or until golden brown and crisp. Allow to cool in the tin so they hold their shape.
While the tortillas are cooking, heat oil in a large frying pan over medium–high heat. Add the onion and capsicum and cook, stirring, for 5 minutes or until softened. Add the mince and cook, breaking up the lumps with a wooden spoon, for 8 minutes or until well browned.
Add spice mix and cook, stirring, for 1 minute. Stir in the tomatoes, tomato paste and beans and cook for 5 minutes or until the sauce thickens. Remove from the heat.
In a small bowl, combine the avocado, tomato, coriander and lime juice to make an avocado salsa.
To serve, spoon the filling into tortillas and sprinkle with grated cheese, with some tortilla chips and yoghurt or sour cream on the side.
BABY
Combine 1/4 cup cooked mince mixture with 1 tablespoon avocado and 1 tablespoon grated cheese, and mash or puree until you reach your desired consistency. Combine with some Greek-style yoghurt or your baby's preferred milk as desired. For older babies, serve with some chunks of avocado and tomato for finger food.
TODDLER
Serve a tortilla bowl on the tasting plate with some grated cheese, fruit and extra tortilla chips as desired. Some toddlers will prefer to have the salsa mix separate from the tortilla bowl.
ADULT
Serve 1–2 tortilla bowls topped with grated cheese, avocado salsa and Greek-style yoghurt or sour cream as desired.
Boost Your Basics:
Play around with the quantity of herbs and spices you use in this meal to suit the preferences of your family. Start with a mild version of the spice mix and gradually become more adventurous if they're new flavours for your children or if you're unsure.
Storage:
Store any leftover cooked mince mixture in an airtight container in the fridge for 1–2 days. Alternatively, freeze for up to 2 months.
Allergies/Intolerances: 
Gluten/wheat: use gluten-free tortillas or mountain bread.
Dairy: omit the Greek-style yoghurt or sour cream, and omit the cheese.
---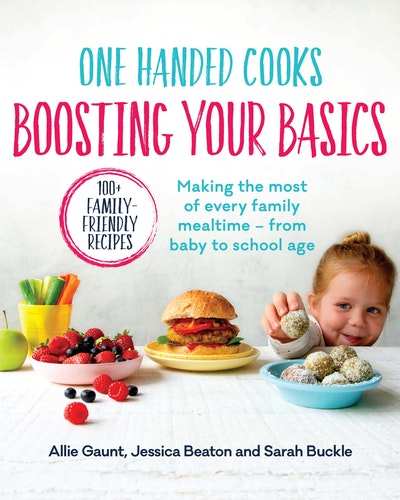 The bestselling One Handed Cooks are back, showing you how to boost the nutrition and flavour of favourite family meals – with over 100 simple, healthy recipes and countless practical tips to provide your child with a lifelong positive relationship with food.
Buy now
Buy now
---