A low moment in the towering life of Robert Stigwood.
Australian entrepreneur, film producer and tour promoter, Robert Stigwood's road to becoming a British media mogul was bejewelled with many enormous talent-spotting successes, but also fraught with wrong-turns and miscalculations. Stephen Dando-Collins' book Mr Showbiz tells Stigwood's story, from soaring highs to bankruptcy and back again.
For Stigwood's RSA talent agency, 1964 was a year of mixed fortunes. Some modest tour successes were offset by some disastrous failures, including the cancellation of a near sell-out tour of Texan singer P.J. Proby (whom Stigwood's business partner Stephen Komlosy found unconscious on a hotel bathroom floor following a drug overdose). Soon afterwards, Proby's last-minute replacement for the tour, Chuck Berry, cancelled as well, three days out from the first show. In January the following year, Stigwood finally got a Berry tour up and running, but badly miscalculated audience numbers, and RSA was left swimming in debt. These obligations included £16,000 owed to an up and coming band by the name of the Rolling Stones for a previous tour. Here, Dando-Collins relates the moment this outstanding payment caught up with Stigwood.
After the Scotch of St James opened in 1965, it swiftly became one of London's most popular and elite nightclubs. The Beatles and Stones had their own tables there, and top musos would frequently jam on stage with visiting artists. The club sat discreetly at the end of a cobbled lane off Mason's Yard in the belly of St James, just a stone's throw from St James Palace. Its door, with a speakeasy-style spyhole, opened onto a top floor with private rooms. A staircase wound down into the bowels of the earth to a basement housing several rooms, including the main discotheque, a bunker-like space with chairs and tables and a stage fronted by a small dancefloor.
In the early morning hours one day in the spring of 1965, Rolling Stones Mick Jagger and Keith Richards and the band's then co-manager Andrew Oldham and NME journalist Keith Altham walked into the club together. With Richards bringing up the rear, the quartet began descending the winding staircase to the basement. Coming up the steps towards them was Stigwood, who smiled weakly. Richards was never one to worry about money, yet the failure of Robert Stigwood Associates to pay the Stones for their September tour had rubbed him the wrong way.
'That bastard owes us sixteen grand!' Richards exclaimed as Jagger, Oldham and Altham passed Stigwood. 'Mick, Andrew, Keith, block his getaway.'
Because the Stones had toured Australia and New Zealand that January-February, and Stigwood was Australian, Altham assumed Richards was talking about that. In fact, that tour had been the sole province of Australian promoter Harry M. Miller. As Altham, Jagger and Oldham stood at the bottom of the stairs, preventing the retreat of the startled Stigwood, Richards began laying into the Aussie with his fists. And then, when the protesting impresario crumpled on the stairs, Richards began kneeing him.
'One fousand! Two fousand!' the Stones' guitarist was snarling with each knee to the gut and genitals, with Stigwood trying to get back to his feet. 'Three fousand! Four fousand!'
'Keith, why do you keep hitting him?' cried an alarmed Altham.
'Because he keeps getting up!' Richards replied.
Richards wasn't satisfied until he'd kneed Stigwood sixteen times. 'One for every grand he owed us,' he would later matter-of-factly explain. He and the others left Stigwood battered and bruised on the stairs. Stigwood would not lay charges against Richards; he didn't want the fact he owed the Stones money spread by London's tabloids while he was trying to rebuild his empire. But neither did the Stones ever receive their money.
---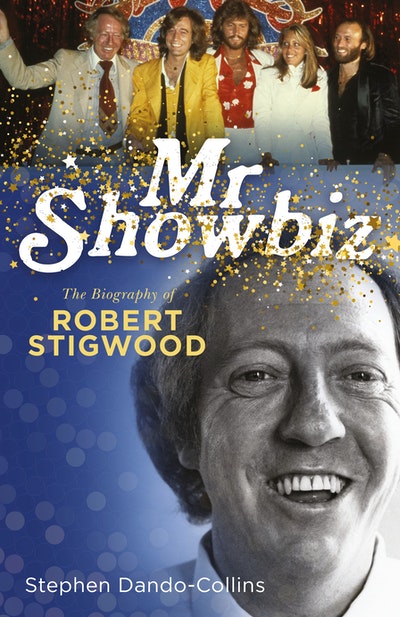 Mr Showbiz
Stephen Dando-Collins
Australian entrepreneur, Robert Stigwood was the first media mogul in Britain to be dubbed 'Mr Showbiz". After an extraordinarily large life he died 4 January 2016. This is his story – warts and all.
Buy now
Buy now
---