Meet some Outback Legends in heels: the Barkly Women's Group.
Evan McHugh's Outback Legends is a unique and colourful celebration of Aussie characters who've earned themselves a reputation for their achievements and contributions in the most far-flung corners of our country. In this vast land, isolation continues to be one of the toughest challenges faced by those living in the bush. Here, McHugh introduces a unique association who've been bringing outback women together since 1995.
Head west from Camooweal on the Barkly Highway for 261 kilometres and, with another 187 kilometres before you reach Tennant Creek, you're pretty close to the middle of nowhere. Conveniently, the Barkly Homestead Roadhouse is located there, so you can refuel your vehicle and get a burger or pie, as most travellers and long-distance truck drivers do.
It's just like roadhouses anywhere else in the outback, except for twice a year when, if you're there at the right time, you'll be able to witness an extraordinary scene. Instead of grey nomads in T-shirts and thongs, and truckies in high-vis shirts and work boots, there'll be dozens and dozens of women, of all ages, in their best frocks and high heels. There'll be stalls selling clothing, jewellery, crafts and food. There'll be people doing hairdressing and makeup. There'll be other women talking about everything from health care to the latest book they read.
Sometimes there'll be as many as sixty or seventy women. This in a place where you haven't passed a single house for more than a hundred kilometres on that long, lonely highway.
Who are they? Where have they all come from?
They're members of what could be the largest women's net­work in the world. Forget the phone or the internet. These women drive and fly to the roadhouse from across a region that spans 500 000 square kilometres. That's twice the size of Victoria. It's the United Kingdom and New Zealand combined. They call themselves the Barkly Women's Group.
'Women come out of the woodwork,' says Danielle Doyle, the group's convenor since 2010. 'Some travel eight hours to come, ten hours. The minimum people probably travel is one or two hours.
'Women have travelled from as far away as Alice Springs to come,' says Bernadette Burke, convenor from 2002 to 2010. 'They've travelled from as far away as up on the flood plain near Darwin. So it is a wide expanse of country that they travel. A lot of them have to have an overnight stay before they even reach there. It's lovely once they get there just to see them be so happy to be with other women and be away from the day-to-day activities and having something new to think about.'
It may seem like remarkable behaviour, but not to anyone who has even a passing understanding of the challenges of living in the outback. At one time, isolation was the main issue, as poignantly described by Henry Lawson in The Drovers' Wife, a short story about a woman left to fend for herself in a remote bush shack.
In the 1920s, the formation of the Country Women's Association was in part a response to that isolation, with one of the founders painfully recounting how she'd visited a woman who hadn't spoken to anyone of her gender for six months. At the end of the visit the woman tearfully said, 'I feel I cannot let you leave.'
Just a few years later, more tears were shed as the pedal radio, then voice radio, broke down the sense of isolation as never before, with instantaneous communication to many places where messages and news formerly took weeks to arrive.
In modern times, to all appearances, outback stations are nei­ther isolated nor lonely. There's a constant circulation of staff and contractors to carry out the myriad jobs required to breed, feed, water, fence, muster and transport stock. However, the cattle industry is still a man's world and as the song goes, 'Sometimes it's hard to be a woman'. Or, at least, it was.
---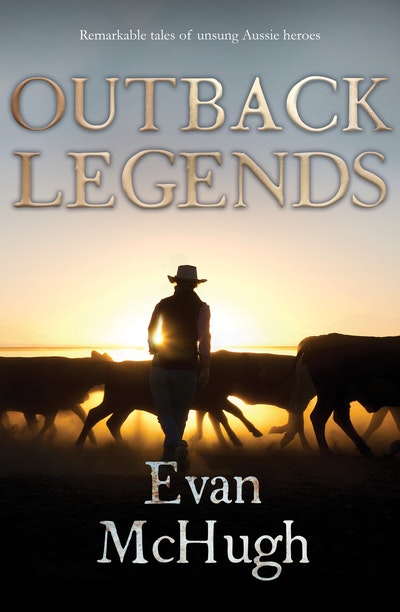 A new collection of inspiring country characters from the bestselling author of Outback Heroes and Outback Pioneers.
Buy now
Buy now
---