In Right-brain Workout 2 you'll find 70 fresh exercises to stimulate your mind.
Ever feel like you've just plain run out of ideas? Could it be that your creativity is drying up? Is an ever-deepening brain fog taking over your life? We can all use a bit of a refresher every now and then. With Russel Howcroft and Alex Wadelton's Right-brain Workout 2, you can reignite your imagination and unlock your creative genius in just ten weeks.
Think outside the box via 70 questions designed to make you consider the world... differently. Make friends with a carrot. Revisit the childhood pleasure of tap, tap, tapping a balloon in the air. Write a love letter to your favourite body part. It's all about re-training your brain to tackle life's curliest questions and challenges with creativity and aplomb. As an appetiser for what to expect inside, here the Right-brain Workout team outline an exercise that makes use of those ultimate suckers of creativity: our mobile phones.
On the spot
Open the 'Photos' app on your phone. Count back nine images. This photo has just been awarded the famed Golden Lion at the Venice Biennale. Congratulations. The first question you are asked at the press conference is:
'Why do you think this work has had such a strong reaction from the public for its representation of the current human condition?'
How would you answer that question?
---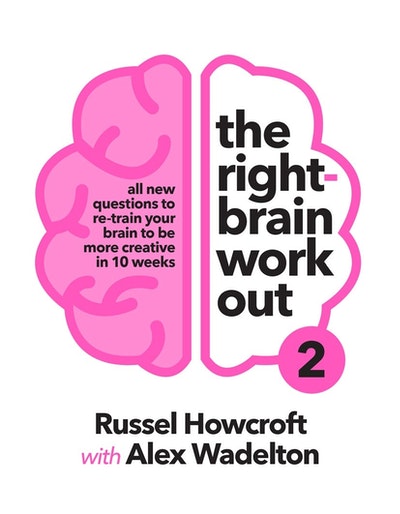 The second volume of fun and energising exercises for your brain from the marketing and advertising legends who want to unlock the creative genius inside of all of us
Buy now
Buy now
---