From The Right-brain Workout, Russel Howcroft and Alex Wadelton outline how creativity is inherent in all of us.
Russel Howcroft and Alex Wadelton's Right-brain Workout is the fun and energising exercise regime for your brain that you didn't know you were looking for. And it just might help unlock the creative genius inside of you. Because, as you'll discover in the passage below, creativity is naturally inherent in almost all of us. We just need to channel our inner kindergarten kid.
Some of you may already know of the Marshmallow Challenge.
The Marshmallow Challenge (not to be confused with the Marshmallow Test) is a simple team-building exercise where groups of four people are asked to build the tallest structure they can out of twenty sticks of spaghetti, a metre of tape, a length of string… and a marshmallow.
Designer Tom Wujec conducted research into how different groups perform in the challenge. As he explained in a TED Talk, architects and engineers (thankfully) tend to do well, but one of the worst-performing cohorts is recent graduates of business school.
In observing the different approaches, Wujec thinks part of the problem is that 'business students are trained to find the single right plan'. What tends to happen is they talk about what they're going to do, they jockey for power within the group, they come up with a plan, they 'execute' their plan… and then they put the marshmallow on top right at the end.
At this point, more often than not, their structure falls over. Another group that does really well at the Marshmallow Challenge?
Kindergarten kids.
Turns out, small children are really good at iterative design. Why? Because they build prototypes as they go, learning lessons and continually integrating these lessons into their work to improve their structure. They naturally collaborate, co-design and co-create – the core pillars of creative learning.
You might also have heard of Dr George Land's research on creativity from the 1960s. Dr Land developed a creativity test for NASA, to help select innovative engineers and scientists.
He identified two types of thinking when it comes to creativity.
Firstly, there's convergent thinking, where you judge ideas, criticise them, and refine them.
Secondly, there's divergent thinking, where you imagine new ideas: original ones, unique ones and ones which come from the subconscious.
This second one, divergent thinking – the subconscious, the untested, the random association – is true creativity.
It's truly original, lateral and uniquely human. It's the stuff that robots and artificial intelligence simply cannot do.
In 1968, Land started applying his research on creativity to children. He gave his creativity test to 1,600 kids aged from three to five. He then re-tested the same kids at ten years of age, and again at fifteen, and compared their scores against adults.
The results were staggering:
98% of five-year-olds were assessed in the 'highly creative' range (at 'genius' level). This dropped to 30% of ten-year-olds. Then just 12% of fifteen-year-olds… and only 2% of adults could be considered 'highly creative'.
Non-creative thinking, it appears, is a learned behaviour.
And that's why we have written this book. To help you unlearn what you have been taught. Because with The Right-brain Workout we are starting out all over again. It's like finger painting for adults. You'll do things you haven't done in years. And you'll rediscover that being creative is a whole lot of fun.
---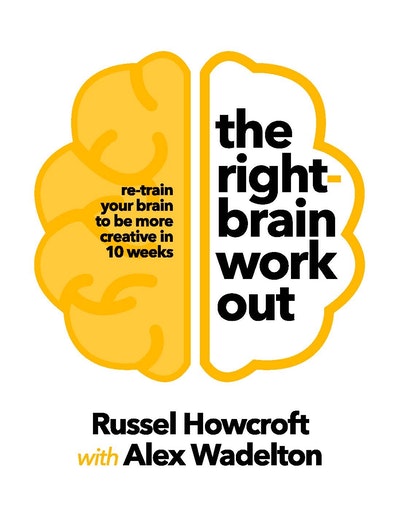 Creativity has the power to transform. To transform you, your mental state, your relationships, your work, and, yes, even the world.
Buy now
Buy now
---