A lightly sweet indulgent treat
Prep Time: 20 minutes
Cook Time: 50 minutes
Passive Time: 2 hours, 30 minutes
Makes: 12 servings
Serving Size: 1 slice
Nutrition per serving:
347 calories
33g total fat
7g total carbs
5g net carbs
7g protein
Gluten free
Sugar free
Ingredients
For the crust
1½ cups (6.2oz/150g) almond flour
½ cup (1.2oz/40g) coconut flour
¼ tsp xanthan gum
½ tsp baking powder
¼ cup (1.2oz/40g) granular erythritol
¼ tsp salt
½ cup (4.7oz/135g) cold butter
For the filling
17.5oz (500g) full-fat cream cheese 
¾ cup (6oz/170g) full-fat sour cream
¾ cup (5oz/120g) granular erythritol
1 tsp vanilla extract
1 tsp freshly-grated lemon zest
3 large eggs
Preparation
1. Combine the almond flour, coconut flour, xanthan gum, baking powder, erythritol, and salt in a food processor. Pulse until combined.
2. Add the butter in tablespoon chunks. Process for 20 seconds or until the ingredients are just combined.
3. Wrap the dough tightly in plastic wrap and transfer to the fridge to chill for a minimum of 2 hours.
4. Preheat the oven to 320°F (160°C), and line a 9.5-inch (24cm) springform pan with parchment paper.
5. Place the chilled dough between two sheets of parchment paper and roll it out flat enough to cover the bottom of the pan. Line the bottom of the pan with the dough, then use a fork to poke holes in the dough. Transfer to the oven and bake for 15 minutes.
6. While the crust is baking, make the filling by combining the cream cheese, sour cream, erythritol, vanilla extract, and lemon zest in a large bowl. Using a hand mixer, mix the ingredients on medium while adding the eggs, one at a time, and ensuring the ingredients are combined before adding the next egg. Mix until well combined.
7. When the crust is done baking, add the filling to the pan. Wrap the bottom and sides of the pan in aluminum foil and place the pan in a large baking pan filled half full with water. Transfer to the oven and bake for 50 minutes or until a toothpick inserted in the middle comes out clean.
8. Turn off the oven and crack the oven door, but leave the cheesecake in the oven to slowly cool for 30 additional minutes. Transfer the cheesecake to the fridge to chill and set for a minimum of one hour before slicing into 12 equal-sized servings. Store covered in an airtight container in the fridge for up to 5 days.
Craving more delicious ketogenic treats? Keto Sweet Tooth Cookbook includes keto diet recipes for shakes, smoothies, cookies, cakes, candies, fat bombs, ice cream and more.
---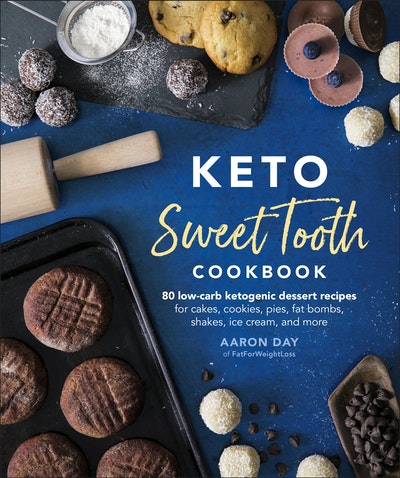 A must-have desserts cookbook for every keto dieter who craves sweet treats without all the sugar and carbs.
Buy now
Buy now
---