Rapid-fire questions for the award-winning Australian journalist and author.
Leigh Sales is one of Australia's most respected journalists. As the anchor of the ABC's flagship current affairs program, 7.30, she has interviewed dozens of world leaders and celebrities, including Hillary Clinton, the Dalai Lama, Patti Smith, Harrison Ford and Julie Andrews. Winner of two Walkley Awards, Australia's highest journalism honour, Leigh is known for going deeper into big news stories. Here, we turn the tables and ask Leigh to answer some questions as briefly as possible.

One thing a modern TV journalist should never leave home without?
A fully charged iPhone.
 
One interviewer you admire, and (briefly) why? 
Richard Fidler from ABC Conversations because he's so smart but he never tries to show you how smart he is.
 
One interview you'd love to do over again, and why?
Paul McCartney because it was magic.
 
One question always worth asking?
Why?
 
One question you wished you never asked?
It's the questions you don't ask that you regret.
 
One person you'd love the chance to interview, and (briefly) why?
Vladimir Putin because it would be fascinating to eyeball him.
 
One person you hope you'll never have to interview, and (briefly) why? 
Vladimir Putin because it would be scary and possibly dangerous.
 
One thing you love to do outside of work?
Play the piano.
 
One thing you love about your job?
The buzz of covering a huge news story.
 
One thing you hope readers take away from Any Ordinary Day? 
On days of both triumph and tragedy to remember that life goes on.
---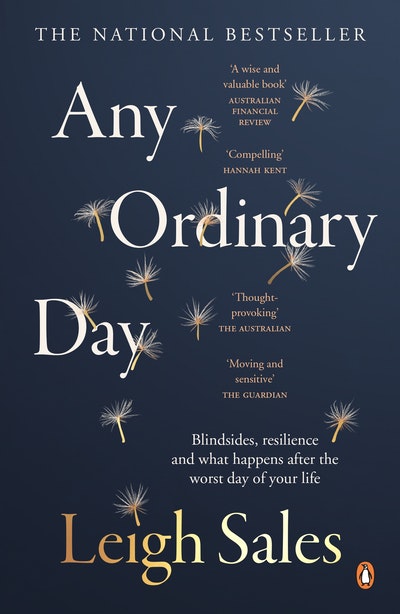 The day that turns a life upside down usually starts like any other, but what happens the day after? Dual Walkley Award-winner Leigh Sales investigates how ordinary people endure the unthinkable.
Buy now
Buy now
---