Investigating how ordinary people endure the unthinkable, Leigh Sales' latest work will spark conversation at your next book club.
As a journalist, Leigh Sales often encounters people experiencing the worst moments of their lives in the full glare of the media. But one particular string of bad news stories – and a terrifying brush with her own mortality – sent her looking for answers about how vulnerable each of us is to a life-changing event. What are our chances of actually experiencing one? What do we fear most and why? And when the worst does happen, what comes next?
Warm, candid and empathetic, in Any Ordinary Day, dual Walkley Award-winner Leigh Sales investigates how ordinary people endure the unthinkable.
 
Discussion points and questions:
Have you had the experience of an ordinary day turning upside down? What happened?
In the aftermath of your ordinary day that went wrong, what kept you going?
What did you think about Detective Graham Norris's theory that after one of life's blindsides, people have to find a 'new normal'?
Did any one of the stories in this book affect you more emotionally than the others? Can you identify why?
The author writes about tricking herself that if a traffic light changes before she stops her car, it means a certain thing will happen. What sort of superstitions or funny little things does your brain do to give you a sense of control over the universe?
Have you ever avoided a friend for fear of saying or doing the wrong thing? After reading this book, how will you now approach friends who are sick or suffering?
The author believes people endure rather than survive tragedy. What do you think?
What news story during your lifetime has most stayed with you because it struck a particularly deep chord of personal fear or anxiety?
If you were caught in an event that was a big news story, do you think you would want to talk to a journalist about it? Why or why not?
Has reading this book influenced you to change any of your beliefs about the way the world works (your schemas) and if so, how?
---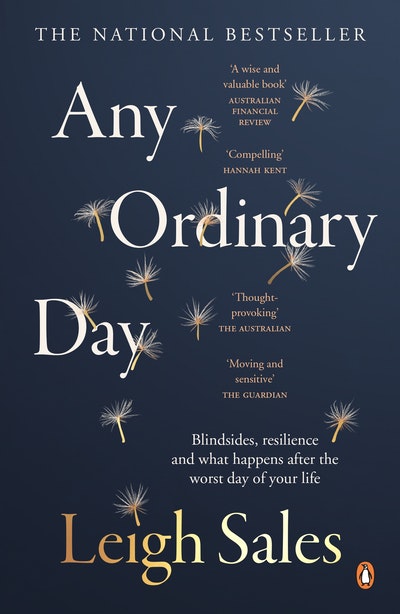 The day that turns a life upside down usually starts like any other, but what happens the day after? Dual Walkley Award-winner Leigh Sales investigates how ordinary people endure the unthinkable.
Buy now
Buy now
---