Busy Betty features a creative, curious, and exuberant young girl who has big plans.
Academy Award-winning actress, founder, producer, and New York Times bestselling author Reese Witherspoon will publish her debut picture book, Busy Betty, with Puffin Books Australia, an imprint of Penguin Random House Australia.
Inspired by Reese herself, and featuring vibrant illustrations by Xindi Yan, Busy Betty features a creative, curious, and an exuberant young girl who has big plans and an even bigger heart.
'I'm so excited to share Busy Betty with the world. Since the moment I had a daughter of my own, I have been searching for characters whose self-expression is front and centre and holistically portrays the experience of being a young girl,' Witherspoon said.
'This book was born out of my own upbringing. I was always singing, dancing, and exploring. I hope Betty's curiosity, enthusiasm and sense of adventure teaches our girls that not only can they do anything they set their minds to, but also by applying creativity, focus and teamwork to their ideas, anything is possible.
Witherspoon won an Academy Award for her portrayal of June Carter Cash in Walk the Line and was later nominated in that same category for Wild in 2014, which she also produced.
Witherspoon also starred in beloved films Sweet Home Alabama, Legally Blonde, and Election, as well as a number of award-winning television series including Big Little Lies, Little Fires Everywhere, and The Morning Show. Other film credits include Disney's A Wrinkle in Time, Universal Pictures' animated musical comedy Sing and Sing 2. In addition to her acting and producer roles, Witherspoon is an author and entrepreneur. In 2018, Reese released her first book, Whiskey in a Teacup which was an instant bestseller.
In 2016, she established Hello Sunshine, a media brand and content company dedicated to female authorship and storytelling across all platforms. Hello Sunshine is also home to Reese's Book Club and Reese's YA Book Club, which focuses on storytelling with women at the centre. Witherspoon recently sold Hello Sunshine to Blackstone in September 2021. Now Hello Sunshine is the cornerstone of a larger media company called Candle Media. Witherspoon is an advocate and activist for women's issues across the globe.
Illustrator Xindi Yan left behind a small city in China to realise her dream of being a published artist. She travelled thousands of miles to study, live, and work in New York. Having always wanted to illustrate children's books, Xindi buried herself in countless books and drawings. When not drawing, she likes to keep busy with lots of crafts and cooking. Xindi currently lives in Brooklyn with her husband and dreams of having a puppy one day.
---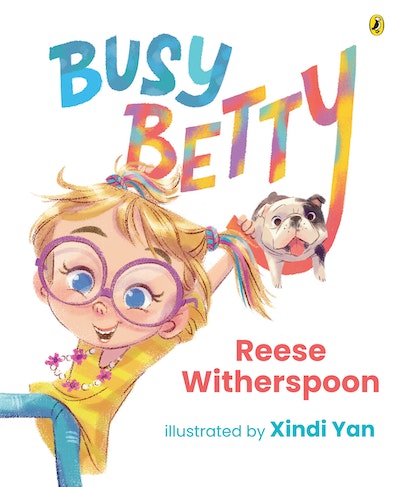 Busy Betty
Reese Witherspoon, Xindi Yan
From Academy Award–winning actress, founder, and bestselling author, Reese Witherspoon, comes Busy Betty, a story about a creative, curious, and exuberant young girl who has big plans and an even bigger heart.
Buy now
Buy now
---