Smiling Mind is Australia's #1 mindfulness app.
Penguin Random House Australia's Young Readers division today announced a new series of picture books exploring mindfulness practices through story with Australia's leading not-for-profit in the preventative mental health space, Smiling Mind.
This five-book mindfulness informed series will focus on gratitude, identity, wellbeing, learning and communicating. Authored by Smiling Mind co-founder and Chair Jane Martino, and illustrated by highly regarded children's book illustrator, Annie White, the stories take a classic picture book approach and are backed by significant research in mindfulness and child psychology.
Jane Martino, co-founder & Chair of Smiling Mind said: "I've drawn on my experience as both a parent and co-founder of Smiling Mind when writing these books. There is nothing more joyful than seeing children better understand themselves and the world through a story. We have created a series of books that spark imagination and conversation about the key principles of mindfulness and help build on the work Smiling Mind does in schools and millions of homes across the country".
Book one in the series, The Thank-you Present, will publish on 29 September 2020. This delightful picture book explores the different ways and reasons to say thank you and captures the warm feelings that we get from showing gratitude and giving rather than receiving. Book two is scheduled to be published in January 2021.
The books are designed to help children and young people develop the skills they need to thrive in life. Additional resources and activities will be included at the back of each book, which will be a useful tool for the 165,000 teachers that are already using Smiling Mind in the classroom.
Holly Toohey, Head of Brands Partnerships and Audio, PRH Australia, said: "Penguin Random House are so thrilled to be working with Smiling Mind on this picture book series. The work Smiling Mind does is incredibly important – now more so than ever – and with the launch of these gorgeous books, children and parents will have another tool to help them integrate mindful thinking and practices into their everyday life".  
For any media inquiries contact: Tina Gumnior, Publicity Manager, Young Readers
tgumnior@penguinrandomhouse.com.au
---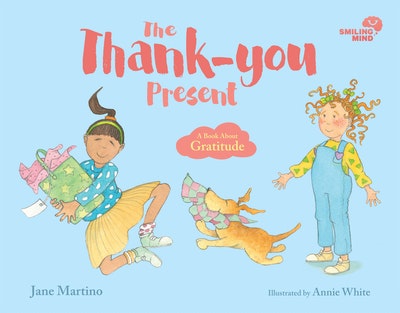 The first picture book in a new series developed with leading Australian mindfulness organisation, Smiling Mind.
Buy now
Buy now
---