Jane Martino shares her inspiration behind the Smiling Mind picture book series.
Children are naturally very mindful. It's a built-in muscle I admire in them. Yet I know I have been responsible for deviating them from this naturally mindful state many times. As a parent I would frequently find myself rushing my three boys along as they stopped to stare at a snail or peer in a shop window. So often in the hustle and busyness of the everyday we forget, or believe there isn't time, to just stop and 'smell the roses', be grateful for what we have and not be concerned about the future or the past.
It has always been my hope that whether listening to a Smiling Mind meditation or reading a book in a bedroom, home or classroom, we can be reminded how much we benefit from taking time out of our day to just be.
I came to mindfulness and meditation late in life. Luckily it is never too late – and there was no better time than after having my first child and being highly sleep deprived to dive in!
I very quickly found gold.
Increased productivity, a stronger ability to deal with challenging and stressful situations with ease, improved levels of empathy and connectedness, better sleeping patterns and generally being a better leader at work and parent at home. The difference was truly astounding. I became compelled to make sure every person in this country had the opportunity to experience the same, especially our children.
Imagine if all of our young people grew up with these wonderful skills and viewed exercise for the health of the mind just as they respect exercise and its impact on the physical body.
The Smiling Mind series of books shares this vision. The theme for each book maps to pillars within the Early Learning curriculum and are written to inspire children (and parents!) to be their beautiful, authentic selves – whatever that looks or feels like. To experience and better understand, rather than judge, their emotions. To be and feel grateful and to appreciate the impact this has on us feeling content and connected to ourselves and each other. To simply embrace being who they are and how they feel.
I hope you enjoy all of the books in the series. Their aim is to continue to fill all of our personal tool kits with the things we need to live a connected and whole-hearted life while riding its bumps and imperfections. Each book draws from funny stories or challenging moments in my own experiences and journey as a parent. A journey centred around learning to accept and celebrate my boys, and myself, for how we show up in the world each and every day.
---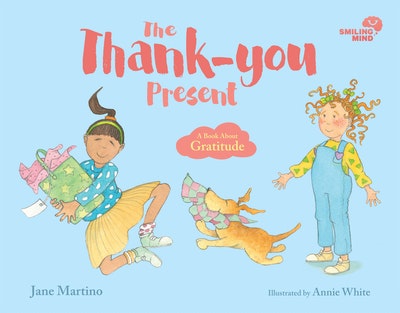 The first picture book in a new series developed with leading Australian mindfulness organisation, Smiling Mind.
Buy now
Buy now
---