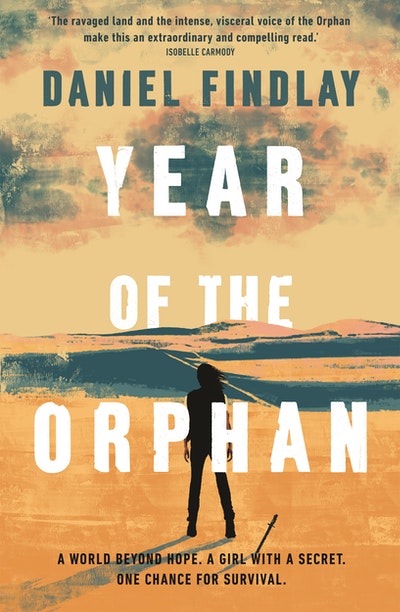 Published:

29 May 2017

ISBN:

9780143782070

Imprint:

Bantam Australia

Format:

Trade Paperback

Pages:

288

RRP:

$32.99
Year of the Orphan
---
---
---
A world beyond hope. A girl with a secret. One chance for survival.
The Passage meets Mad Max in this stunning debut.
US RIGHTS SOLD TO SKYHORSE PUBLISHING
'Dystopian tale-telling at its absolute best. A worthy successor to The Chrysalids and Riddley Walker.' David Hunt
'The ravaged land and the intense, visceral voice of the Orphan make this an extraordinary and compelling read.' Isobelle Carmody
'A brilliantly chilling post-apocalyptic world, evoked in a voice of spare, compelling beauty . . . every moment of the story is gripping and immediate. An all-around great novel.' Sandra Newman
'Leaves you feeling like you've woken from a feverish dream.' Adrian J Walker
'There were a heat. Air hotter'n blud. She felt it bakin her skin as she moved. There weren't nothin certain but one thing ­– the Reckoner were coming.'

Outback Australia. Hundreds of years from now. After the end. A girl races across the desert pursued by the reckoner, scavenged spoils held close. In a blasted landscape of abandoned mines and the crumbling bones of civilisation, she survives by picking over the dead past. She trades her scraps at the only known settlement, a ramshackle fortress of greed, corruption and disease. An outpost whose only purpose is survival ­– refuge from the creatures that hunt beyond.
Sold then raised hard in the System, the Orphan has a mission, carries secrets about the destruction that brought the world to its knees. And she's about to discover that the past still holds power over the present.
Given an impossible choice, will the Orphan save the only home she knows or see it returned to dust? Both paths lead to blood, but whose will be spilled?
In a post-apocalyptic future, survivors scavenge in the harsh Australian outback. Living rough in the remnants of our ruined world, an orphan with her own brutal past must decide if what's left of humanity is worth saving.
Published:

29 May 2017

ISBN:

9780143782070

Imprint:

Bantam Australia

Format:

Trade Paperback

Pages:

288

RRP:

$32.99
Praise for Year of the Orphan
original, striking

George Williams, Weekend Australian
home-grown dystopia that is both haunting and vicious

Andromeda Spaceways
a believable and alarming post-apocalyptic future in the Australian outback

Andrew Nette, Australian Book Review
Definitely worth reading.

Stefen Brazulaitis, Books+Publishing
a distinctive story of bravery, resilience and self-sacrifice in a vicious, haunting future.

Ashley Kalagian Blunt, Newtown Review of Books
that must-read, high-calibre Australian sci fi/dystopian novel you've been waiting for.

David O'Brien, Glam Adelaide
Fans of dystopian stories will love this world.

John Affleck, Weekend Gold Coast Bulletin
insightful, engaging and thought-provoking

Gloria Demillo, Tharunka
This is a book that deserves to become an Australian classic

Mischa's Library
an excellently written debut novel, and a compelling take on the post-apocalyptic genre.

Georgia Coldebella, RMITV
Challenging, thrilling . . . A satisfying exploration of desperation and imagined future myths.

Publishers Weekly
The ravaged land and the intense, visceral voice of the Orphan make this an extraordinary and compelling read.

Isobelle Carmody
Dystopian tale-telling at its absolute best. A worthy successor to The Chrysalids and Riddley Walker.

David Hunt