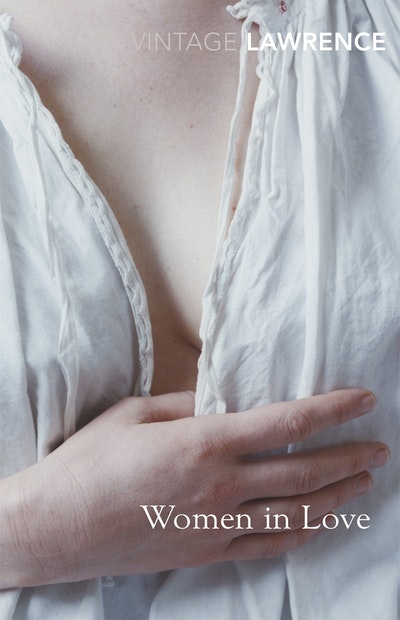 Published:

1 February 2011

ISBN:

9781409058045

Imprint:

Vintage Digital

Format:

EBook

Pages:

496
Women in Love
---
---
---
'Women in Love is a work of genius. It contains characters which are masterpieces of pure creation' New Statesman
'What beauties the book contains! There are many pages in it so saturated with warm and lovely intimacies that one reads absorbed' Guardian
Women in Love begins one blossoming spring day in England and ends with a terrible catastrophe in the snow of the Alps. Ursula and Gudrun are very different sisters who become entangled with two friends, Rupert and Gerald, who live in their hometown. The bonds between the couples quickly become intense and passionate but whether this passion is creative or destructive is unclear.In this astonishing novel, widely considered to be D.H. Lawrence's best work, he explores what it means to be human in an age of conflict and confusion.
WITH AN INTRODUCTION BY HOWARD JACOBSON
Published:

1 February 2011

ISBN:

9781409058045

Imprint:

Vintage Digital

Format:

EBook

Pages:

496
What beauties the book contains! There are many pages in it so saturated with warm and lovely intimacies that one reads absorbed

Guardian
It is a wonderful novel by a writer who created his own narrative voice
The point with Lawrence is never to be afraid of going too far, is always to push, push, push. In the pushing-process, Lawrence writes one of the most truly and thoroughly poetic novels in English
He's an intoxicator... Has there ever been anyone like him for bringing places and people so vividly to life?
An astonishingly avant-garde novel

Guardian
It's a very brave and outspoken book, which expresses things that we still have trouble expressing today
I do not claim to be a literary critic, but I know dirt when I smell it, and here is dirt in heaps- festering, putrid heaps which smell to high Heaven

John Bull, 1921
Lawrence was the first literary artist to emphasise the huge importance of sex as a means of human fulfillment

The Times
Its questions about marriage and eroticism, grief and the frightening blankness of nature, have made it one of our century's most popular novels

Financial Times
It is the task of our generation to learn to read him again with compassion
The greatest imaginative novelist of our generation