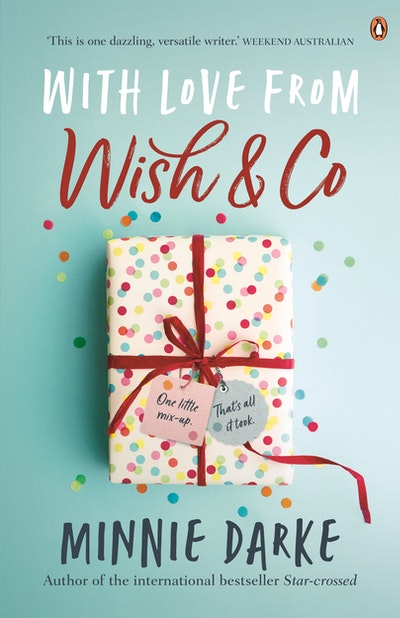 Published:

2 August 2022

ISBN:

9781760145255

Imprint:

Penguin eBooks

Format:

EBook

Pages:

416
With Love From Wish & Co
---
---
---
From the author of the international bestsellers Star-crossed and The Lost Love Song comes a captivating novel about a young woman whose one little mix-up sets off an unexpected chain of events, with repercussions for her business . . . and her love life.
With Love from Wish & Co is a heart-warming novel about what we are prepared to give, and give up, in the name of love.
One little mix-up. That's all it took . . .
Marnie Fairchild is the brains and talent behind Wish & Co, a boutique store that offers a bespoke gift-buying service to wealthy clients with complicated lives. Brian Charlesworth is Marnie's most prized customer, and today she's wrapping the perfect anniversary gift for his wife, Suzanne . . . and a birthday present for his mistress, Leona. What could possibly go wrong?
For years, Marnie's had her heart set on moving Wish & Co to the historic shopfront once owned by her grandfather. When the chance to bid for the property unexpectedly arises, Marnie – distracted – makes an uncharacteristic mistake.
Soon Brian is in a fight to rescue his marriage, and Marnie is scrabbling to keep her dreams alive. With so much at stake, the last thing Marnie needs is to fall for Brian and Suzanne's son . . .

'Will leave you with a warm glow . . . In every way a delight, Star-crossed is so much fun, this reviewer fell head over heels for it.' Herald Sun on Star-crossed
'This is one dazzling, versatile writer, working with impeccable skill, sharp wit and frolicsome charm.' Weekend Australian on Star-crossed
'If you are looking for a charming read, then Darke has written a beauty . . . Expect laughter and tears in equal measure.' Herald Sun on The Lost Love Song

Published:

2 August 2022

ISBN:

9781760145255

Imprint:

Penguin eBooks

Format:

EBook

Pages:

416