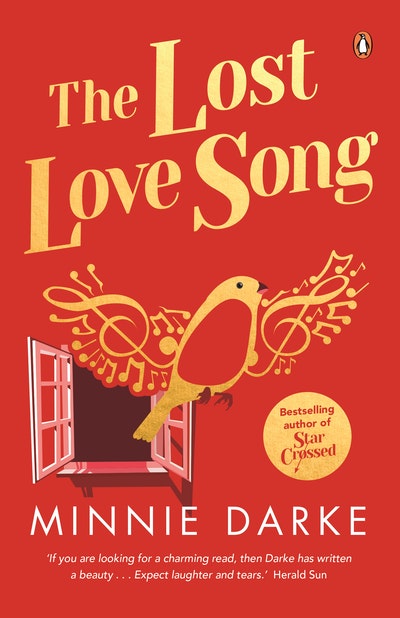 Published:

5 January 2021

ISBN:

9780143792314

Imprint:

Penguin

Format:

Paperback

Pages:

368

RRP:

$22.99
The Lost Love Song
---
---
---
'If you are looking for a charming read, then Darke has written a beauty … Expect laughter and tears in equal measure.' Herald Sun
A captivating, feel-good love story from the author of the acclaimed Australian bestseller Star-crossed, which has now been published in 30 countries around the world.
For every love lost there is another to be found . . .
In Australia, Arie Johnson waits impatiently for classical pianist Diana Clare to return from a world tour, hopeful that after seven years together she'll finally agree to marry him.
On her travels, Diana composes a song for Arie. It's the perfect way to express her love, knowing they'll spend their lives together . . . Won't they?
Then late one night, her love song is overheard, and begins its own journey across the world.
In Scotland, Evie Greenlees is drifting. It's been years since she left Australia with a backpack, a one-way ticket and a dream of becoming a poet. Now she spends her days making coffee and her nights serving beer. And she's not even sure whether the guy she lives with is really her boyfriend or just a flatmate.
Then one day she hears an exquisite love song. One that will connect her to a man with a broken heart . . .
'This lively and charming novel' Sydney Morning Herald PICK OF THE WEEK
'If you are looking for a charming read, then Darke has written a beauty … Expect laughter and tears in equal measure.' Herald Sun
PRAISE FOR STAR-CROSSED
'Will leave you with a warm glow . . . In every way a delight, Star-crossed is so much fun, this reviewer fell head over heels for it.' Herald Sun
'This is one dazzling, versatile writer, working with impeccable skill, sharp wit and frolicsome charm.' Weekend Australian
'An escapist delight . . . a light, fun read, with a creative spin on a winning rom-com formula.' Newsday
Published:

5 January 2021

ISBN:

9780143792314

Imprint:

Penguin

Format:

Paperback

Pages:

368

RRP:

$22.99
Praise for The Lost Love Song
This lively and charming novel.

Sydney Morning Herald PICK OF THE WEEK
If you are looking for a charming read, then Darke has written a beauty … Expect laughter and tears in equal measure.

Herald Sun
Heart-warming love story . . . Darke has a real talent for engaging writing that tugs at the heartstrings.

Herald Sun
Be prepared to be surprised by the feeling that arises on reading the love and heartaches of the various characters made flesh with imaginative but relatable flourish by Darke.

Manningham Leader
The Lost Love Song Playlist