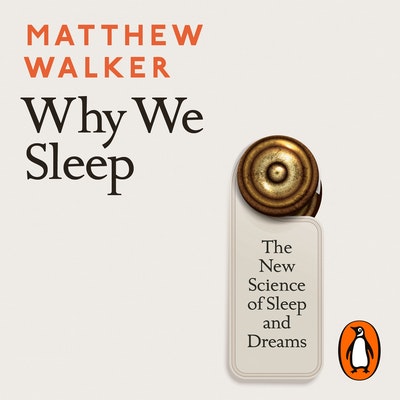 Published:

7 December 2017

ISBN:

9780141988405

Imprint:

Penguin Audio

Format:

Audio Download

RRP:

$27.99
Why We Sleep
The New Science of Sleep and Dreams
---
---
---
The answers to one of the last great biological mysteries
Why can some birds sleep with only half of their brain?
What really happens during REM sleep?
Why do our sleep patterns change across a lifetime?
Sleep is one of the most important but least understood aspects of our life, health and longevity. Until very recently, science had no answer to the question of why we sleep, or what good it served, or why we suffer such devastating health consequences when it is absent. Compared to the other basic drives in life - eating, drinking, and reproducing - the purpose of sleep remained elusive.
In this book, neuroscientist and sleep expert Matthew Walker charts twenty years of cutting-edge research, looking at creatures from across the animal kingdom to find the answers that will transform our appreciation of sleep and reverse our neglect of it.
Published:

7 December 2017

ISBN:

9780141988405

Imprint:

Penguin Audio

Format:

Audio Download

RRP:

$27.99
A neuroscientist shows how a good night's shut-eye can make us cleverer, more attractive, slimmer, happier, healthier and ward off cancer . . . it's probably a little too soon to tell you that it saved my life, but it's been an eye-opener

Mark O'Connell, Guardian
Passionate, urgent . . . it had a powerful effect on me

Rachel Cooke, Observer
Compelling and utterly convincing . . . you'll never think of your bedtime in the same way again

James McConnachie, Sunday Times
A stimulating and important book . . . richly packed with science

Clive Cookson, Financial Times
Uplifting . . . Walker is in love with sleep and wants us to fall in love with sleep, too

David Kamp, New York Times
Matthew Walker is probably one of the most influential people on the planet

Katie Law, Evening Standard
Astonishing . . . an amazing book . . . absolutely chocker full of things that we need to know

Chris Evans
Amazing . . . I'm obsessed with this book

Thom Yorke
An important and fascinating book

Bill Gates
Most of us have no idea what we do with a third of our lives. In this lucid and engaging book, Matt Walker explains the new science that is rapidly solving this age-old mystery. Why We Sleep is a canny pleasure that will have you turning pages well past your bedtime

Daniel Gilbert, author of Stumbling on Happiness
A top sleep scientist argues that sleep is more important for our health than diet or exercise

Tom Whipple, The Times
Simply a must-read. World-renowned neuroscientist and sleep expert Matthew Walker takes us on a fascinating and indispensable journey into the latest understandings of the science of sleep . . . that may change the way you live your life. In these super-charged, distracting times it is hard to think of a book that is more important to read than this one

Adam Gazzaley, co-author of The Distracted Mind
Startling, sobering, vital, a life raft. . . . it's probably a little too soon to tell you that Why We Sleep saved my life, but I can tell you that it's been an eye-opener

Mark O'Connell, Guardian
Passionate, urgent, convincing . . . it had a powerful effect on me

Rachel Cooke, Observer
A powerful rallying cry by a researcher at the top of his game. If you want an effective distillation of a science that reaches deep into the frontiers of consciousness and identity . . . this is a good place to start.

Oliver Moody, The Times
A stimulating and important book . . . richly packed with science . . . Walker describes superbly what is going on in the brain during sleep and dreaming

Clive Cookson, Financial Times
Why We Sleep is a book on a mission...One especially winning attribute of Walker is that he's not a scold. He frames his suggestions for more healthful sleep habits not as a series of eat-your-Wheaties admonitions, but as wondrous, uplifting improvements in quality of life...Why We Sleep mounts a persuasive, exuberant case for addressing our societal sleep deficit and for the virtues of sleep itself. It is recommended for night-table reading in the most pragmatic sense

The New York Times Book Review
Article
Article