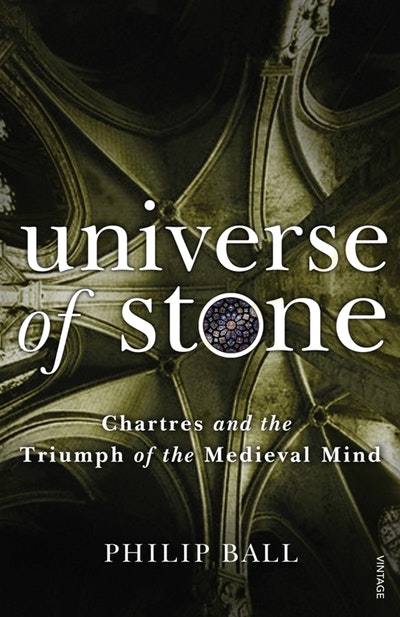 Published:

31 August 2011

ISBN:

9781446499757

Imprint:

Vintage Digital

Format:

EBook

Pages:

336
Universe of Stone
Chartres Cathedral and the Triumph of the Medieval Mind
---
---
Award-winning author Philip Ball illuminates the medieval mind through a study of the greatest architectural masterpiece of the period, Chartres Cathedral.
In the twelfth century, Christians in Europe began to build a completely new kind of church - soaring, spacious monuments flooded with light from immense windows. These were the first Gothic churches, the crowning example of which was the cathedral of Chartres: a revolution in thought embodied in stone and glass, and a bridge between the ancient and modern worlds.
In Universe of Stone, Philip Ball explains the genesis and development of the Gothic style. He argues that it signified a profound change in the social, intellectual and theological climate of Western Christendom. As the church represented nothing less than a vision of heaven on earth, this shift in architectural style marked the beginning of the argument between faith and reason which continues today, and of a scientific view of the world that threatened to dispense with God altogether.
Published:

31 August 2011

ISBN:

9781446499757

Imprint:

Vintage Digital

Format:

EBook

Pages:

336
Praise for Universe of Stone
(Ball) has a knack for translating difficult concepts into lucid prose: he offers a refreshingly sceptical guided tour of Chartres Cathedral and the intellectual contents that helped produce it

Daily Telegraph
Lucid and resplendent...a model of explanatory writing

John Carey, Sunday Times
Consistently and healthily sceptical ... an intelligent, enjoyable and well-produced book which deserves a wide audience

Times Literary Supplement
An original and imaginative synthesis of art history and history of science

History Today
lucid, resplendent book

The Times
Riveting

Katie Owen, Sunday Telegraph
richly rewarding book

Independent
lively biographical of Chartres...illuminating sections...masterpiece. The erudition with which Ball imparts his knowledge does nothing to diminish his sense of wonder

William Skidelsky, Observer
Philip Ball has done something extraordinary here: he's got me interested in cathedrals

William Leith, Evening Standard
Thoughtfully designed book.

Nicholas Hamilton, Irish Times