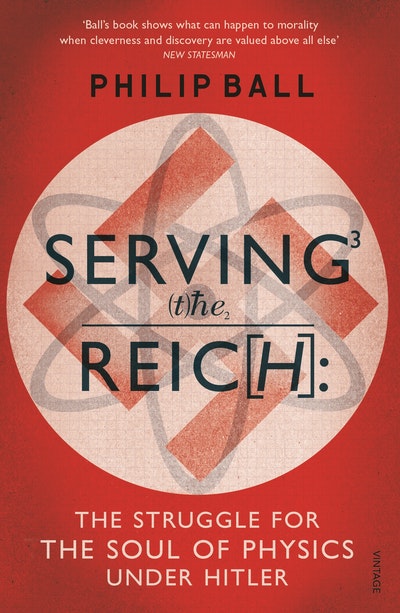 Published:

10 October 2013

ISBN:

9781448155927

Imprint:

Vintage Digital

Format:

EBook

Pages:

320
Serving the Reich
The Struggle for the Soul of Physics under Hitler
---
---
---
An incisive and revealing exploration of the fate of physics under the Nazis - and how scientific idealism led to accommodation with a totalitarian regime.
Serving the Reich tells the story of physics under Hitler. While some scientists tried to create an Aryan physics that excluded any 'Jewish ideas', many others made compromises and concessions as they continued to work under the Nazi regime. Among them were world-renowned physicists Max Planck, Peter Debye and Werner Heisenberg.
After the war most scientists in Germany maintained they had been apolitical or even resisted the regime: Debye claimed that he had gone to America in 1940 to escape Nazi interference in his research; Heisenberg and others argued that they had deliberately delayed production of the atomic bomb.
In a gripping exploration of moral choices under a totalitarian regime, here are human dilemmas, failures to take responsibility and three lives caught between the idealistic goals of science and a tyrannical ideology.
Published:

10 October 2013

ISBN:

9781448155927

Imprint:

Vintage Digital

Format:

EBook

Pages:

320
Praise for Serving the Reich
The story is intriguing for it reveals the lack of insight of many of the world's greatest physicists

Robin McKie, Observer
Ball's book shows what can happen to morality when cleverness and discovery are valued above all else

Philip Maughan, New Statesman
Ball does an outstanding service by reminding us how powerful and sometimes confusing the pressures were. Packed with dramatic, moving and even comical moments

Robert P Crease, Nature
A new book from Philip Ball is always an eagerly anticipated event, but this one exceeds expectations

John Gribbin, Literary Review
Ball examines sensitively the careers of three eminent physicists who continued to work in Nazi Germany, emphasising the very different ways in which each dealt (or failed to deal) with the moral dilemmas of working in an increasingly oppressive state

Sir Michael Berry, Times Higher Education
A fascinating account of the moral dilemmas faced by German physicists working within Nazism. Impeccably researched

Ian Thomson, Tablet
An engrossing and disturbing book

Andrew Robinson, History Today
[A] fine book

Christopher Coker, Times Literary Supplement
Asks important questions, not just about 20th-century German science but about the nature of science and the response of scientists to the political world we perforce inhabit. All scientists should read and ponder its contents

Richard Joyner, Times Higher Education
Ball's judgements are well reasoned, nuanced and, in my view, fair

Graham Farmelo, Guardian
This is an exploration of morality and human dilemmas under a totalitarian regime

Daily Express
It is a reminder that science, however detached it wants to seem, can never be separated from society or ideology

Good Book Guide
Ball's real interests lie elsewhere, in what he calls the 'grey zone between complicity and resistance'. It is one of the strengths of Serving the Reich that in surveying this territory the analysis is not unduly flattering to the moral and political certainties of the present

Jonathan Derbyshire
Helps us to appreciate better the contribution of other physicists during the war

Guardian