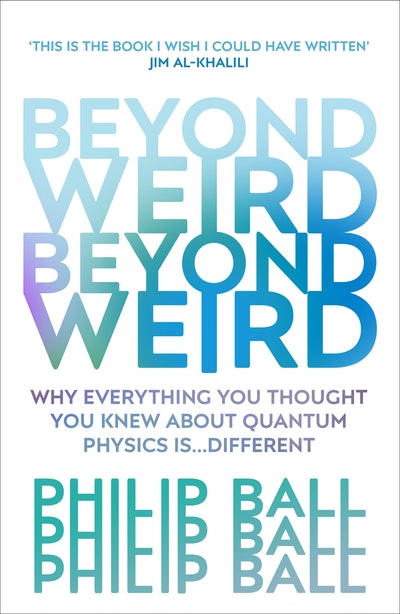 Published:

5 February 2019

ISBN:

9781784706081

Imprint:

Vintage

Format:

Paperback

Pages:

384

RRP:

$22.99
Beyond Weird
---
---
An exhilarating tour of the contemporary quantum landscape, this book addresses the question that most others fail to ask: what does quantum mechanics actually mean?
PHYSICS WORLD 2018 BOOK OF THE YEAR
'A clear and deeply researched account of what's known about the quantum laws of nature, and how to think about what they might really mean' Nature
'I think I can safely say that nobody understands quantum mechanics.' Richard Feynman wrote this in 1965 - the year he was awarded the Nobel prize in physics for his work on quantum mechanics. Over the past decade, the enigma of quantum mechanics has come into sharper focus. We now realise that quantum mechanics is less about particles and waves, uncertainty and fuzziness, than a theory about information: about what can be known and how.
The quantum world isn't a different world: it is our world, and if anything deserves to be called 'weird', it's us. This exhilarating book is about what quantum maths really means - and what it doesn't mean.
'Gorgeously lucid.takes us to the edge of contemporary theorizing about the foundations of quantum mechanics. Easily the best book I've read on the subject' Washington Post
Published:

5 February 2019

ISBN:

9781784706081

Imprint:

Vintage

Format:

Paperback

Pages:

384

RRP:

$22.99
This is the book I wish I could have written, but am very glad I've read. It's an accessible, persuasive and thorough appraisal of what the most important theory in all of science actually means.

Jim Al-Khalili
Excellent.

Andrew Crumey, Spectator
Ball is an exceptionally talented writer who manages to combine accessibility and thoroughness in razor-sharp prose

Philip Moriarty, Physics World
Riveting ... Ball is an intelligent guide

Natalie Wolchover, Nature
A deeply fascinating book … Philip Ball is a rare writer in having such depth of knowledge of a difficult field, yet retaining the critical eye of an observer. Highly recommended.

Jon Butterworth, Professor of Physics at UCL and author of SMASHING PHYSICS
A laudable achievement.

Rob Kingston, The Sunday Times
Ball, a gifted and prolific science writer familiar to Prospect readers, is a demanding but engaging guide to this daunting terrain.

Anjana Ahuja, Prospect
A subtle unpacking of Heisenberg's famous uncertainty principle… is alone worth the price of the book... Ball takes us on a whirlwind tour through the quantum realm

Manjit Kumar, New Statesman
Perfect. It is engaging and clear without feeling dumbed down. I would recommend it to anyone who is interested in really understanding what quantum physics is all about

Kathryn Gempf, RSC
This author explains his subject simply and thoughtfully

Economist, **Books of the Year**
[A] fascinating book

Chemistry & Industry
One of the most lucid and enlightening books on the nature of the reality of the quantum world that I haver read

Jim Al-Khalill, Times Higher Education, *Summer reads of 2019*