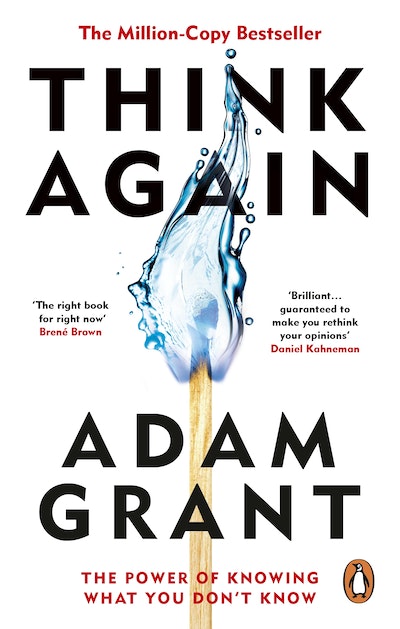 Published:

27 June 2023

ISBN:

9780753553916

Imprint:

WH Allen

Format:

Paperback

Pages:

320

RRP:

$24.99
Think Again
The Power of Knowing What You Don't Know
---
---
---
Bestselling author, smart thinking guru and TED podcast star, Adam Grant returns with a compelling guide to changing your mind
THE MILLION-COPY BESTSELLER
If you can change your mind you can do anything.
Why do we refresh our wardrobes every year, renovate our kitchens every decade, but never update our beliefs and our views? Why do we laugh at people using computers that are ten years old, but yet still cling to opinions we formed ten years ago?
There's a new skill for the modern world that matters more than raw intelligence - the ability to change your mind. To have the edge we all need to develop the flexibility to unlearn old beliefs and adapt when the evidence and the world changes before us.
Told through fascinating stories, informed by cutting-edge research and illustratedwith amazing insights from Adam Grant's conversations with people such as Elon Musk, Hilary Clinton's campaign team, top CEOs and leading scientists, this is the ultimate guide to keeping your thinking fresh, learning when to question your ideas and update your own opinions, and how to inspire those around you to do the same.
Published:

27 June 2023

ISBN:

9780753553916

Imprint:

WH Allen

Format:

Paperback

Pages:

320

RRP:

$24.99
Adam Grant believes that keeping an open mind is a teachable skill. And no one could teach this hugely valuable skill better than he does in this wonderful read. The striking insights of this brilliant book are guaranteed to make you rethink your opinions and your most important decisions

Daniel Kahneman, Nobel Prize winner in economics and author of THINKING, FAST AND SLOW
Adam Grant believes that keeping an open mind is a teachable skill. And no one could teach this hugely valuable skill better than he does in this wonderful read. The striking insights of this brilliant book are guaranteed to make you rethink your opinions and your most important decisions

Daniel Kahneman, Nobel Prize winner in economics and author of THINKING, FAST AND SLOW
Adam Grant believes that keeping an open mind is a teachable skill. And no one could teach this hugely valuable skill better than he does in this wonderful read. The striking insights of this brilliant book are guaranteed to make you rethink your opinions and your most important decisions

Daniel Kahneman, Nobel Prize winner in economics and author of THINKING, FAST AND SLOW
Adam Grant believes that keeping an open mind is a teachable skill. And no one could teach this hugely valuable skill better than he does in this wonderful read. The striking insights of this brilliant book are guaranteed to make you rethink your opinions and your most important decisions

Daniel Kahneman, Nobel Prize winner in economics and author of THINKING, FAST AND SLOW
Adam Grant believes that keeping an open mind is a teachable skill. And no one could teach this hugely valuable skill better than he does in this wonderful read. The striking insights of this brilliant book are guaranteed to make you rethink your opinions and your most important decisions

Daniel Kahneman, Nobel Prize winner in economics and author of THINKING, FAST AND SLOW
THIS. This is the right book for right now. Yes, learning requires focus. But, unlearning and relearning requires much more -- it requires choosing courage over comfort. In THINK AGAIN, Adam Grant weaves together research and storytelling to help us build the intellectual and emotional muscle we need to stay curious enough about the world to actually change it. I've never felt so hopeful about what I don't know

Brené Brown, Ph.D., #1 New York Times bestselling author of DARE TO LEAD
THIS. This is the right book for right now. Yes, learning requires focus. But, unlearning and relearning requires much more -- it requires choosing courage over comfort. In THINK AGAIN, Adam Grant weaves together research and storytelling to help us build the intellectual and emotional muscle we need to stay curious enough about the world to actually change it. I've never felt so hopeful about what I don't know

Brené Brown, Ph.D., #1 New York Times bestselling author of DARE TO LEAD
THIS. This is the right book for right now. Yes, learning requires focus. But, unlearning and relearning requires much more -- it requires choosing courage over comfort. In THINK AGAIN, Adam Grant weaves together research and storytelling to help us build the intellectual and emotional muscle we need to stay curious enough about the world to actually change it. I've never felt so hopeful about what I don't know

Brené Brown, Ph.D., #1 New York Times bestselling author of DARE TO LEAD
THIS. This is the right book for right now. Yes, learning requires focus. But, unlearning and relearning requires much more -- it requires choosing courage over comfort. In THINK AGAIN, Adam Grant weaves together research and storytelling to help us build the intellectual and emotional muscle we need to stay curious enough about the world to actually change it. I've never felt so hopeful about what I don't know

Brené Brown, Ph.D., #1 New York Times bestselling author of DARE TO LEAD
THIS. This is the right book for right now. Yes, learning requires focus. But, unlearning and relearning requires much more -- it requires choosing courage over comfort. In THINK AGAIN, Adam Grant weaves together research and storytelling to help us build the intellectual and emotional muscle we need to stay curious enough about the world to actually change it. I've never felt so hopeful about what I don't know

Brené Brown, Ph.D., #1 New York Times bestselling author of DARE TO LEAD
Adam Grant makes a compelling case that if we have the humility and curiosity to reconsider our beliefs, we can always reinvent ourselves. Think Again helped me learn about how great thinkers and achievers don't let expertise or experience stand in the way of being perpetual students

M. Night Shyamalan, director of THE SIXTH SENSE and SPLIT
Adam Grant makes a compelling case that if we have the humility and curiosity to reconsider our beliefs, we can always reinvent ourselves. Think Again helped me learn about how great thinkers and achievers don't let expertise or experience stand in the way of being perpetual students

M. Night Shyamalan, director of THE SIXTH SENSE and SPLIT
Adam Grant makes a compelling case that if we have the humility and curiosity to reconsider our beliefs, we can always reinvent ourselves. Think Again helped me learn about how great thinkers and achievers don't let expertise or experience stand in the way of being perpetual students

M. Night Shyamalan, director of THE SIXTH SENSE and SPLIT
Adam Grant makes a compelling case that if we have the humility and curiosity to reconsider our beliefs, we can always reinvent ourselves. Think Again helped me learn about how great thinkers and achievers don't let expertise or experience stand in the way of being perpetual students

M. Night Shyamalan, director of THE SIXTH SENSE and SPLIT
Adam Grant makes a compelling case that if we have the humility and curiosity to reconsider our beliefs, we can always reinvent ourselves. Think Again helped me learn about how great thinkers and achievers don't let expertise or experience stand in the way of being perpetual students

M. Night Shyamalan, director of THE SIXTH SENSE and SPLIT
Wise, frank, and funny; a fabulous book about how to think more clearly and more kindly. Think Again offers a spellbinding mix of storytelling and groundbreaking research -- we urgently need this book right now

Tim Harford, bestselling author of How To Make The World Add Up
Wise, frank, and funny; a fabulous book about how to think more clearly and more kindly. Think Again offers a spellbinding mix of storytelling and groundbreaking research -- we urgently need this book right now

Tim Harford, bestselling author of How To Make The World Add Up
Wise, frank, and funny; a fabulous book about how to think more clearly and more kindly. Think Again offers a spellbinding mix of storytelling and groundbreaking research -- we urgently need this book right now

Tim Harford, bestselling author of How To Make The World Add Up
Wise, frank, and funny; a fabulous book about how to think more clearly and more kindly. Think Again offers a spellbinding mix of storytelling and groundbreaking research -- we urgently need this book right now

Tim Harford, bestselling author of How To Make The World Add Up
Wise, frank, and funny; a fabulous book about how to think more clearly and more kindly. Think Again offers a spellbinding mix of storytelling and groundbreaking research -- we urgently need this book right now

Tim Harford, bestselling author of How To Make The World Add Up
In a world of aggressive certitude, Adam Grant's latest book is a refreshing mandate for humble open-mindedness ... not just a useful lesson; it could be a vital one

Financial Times
In a world of aggressive certitude, Adam Grant's latest book is a refreshing mandate for humble open-mindedness ... not just a useful lesson; it could be a vital one

Financial Times
In a world of aggressive certitude, Adam Grant's latest book is a refreshing mandate for humble open-mindedness ... not just a useful lesson; it could be a vital one

Financial Times
In a world of aggressive certitude, Adam Grant's latest book is a refreshing mandate for humble open-mindedness ... not just a useful lesson; it could be a vital one

Financial Times
In a world of aggressive certitude, Adam Grant's latest book is a refreshing mandate for humble open-mindedness ... not just a useful lesson; it could be a vital one

Financial Times
In his latest book, Think Again: The Power of Knowing What You Don't Know, [Grant] is in vintage form

Wall Street Journal
In his latest book, Think Again: The Power of Knowing What You Don't Know, [Grant] is in vintage form

Wall Street Journal
In his latest book, Think Again: The Power of Knowing What You Don't Know, [Grant] is in vintage form

Wall Street Journal
In his latest book, Think Again: The Power of Knowing What You Don't Know, [Grant] is in vintage form

Wall Street Journal
In his latest book, Think Again: The Power of Knowing What You Don't Know, [Grant] is in vintage form

Wall Street Journal
Delivers smart advice on unlearning assumptions and opening ourselves up to curiosity and humility

The Washington Post
Delivers smart advice on unlearning assumptions and opening ourselves up to curiosity and humility

The Washington Post
Delivers smart advice on unlearning assumptions and opening ourselves up to curiosity and humility

The Washington Post
Delivers smart advice on unlearning assumptions and opening ourselves up to curiosity and humility

The Washington Post
Delivers smart advice on unlearning assumptions and opening ourselves up to curiosity and humility

The Washington Post
Pushes us to reconsider, rethink, reevaluate and reimagine our beliefs, thoughts, and identities and get to the core of why we believe what we do, why it is so important to us, and why we are steadfast to hold on to those ideas and beliefs. . . . It teaches us to stop digging our heels and doubling down and consider other people's points of view so that we may grow our own. Once again, Adam Grant succeeded in turning our very way of thinking upside down as he pushes us to examine the obvious

Forbes
Pushes us to reconsider, rethink, reevaluate and reimagine our beliefs, thoughts, and identities and get to the core of why we believe what we do, why it is so important to us, and why we are steadfast to hold on to those ideas and beliefs. . . . It teaches us to stop digging our heels and doubling down and consider other people's points of view so that we may grow our own. Once again, Adam Grant succeeded in turning our very way of thinking upside down as he pushes us to examine the obvious

Forbes
Pushes us to reconsider, rethink, reevaluate and reimagine our beliefs, thoughts, and identities and get to the core of why we believe what we do, why it is so important to us, and why we are steadfast to hold on to those ideas and beliefs. . . . It teaches us to stop digging our heels and doubling down and consider other people's points of view so that we may grow our own. Once again, Adam Grant succeeded in turning our very way of thinking upside down as he pushes us to examine the obvious

Forbes
Pushes us to reconsider, rethink, reevaluate and reimagine our beliefs, thoughts, and identities and get to the core of why we believe what we do, why it is so important to us, and why we are steadfast to hold on to those ideas and beliefs. . . . It teaches us to stop digging our heels and doubling down and consider other people's points of view so that we may grow our own. Once again, Adam Grant succeeded in turning our very way of thinking upside down as he pushes us to examine the obvious

Forbes
Pushes us to reconsider, rethink, reevaluate and reimagine our beliefs, thoughts, and identities and get to the core of why we believe what we do, why it is so important to us, and why we are steadfast to hold on to those ideas and beliefs. . . . It teaches us to stop digging our heels and doubling down and consider other people's points of view so that we may grow our own. Once again, Adam Grant succeeded in turning our very way of thinking upside down as he pushes us to examine the obvious

Forbes
Blends psychology and self-help to prove how doubt, failing, and rethinking are instrumental to improving ourselves and our world. . . . In three sections, he outlines why we struggle to embrace feedback, how we can help others rethink effectively, and how our communities can shift to encourage rethinking

Business Insider
Blends psychology and self-help to prove how doubt, failing, and rethinking are instrumental to improving ourselves and our world. . . . In three sections, he outlines why we struggle to embrace feedback, how we can help others rethink effectively, and how our communities can shift to encourage rethinking

Business Insider
Blends psychology and self-help to prove how doubt, failing, and rethinking are instrumental to improving ourselves and our world. . . . In three sections, he outlines why we struggle to embrace feedback, how we can help others rethink effectively, and how our communities can shift to encourage rethinking

Business Insider
Blends psychology and self-help to prove how doubt, failing, and rethinking are instrumental to improving ourselves and our world. . . . In three sections, he outlines why we struggle to embrace feedback, how we can help others rethink effectively, and how our communities can shift to encourage rethinking

Business Insider
Blends psychology and self-help to prove how doubt, failing, and rethinking are instrumental to improving ourselves and our world. . . . In three sections, he outlines why we struggle to embrace feedback, how we can help others rethink effectively, and how our communities can shift to encourage rethinking

Business Insider
Grant is a born communicator-engaging and impossibly articulate. . . . Think Again . . . digs into the synaptic weirdness of why we think how we do and how we know what (we think) we know. The bottom line: In a world that's constantly changing, we could all benefit from deliberately reassessing our cherished opinions

Goodreads user
Grant is a born communicator-engaging and impossibly articulate. . . . Think Again . . . digs into the synaptic weirdness of why we think how we do and how we know what (we think) we know. The bottom line: In a world that's constantly changing, we could all benefit from deliberately reassessing our cherished opinions

Goodreads user
Grant is a born communicator-engaging and impossibly articulate. . . . Think Again . . . digs into the synaptic weirdness of why we think how we do and how we know what (we think) we know. The bottom line: In a world that's constantly changing, we could all benefit from deliberately reassessing our cherished opinions

Goodreads user
Grant is a born communicator-engaging and impossibly articulate. . . . Think Again . . . digs into the synaptic weirdness of why we think how we do and how we know what (we think) we know. The bottom line: In a world that's constantly changing, we could all benefit from deliberately reassessing our cherished opinions

Goodreads user
Grant is a born communicator-engaging and impossibly articulate. . . . Think Again . . . digs into the synaptic weirdness of why we think how we do and how we know what (we think) we know. The bottom line: In a world that's constantly changing, we could all benefit from deliberately reassessing our cherished opinions

Goodreads user
Rule number one: never miss a new Adam Grant book! I loved this one!

Malcolm Gladwell
Rule number one: never miss a new Adam Grant book! I loved this one!

Malcolm Gladwell
Rule number one: never miss a new Adam Grant book! I loved this one!

Malcolm Gladwell
Rule number one: never miss a new Adam Grant book! I loved this one!

Malcolm Gladwell
Rule number one: never miss a new Adam Grant book! I loved this one!

Malcolm Gladwell
Article
Article